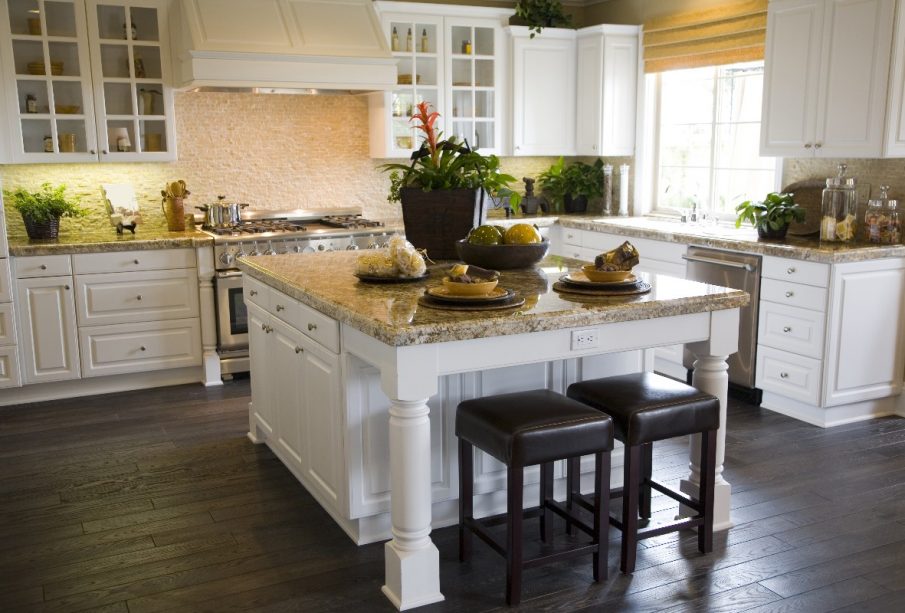 Modern kitchens nowadays very much resemble the New York style. Poles are very fond of bright kitchen fronts and spacious islands. We will show you how to easily do a New York style kitchen.
Island with a sink
Kitchens designed in America very often have a large island in the middle. It makes you gain an extra countertop. The island is an integral part of the kitchen. Additionally, many people install a sink in it. This gives them more countertop under the cabinets. This is a good solution, because on both sides of the sink there is space to put a pot, in which we will cook vegetables or meat, and at the same time we can fit a cutting board and other important kitchen utensils
Islands in American kitchens have yet another purpose – they replace the kitchen table, so high stools are often added to them. Thanks to this combination we can prepare a meal and eat it in one place. A large island in the middle of the kitchen will certainly add valuable countertop space.
Under the sink there is often a waste basket and a special device for grinding leftovers. This is an ecological and very practical solution
The island is also used for storage. Very handy shelves are installed under the countertop, which can be a place for decorative glassware, including glasses It is a very good idea to place shelves underneath, on which wine can rest. Combining the island with a bar is practical, and at the same time makes the island decorative. Glazed fronts with wine or other alcoholic beverages displayed behind it will certainly make a good impression, especially if the bar is additionally illuminated
Above the island presents a very elegant and decorative chimney extractor or absorber, if we decide to place on it not only the sink, but also an induction hob
Larder
In the New York style kitchen you can not forget about the pantry. Most often it is a high post or a special cabinet with pull-out shelves. It can be used to store groats as well as rice or preserves. In a larger kitchen, the pantry is a separate, built-in room with shelves and spot lighting
If we don't have so much space to manage, we can buy pull-out cargo type cabinets. They have shelves with adjustable height. Thanks to this we can easily fit both higher and lower jars, packages with spices or food products. They are narrow, so we can fit between the refrigerator and drawers. A pantry will help us to better organize our supplies
Open shelves
In modern kitchens, open shelves are making a comeback. They are a great place to store the more elegant and show-worthy plates or vases. You can also put away kitchen appliances that are not used on a daily basis. They also provide valuable space for interesting decorations. New York style rooms are not always about minimalism. Designers do not forget about delicate decorations, which wonderfully complement the space. Pots with herbs, as well as decorative glass or porcelain will be perfect
Retractable connectors
Modern New York kitchens have sleek-looking retractable contacts. This makes the space appear more sterile and elegant. Retractable contact panels are also located under the countertop. With the push of a button, we slide them up to use them. This also makes it easier for us to wash the surfaces in the kitchen
Romantic and cozy accents
Despite its simplicity, the New York style in the kitchen does not forget to include very cozy accessories. Roman blinds in the windows or seats with comfortable cushions added to the island are welcome. A kitchen open to a dining room or living room is supposed to be its extension, hence the choice of such additions. Many designers also decide on such decorative elements as rugs