Woodgrain tiles in the kitchen
You need about 3 min. to read this article.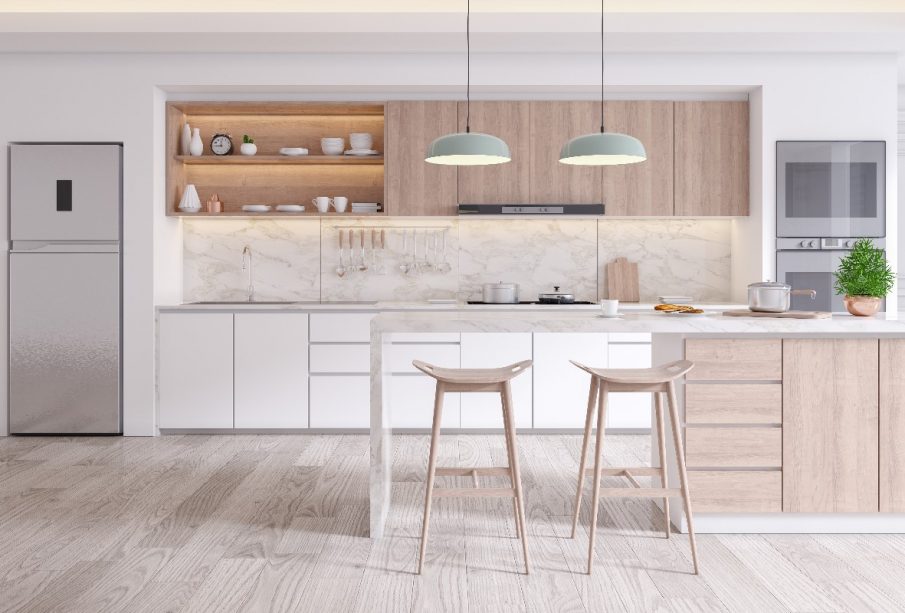 A kitchen with a wooden finish gives an extremely cozy impression. Despite this, not many people opt for laminate in the kitchen because of the difficulty of maintaining it.
Fortunately, you can now find an alternative solution, which will allow you to enjoy the look of wood, but at the same time will not cause problems after dirt or contact with high temperature. It is worth getting interested in wood-effect tiles, which are perfect for kitchens and give possibility to create many interesting arrangements
What distinguishes wood-effect tiles?
Classic wood panels have been used in construction for centuries. We appreciate them for their universal character and noble look. They look beautiful in a bedroom or living room, giving the interior a cozy atmosphere. Unfortunately, due to its properties wood is not suitable for all spaces. Natural wood has relatively low resistance to temperature fluctuations and deteriorates quickly in humid environments. It is also susceptible to mechanical damage and abrasion
Real boards require very time-consuming care and systematic impregnation. This in turn is associated with regular costs and frequent renovation procedures. Wood-like tiles are a modern alternative for wooden floor lovers. They will satisfy even the most demanding users, who care both about aesthetics and easy maintenance of the floor. Thanks to innovative technology, the tiles perfectly imitate the color and even the pattern of knots in the wood, at the same time displaying the desired properties
You can look for interesting inspirations on websites, portals, but also in specialized magazines dedicated to interior design
Advantages of using wood-effect tiles
There are many types of woodgrain tiles. They can be made of glaze, glazed or polished stoneware, terracotta and many other materials. Ceramic tiles are made from natural ingredients such as clay, sand and other mineral additives. The most popular, due to their exceptional durability, are stoneware tiles – high quality tiles made of modern materials that perfectly imitate wood, do not require impregnation or other treatments
They should be cared for in the same way as classic tiles. Dirt can usually be removed with a damp cloth. Tiles do not require sanding or varnishing. Thanks to being made of synthetic materials, they do not absorb water. This makes them ideal for kitchens, where there is a risk of splashing the floor or spilling hot water or grease on it. Woodgrain tiles also have lower thermal resistance, which makes it more efficient to install underfloor heating
Wood-based tiles – summary information
A definite advantage of using woodgrain tiles is their versatility. Unlike natural wood planks, which are expensive and difficult to maintain, tiles are attractively priced. The properties allow you to use them in any room in the apartment – in the kitchen and bathroom, but also in the bedroom, living room, and even in the hallway. They can be used both inside and outside, which definitely makes it easier to achieve a coherent arrangement.
It is worth adding that the tiles perfectly imitate all types of wood – both local varieties and expensive exotic wood. This is definitely an advantage, if someone wants to introduce oriental elements made of Asian or African wood with warm, intense colors into their apartment. An extremely rich offer of models also encourages to choose this type of flooring. Tiles imitating wood are available in a large number of shapes and sizes. Depending on the style of your kitchen arrangement and individual preferences, you can choose classic oblong boards or large format tiles. Those who prefer modern solutions will be interested in effective mosaics and hexagonal tiles, which allow you to create amazing spaces