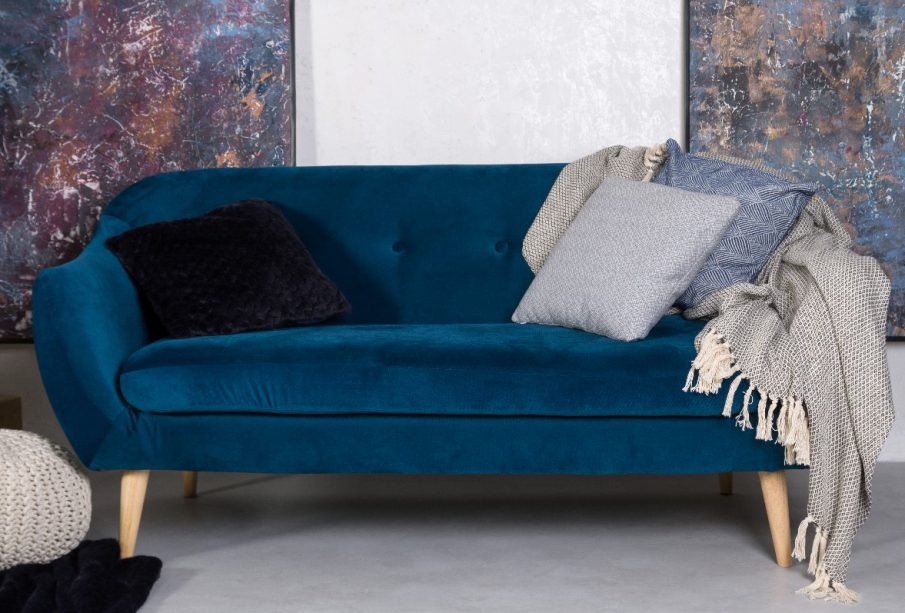 For many years, New York style has been widely recognized as a classic of elegance and good taste. It is perfect for a lavish living room or a luxurious bedroom
The New York style is distinguished by the combination of interesting, thick fabrics and their use as decorative elements. They are used as beautiful upholstery, but also as protective bedspreads. Although until now this style was associated with films set in pre-war New York tenements, now it is also entering the homes of Poles
Timeless classics straight from New York
New York style is characterized by the use of toned down furniture made of high quality wood. Interestingly, nickel-plated elements are often used for finishing. It is quite rare nowadays, but it gives an interesting effect. What strikes immediately are also walls in deep, saturated shades of navy blue, maroon or bottle green. New York style is also strongly connected with thick woven materials. Heavy ornamental curtains are made of them – usually velvet. This is the quintessence of American pre-war style. Complementary accessories are also extremely important – sofas and armchairs upholstered with elaborate upholstery with elegant patterns
In the modern version, lighter walls – gray, beige or completely white– are increasingly common. They replace dark colors and give lightness to the rooms. Massive furniture is used in combination with more delicate designs, so that the effect is not overwhelming for the recipient. Equipment made of metal and tempered glass is gaining popularity. However, interior designers do not give up decorative fabrics New York with a very impressive appearance. It is they, in fact, give a unique character to any living room and refer to the tradition of the style.
Principles of New York style
New York style has remained in good taste for decades. It relies on furniture of the highest quality, expressive, deep colors, and, above all, beautiful, patterned and heavy fabrics. The basic issue, however, is lighting: it should clearly separate the lounge space from the dining room. Such an effect can be achieved by using rather dramatic spot lamps. Another hallmark of this style is metal or nickel embellishments on accessories such as frames, tables and mirrors
The main color accent is grays and other muted hues, which provide a suitable backdrop for more expressive colors – navy blue, burgundy or green. The focal point in the living room is also an important element. Most often it is a large table, a decorative lamp or a sumptuous sofa with interesting upholstery
Where to use New York fabrics?
Although at first the New York style may seem overly decorative, after a short while you will notice the refined finishes and high quality materials. The style is distinguished by its timeless design and pervasive elegance. Many people fall in love with it at first sight and discover that the New York style has found its place in the timeless aesthetic canon and is already a charming classic.
One important trend worth noting is the use of heavy velvet curtains in a solid color. In lavish living rooms, materials with the color of extinguished gold, deep navy blue, dark green or red wine work best. Delicate, unobtrusive patterns are acceptable on curtains. Floral or Moroccan motifs work well. Carpets are also an indispensable element of the interior
Decorative New York fabrics are often found as upholstery or decorative bedspreads, protecting them from dust. In their case you can also play with the contrast of matte and glossy fabrics in one color. Such play of light causes interesting visual effects. Upholstery is also a field to show off – a wealth of patterns or embroideries. Because of their sophistication, New York fab rics are best suited for living rooms but they can also be used as decorative elements in dining rooms or bedrooms. It is worth to treat them as an interesting inspiration and reconcile with your own sense of aesthetics