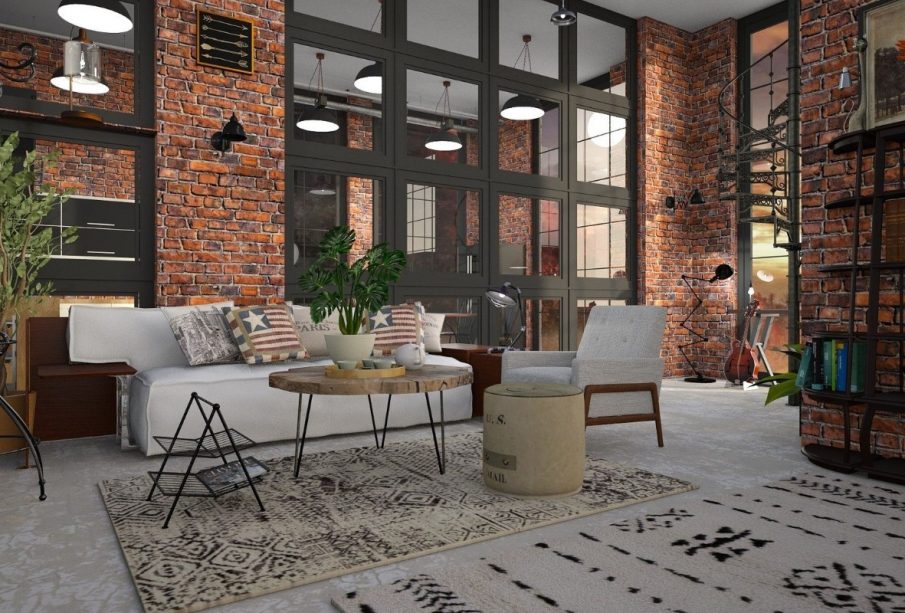 Industrial style has been very popular for many years. Regardless of the size of the room, many people would like to introduce this style also to their home.
Simplicity and originality – these words perfectly reflect the character of industrial style. Until now, most customers thought that it works only in large, spacious rooms. Nothing more misleading! With the help of a few general tips, you can find out how to decorate a space in industrial style.
Where does industrial style come from?
Designers, interior architects and homeowners appreciate industrial style for its original character. It is rightly associated with spacious loft spaces of old warehouses in the United States. In 1950s on the American market it was possible to buy unused post-factory spaces cheaply. People quickly began to move into them. This resulted in setting a completely new, previously unknown aesthetic. Although initially it was associated with bohemian art, snobbery and decadence, it became more and more popular
In a relatively fast pace this rather austere style – enriched with interesting, eye-catching accessories – started to be present also in normal big apartments and utility lofts. In this way slightly eclectic, artistic and yet very functional interiors were created. It is a mistake to believe that this style is reserved only for spacious halls or apartments. In a small apartment you can also include its elements and enjoy amazing effects. It is worth knowing what to pay attention to when designing an interior of a smaller area.
What distinguishes industrial style?
Interiors decorated in industrial style very quickly became synonymous with good taste and freedom. It will certainly appeal to people with artistic disposition, lovers of simplicity, functionality and those who appreciate proven solutions and are looking for unusual accessories for their home. This style gives many arrangement possibilities and it is easy to reconcile it with other trends. It is based on combining raw, minimalist forms with original accessories. In the apartment decorated in this style reigns brick and natural materials.
Definitely more important is the quality of workmanship than the number of items. Furniture and decorations often have an interesting past – they are family heirlooms or things from travels. This makes industrial spaces very cozy and personalized. They definitely help to express and emphasize the individual character of the owners. Spaces are rather open, with as few partition walls as possible. This treatment optically enlarges the room. Another important element is proper lighting. It is worth investing in additional wall lamps or standing lamps, to better highlight all assets of a given interior
What to remember when decorating an apartment
Industrial style is primarily black, white, gray, various shades of beige. Other colors appear only in the form of accessories and variety – most of the apartment, to maintain consistency, is maintained in neutral colors. In terms of finishing materials, the most common are concrete, metal, wood and, of course, raw brick. Looking for alternative solutions, it is also worth checking imitations made of plastic.
Furniture for an apartment in the industrial style should have its own unique character. Usually, at least some of these elements are inherited from parents or further relatives. You can also look for interesting accessories and furniture in antique shops and various commissions. In industrial style, you can usually meet with a central point in the form of a bookcase in the living room or a fireplace. Modern paintings and sculptures are perfect as accessories. A nice accent is also an exhibition of family photos in aesthetic minimalist frames