You need about 4 min. to read this article.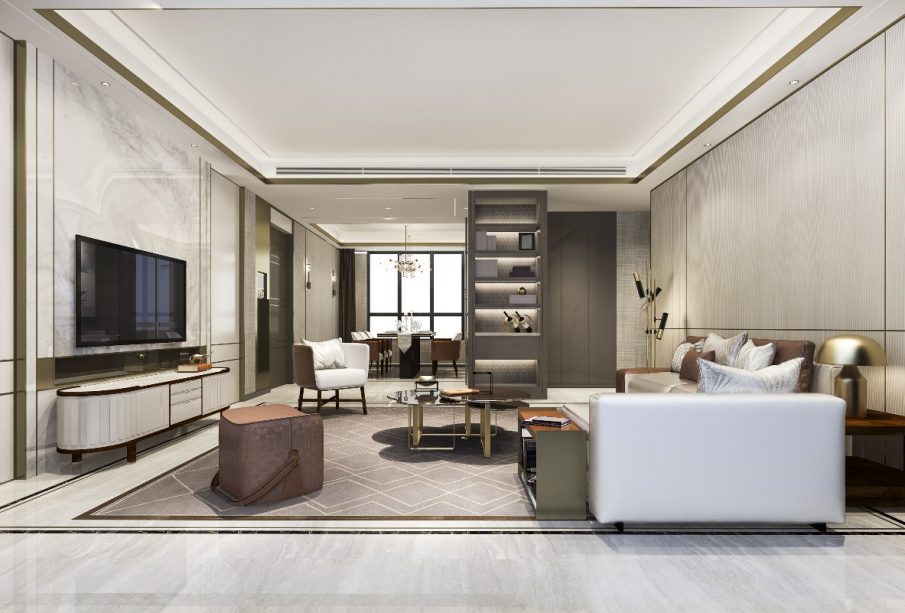 New York style has been present in various interiors for several decades and still impresses with its richness of textures and colors. It gives the impression of a timeless style and expression of good taste. In this article we will suggest what accessories to choose for the living room to reflect the true spirit of America.
There are many elements characteristic of the New York style, but we can not fail to mention a few of the most important. These are primarily: space, light and unusual accessories. It is these that create such intriguing interiors, which for many years have not gone out of fashion and are still eagerly imitated by designers
History of the refined American living room
The first salons, which look like our modern equivalent, were created already during the Baroque period and were located exclusively in palaces. Most often, elegant family celebrations were held there, as well as numerous parties with friends. Due to the regular guests, the salon had to impress with class, chic and wealth
Expensive fabrics, quilting on the upholstery, decorated walls and expensive chandeliers – all this was to impress the guests and show the sophisticated taste of the host. Such an understanding of luxury, immortalized by painting and later photography and cinema, has remained in our consciousness practically until today. Spacious rooms filled with natural light coming in through large windows – this is a very well known scenery of many American movies from the middle of the 20th century. Then also in Europe began the fashion for similar interiors – giving the impression of luxury, elegance, large space and breath
Charming living room accessories
It is safe to say that the New York style is represented by numerous patterns and a very decorative character. In the middle of the twentieth century, colorful wallpaper with a definite, strong design was popular, covering a large part of the walls. Especially in the living room, each piece of decor was a self-contained work of art, which could perfectly represent the entire room
In the case of this style, the walls covered with white paint, patterned wallpaper or ornate wall murals remain only a background for numerous decorations. Finishes and smaller furniture with decorative character are probably the most characteristic. Large, massive lamps were often custom-made to be the focal point of the living room.
Nowadays, a cheaper – though not always – alternative is to look for original models in antique stores specializing precisely in furniture and accessories from the United States of the 1940s or 1950s The tradition of a representative living room, preferably with a fireplace, has lasted for several centuries and is not likely to be replaced anytime soon
New York style – timeless classics for every interior
The New York style living room delights with its splendour, balance and good taste. It is the essence of elegance and timeless solutions. The excellent quality of decoration and the furniture itself makes such living rooms not only beautiful, but also highly functional for many years
In smaller interiors, where the effect of spaciousness is more difficult to achieve, you can think about combining the kitchen with the living room and dining room. Initially, this can be quite a challenge for the architect and designer, as they have to make sure that the rooms are functional. Fortunately, relatively quickly it may turn out that by demolishing partition walls, we gained the impression of lightness and more breath in the apartment. On the walls of a living room in the New York style, it is worth trying subdued colors – gray, beige and milky shades of white.
They can be combined with accessories in intense red, purple, navy blue, green and many shades of yellow. Accessories such as heavy velvet curtains, an elegant chandelier, tactile decorative carpets or decorative cushions on a quilted sofa will enhance the unique character of the interior. If you want to introduce a slightly more modern style, you can also try adding some natural wood and steel and glass accessories