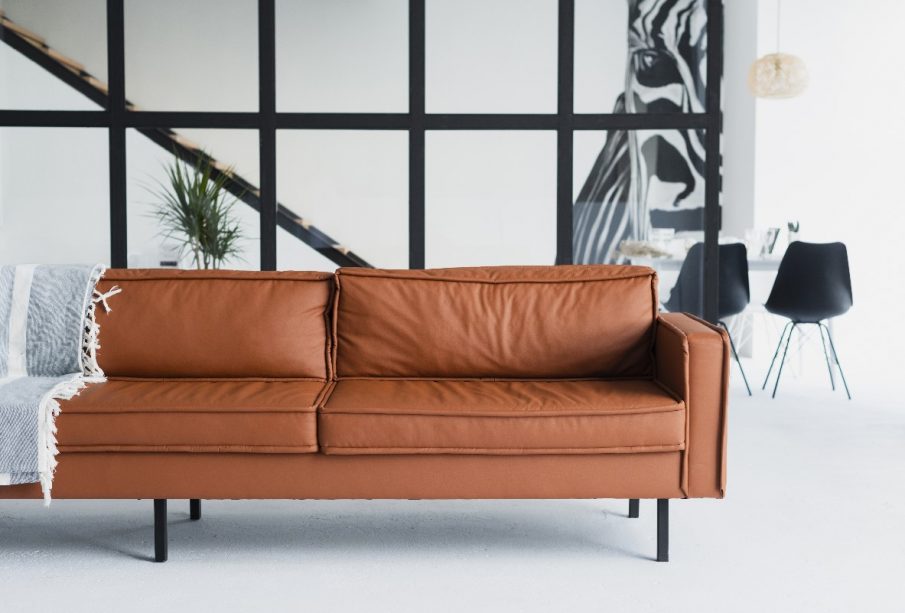 A leather sofa is synonymous with style and impresses with its classic look. Currently, leather furniture is back in favor, so you can get them in beautiful and more contemporary versions. Such furniture will never go out of fashion
Leather was a very expensive upholstery material, which was chosen only by rich people. The first leather furniture – in the form of chairs or royal thrones – could be found as early as in the Middle Ages. At that time, chests were also upholstered with leather. Leather décor was very popular in the era of Louis XIV. A classic piece of furniture from this period is the Chesterfield sofa, which was used in the aristocratic houses of British magnates. Today such a sofa is still synonymous with style, and a well-made leather piece of furniture can serve us for years.
To which rooms will fit sofa with leather?
Upholstered with leather vintage furniture very often return to favor. We are now dealing with a huge comeback of leather sofas, because the loft style is currently very fashionable. In this aesthetics are decorated apartments and apartments, and leather furniture fits perfectly into them. Leather-clad furniture in a simple style, such as a sofa or a corner sofa with wooden legs, go well with wooden furniture. We can also find very simple leather furniture on the market, such as a sofa with metal legs
Leather sofas with wooden armrests or visible metal rivets, which give them a slightly old-fashioned feel, are becoming trendy again, harking back to leather furniture from centuries ago. However, the combination of rivets with cubist shaped metal legs will give the furniture a whole new character. They will perfectly match the loft furniture. Especially a simple coffee table with metal legs will wonderfully complement the loft style of the apartment.
Leather furniture, which refers to the style of the 1930s, is also very fashionable. In more modern versions you can find sofa beds with the possibility of unfolding, so that their lower part is raised. Thanks to this, we will not have to invest in additional footstools, which, although they are very handy and can also be used to sit at a coffee table, take up some space. A sofa with a relaxation function will make resting on it a real pleasure. Vintage leather sofas will help to warm up the decor of our room and will certainly make it extremely stylish. In combination with wooden shelves or oak bookcase will create a unique interior, which will always be fashionable.
Nowadays, furniture is made of various types of leather, including softer or slightly glossy leather. Regardless of the type of upholstery leather, it should be properly cared for.
How to care for leather furniture?
Leather furniture, although beautiful, requires proper care. If you are the lucky owner of a vintage style sofa, you should put it away from heat sources. Clean the sofa with a dry cloth and special preparations for leather, which additionally lubricate it. This prevents the leather from cracking and gives it a nice color
These preparations also have a special filter protecting against sunlight, which reduces the risk of fading the upholstery. All liquids that spill on your sofa should be removed right away because water on the upholstery can make the leather wrinkle and crack. Constant care of the vintage leather sofa will make us enjoy its beauty much longer.
Avintage style leather sofa is an extremely stylish addition to loft and classic interiors. With additional relaxation function it becomes even more comfortable. With the addition of wooden handles the leather sofa will be even more classic.