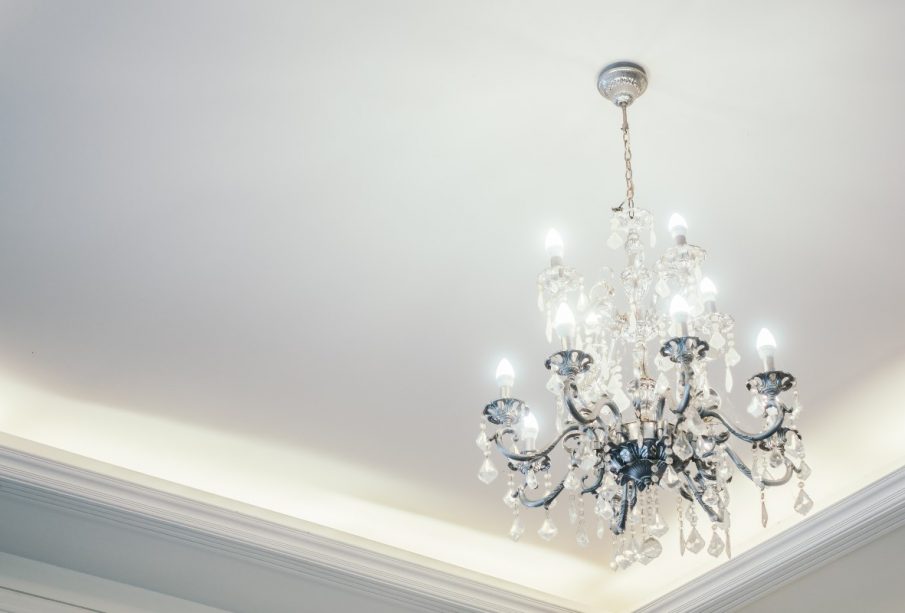 Are you decorating an interior in glamour style? Then remember that lighting (both natural and artificial) is an important part of every project. It introduces a unique atmosphere to the space and emphasizes key elements of the decor. Modern chandeliers perfectly combine aesthetic and practical values. Check how to choose the right type, shape and style of lamp!
Where to hang a chandelier?
Remember that a glamour ch andelier will work in any room. We are so used to boring fixtures that we forget to be creative when it comes to lighting. However, all you have to do is choose the right style and size of lamp, and it will harmonize perfectly with the interior design. You can hang a chandelier not only in the living room, bedroom and kitchen, but also in the bathroom and hallway. Such lighting will enliven even the most boring space!
Stylish and fashionable chandeliers
If you do not know which chandelier to choose, we have a few tips for you. First think about what style you want to decorate the interior. Are you dreaming of a rustic living room? Or maybe you prefer eclectic and artistic style? Then think if you want the lamp to be the central decoration of the room or if you want it to blend in with its surroundings. If you like boho and minimalist styles, buy a chandelier with an eclectic design and clean, simple lines.
Love the ornate sparkle of a crystal lamp, but don't like the vintage-style brass version? The black finish adds a modern touch to the traditional design. Or are you decorating a modern, feminine bedroom? Then opt for a crystal short glamour chandelier with a chrome finish and exposed bulbs.
Are you designing interior in mid-century modern style? Are you enchanted with timeless elegance? In this case, pay attention to the lamps with straight lines and vintage finish. A discreet spherical chandelier, in which black and brass accents are combined with gold , will be perfect here
Rustic, elegant chandeliers
If you want to add a modern touch to a traditional space, mix rustic and contemporary accents. In a rustic kitchen or bedroom kept in neutral colors, a wooden chandelier with a chrome frame looks great. You can also hang it in the hallway
>> See also: 10 ideas for a glamorous kitchen
Rustic lamps fit into various interior styles. Accents of aged wood and silver-gray finish look perfect in rustic, Scandinavian and nautical room. Are you dreaming of introducing a romantic touch to the space? Then look for a chandelier with elegant lines and rustic details. Look for a lamp with wooden beads.
Classic lamps
Luxurious chandeliers will accentuate an elegant interior design. They are usually made of natural wood or metal. Manufacturers use glass or durable crystal as decorative inserts. You will not find plastic or artificial material imitating wood. Interestingly, even textile lampshades use densely woven natural fabrics
Such chandeliers are not only beautiful, but also durable. For their finishing brass, bronze and even silver are used. More expensive models are handmade and delight with their unique design. Such a lamp looks great in the living room. It will instantly give it a luxurious and sophisticated character.
Richly decorated baroque chandeliers
Lamps in art deco or baroque style are mainly made of crystal. Due to the large number of decorative elements, it is worth installing them in spacious rooms with high ceilings. You will not find here modern materials, such as plastic. The base of the chandelier is usually made of metal, and the lamp itself is decorated with wrought iron elements
The mentioned fixture is usually distinguished by a complex design, so give up bright white light. Otherwise, the room will become boring and bland.
Modern chandeliers
Manufacturers managed to combine the traditional look of lamps with uncommon decorative elements. Art Nouveau chandeliers attract attention with asymmetrical lines and gentle curves. They are usually made of glass and metal. If you have a bigger budget, pay attention to the chandelier made of deer or elk antlers. It fits perfectly in a hunting lodge.