You need about 3 min. to read this article.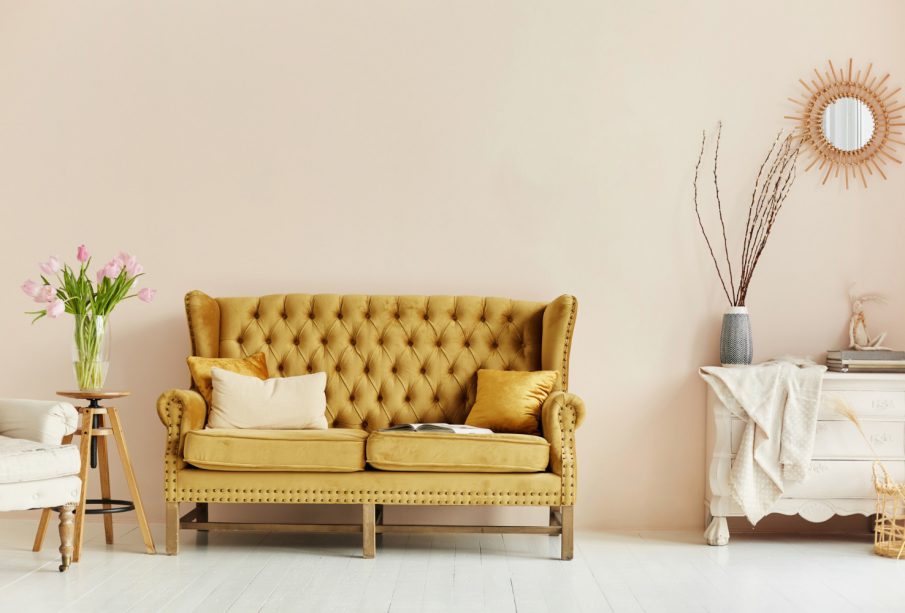 Timeless, spacious, with dense quilting and turned up armrests of the same height as the backrest – the chesterfield sofa is one of the timeless icons of design. This piece of furniture is extremely stylish and original.
Chesterfield sofa – what kind of sofa?
Chesterfield sofa is characteristic and cannot be mistaken with any other. It stands out with its original quilted backrest with buttons, profiled, wide armrests, and spacious, low seat – both the armrests and the backrest are the same height. The whole is completed with fabrics. This type of sofa may be upholstered with leather (as it was in the very beginning) and various beautiful fabrics (since the 20th century), including velour or velvet, which are very pleasant to the touch.
This furniture looks elegant, classic and dignified, at the same time it is also incredibly comfortable. Undoubtedly, it is a strong element of living room or study arrangement, giving them a unique atmosphere. It is also worth to have a look at the details – they are always made with utmost care and precision, which makes the sofa meet the expectations of even the most demanding people for whom high quality and aesthetics count.
The chesterfield sofa has a solid construction, which makes us enjoy it for many years and pass it on from generation to generation.
A brief history of the chesterfield sofa
Without a doubt, the chesterfield sofa has become an icon in interior design. It is associated with classic English and colonial style, with libraries and study rooms in the homes of the wealthy, with gentlemen's clubs and all other places that were supposed to be refined and high class. This furniture was and still is a synonym of luxury.
Historians date its origin back to the 18th century when Philip Dormer Stanhope, the Count of Chesterfield, placed an order for manufacturing a leather sofa for a gentleman that would allow him to sit upright. Already its prototype turned out to be perfect. This is only one version of the story, as the exact moment and circumstances of its creation are not known, thus many opinions circulate.
>> See also: Unique decorations for the home – where to look for them?
The world appreciation for this sofa came in the Victorian era, when the British, conquering new lands, took with them valuable items, including chesterfield sofas. Hence, it could be found in colonies in various and the most remote corners of the world, such as Australia, India or Canada.
In which interiors will the chesterfield sofa be suitable?
The luxury sofa with a very original design will be suitable not only for classic interiors reminiscent of the English style. It will also be an excellent choice in eclectic houses, where different styles and eras are mixed. It can be used, among others, in a modern space, where it will be the main decorative element. It will rather not work in Scandinavian style interiors – it is too impressive and expressive – but in minimalist and loft style interiors it will, because it will be a kind of contrast and will break the strict nature of other elements.
It is also worth noting that there are many types of chesterfield sofas available on the market. They are usually available in a two-seater version, although wider models are becoming more common. Additionally, some of them are characterized by slightly simplified, lighter form, which allows them to fit into more arrangements. It is not only the decoration that is important but most of all the color and upholstery of the chesterfield sofa