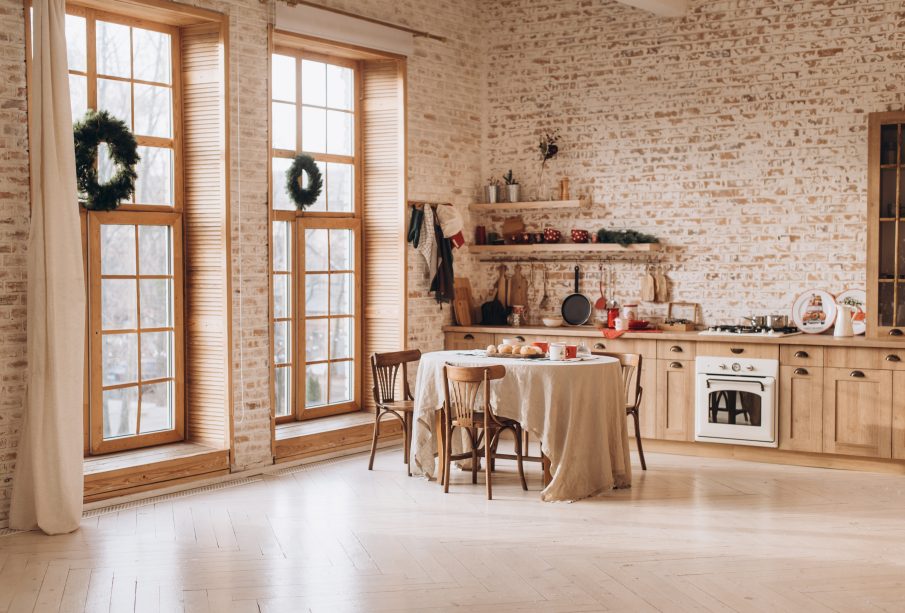 Decorating a kitchen in retro style offers many interesting solutions. Among the important decorative elements you can find curtains, which will perfectly fit into the atmosphere of past generations.
Retro and vintage style – what is hidden under them?
When we reach for interior design, which in its theme refers to the solutions of past decades and eras, we hear the terms retro and vintage. Although they refer to the same stylistics, there is a significant difference between them. With vintage style, we primarily choose to take old furniture and refurbish it to give it new life. Retro, on the other hand, includes products that hark back to the style of years ago, but are brand new. However, these terms are often used interchangeably. Why is it worth introducing both into your kitchen? First of all, because items and interior design reminiscent of our childhood, and sometimes of the youth of our parents and grandparents (although there will also be older references), have incredible magic and charm, which should be breathed into our home.
Kitchen in retro style
When arranging a kitchen in retro style, it is necessary to take care of all its elements. This applies both to large furniture – table, stove, cabinets – as well as elements beautifying the space. Kitchen in retro style especially evokes associations associated with childhood and smells associated with the dishes of older members of our family. Moreover, it is in this space that we will find subtle coziness and an idyllic atmosphere visible in each piece of furniture. Characteristic, milled cabinet fronts and glazed doors, which expose the contents of the sideboard, are only a part of what we should properly match to the arrangement of the entire interior.
Windows in retro style
An extremely important object, which we often forget about, is the window. It is thanks to it that we can better expose the kitchen space, but it is also worth taking care that it has a direct part in building the charm of the entire place. First of all, you should take care of its appropriate decoration. How to do it? For this style, we should not decide on blinds and roller blinds. Not only are they troublesome to care for and impractical, but they do not match the retro styling at all. A great way to do this is to use curtain rods. These are short curtains, which can be easily hung even over a kitchen countertop and can be easily cleaned. They will match the carefully created styling and perfectly co-create a retro atmosphere.
The essence of selecting curtains for the kitchen
As is known, the retro style for years boasts of unflagging popularity. Its intriguing form and originality make more and more people want to give this style to the whole apartment. When it comes to the kitchen and we have already chosen a curtain and furniture, we often wonder what curtain to choose to complete our unique composition. Retro-style curtains will impress anyone who comes into your kitchen, while also providing a nice spot to hang their eyes. Keep in mind that curtains and drapes should be hung together and should be in the same style. In some cases, however, we can dispense with curtains.
What curtains for the kitchen?
So what curtains to choose? We should take into account, first of all, what period we want to reproduce. In the classic formula of the retro style, light curtains will work great. This can be white, cream or light beige color. They can be solid or decorated with slightly darker patterns, and even lace hems. If we have decided on curtains of the type of trapezoids, then they will match the curtains in a slightly darker beige or brown, tied with a ribbon at about the height of the said trapezoids. As a result, they will create a great composition together. If we do not have curtains, it is also worth tying curtains, especially during the day.