How to design an attic? 8 main principles
You need about 4 min. to read this article.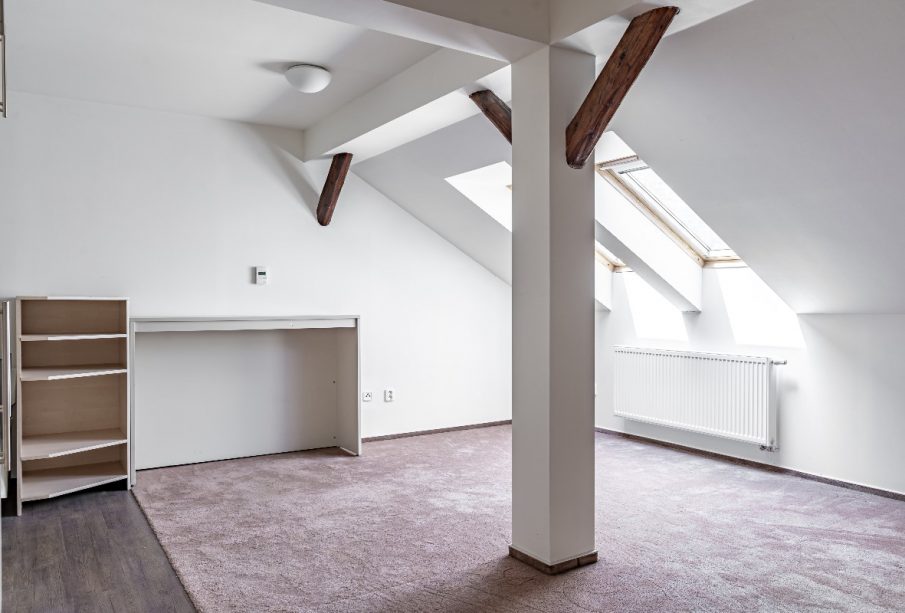 The attic is more and more often used as a fully usable part of the house. Sometimes even a kitchen is located in this place. When designing it, it is absolutely necessary to aim at making it easier to use after the house is finished. This is especially true if frequently used rooms will be located there. Here are 8 important rules that you need to take into account
Why is it worth considering the design of the attic?
We often think that a lot of time should be devoted to such rooms as living room, kitchen or bathroom. As a rule, their projects are thoroughly analyzed and subjected to multiple considerations so that they are functional in the future and meet our expectations. What about the attic?
The most important functions of the attic
First of all, we distinguish two types of attics:
usable – intended to be used for everyday use in the form of bedrooms, living rooms, kitchens, but also technical and utility rooms. People are supposed to stay here, so it is necessary to insulate and appropriate finish;
non-utilitarian – is not intended for human habitation, but serves as a space for roof trusses, here also ventilation ducts are located. It does not have to be insulated and finished
Is the unutilized attic also worth planning?
The answer is: definitely yes! When building a new house we should aim to have as much freedom of choice as possible in the future. It may turn out that in 10 or 15 years we will need additional rooms. The perspective of expensive extension of the house is not the most optimistic for the state of our wallet. A properly designed attic can be transformed and finished with less resources
What is worth remembering? 8 key tips for designing the attic
Remember about the technical requirements for the attic
The attic must meet legal requirements but above all it must be safe for users. The ceiling must be strong and durable so that it can bear additional weight in the future. It is also necessary to provide permanent stairs, a partition from combustible parts of the roof and an average room height of 2.2 m. You also need to allow for insulation and bring in electrical service
Choose a roof design that favors the arrangement of the attic
A gable roof is recommended, where the optimum slope is between 35 and 45 degrees. As a rule, a less typical roof shape translates into a loss of valuable attic space for use or at least difficulties in arranging this space later.
Take care of the knee wall height
Why is this so important? For two reasons:
the height of the knee wall makes it easier or harder to arrange the attic space,
the height of the knee wall cannot be increased without the intervention of an architectural office.
Although the optimum height is considered to be 110 or 120 cm, it sometimes results in a disproportionate shape of the building. An alternative is a lower knee wall, which, however, will make the spaces at the slopes too low for their use. This will translate into loss of space
Choose a slope inclination of 35-45 degrees
Why exactly such a slope? It allows for a compromise between obtaining a convenient attic space and not increasing the height of the building. It will retain a nice, proportional shape.
Take care to separate sufficiently large rooms
Taking care of the structural divisions allows you to enjoy adequately spacious rooms in the attic in the future. Ceilings should not have many planes in them, which looks very bad, chaotic and unprofessional
>> See also: Gold and metal black – a combination for elegant interiors
Take care of a good size of roof windows
It is assumed that their size should be so large that their surface occupies an area equal to ⅛ of the floor. This will allow for proper lighting of the rooms
Remember to make sure that the roof truss elements are aesthetically pleasing
This will allow them to be exposed, making it possible to create an interesting style. As a rule, it is not recommended to display too much wood in such a place, but if the rafter framing is not carefully made, you will have to hide it all under the plasterboard
Take care of ventilation in the room where the kitchen will be located
Gravity ventilation is often not possible in such spaces. Without ventilation, however, there is a risk of dampness. Use ventilating vents or fans.