You need about 2 min. to read this article.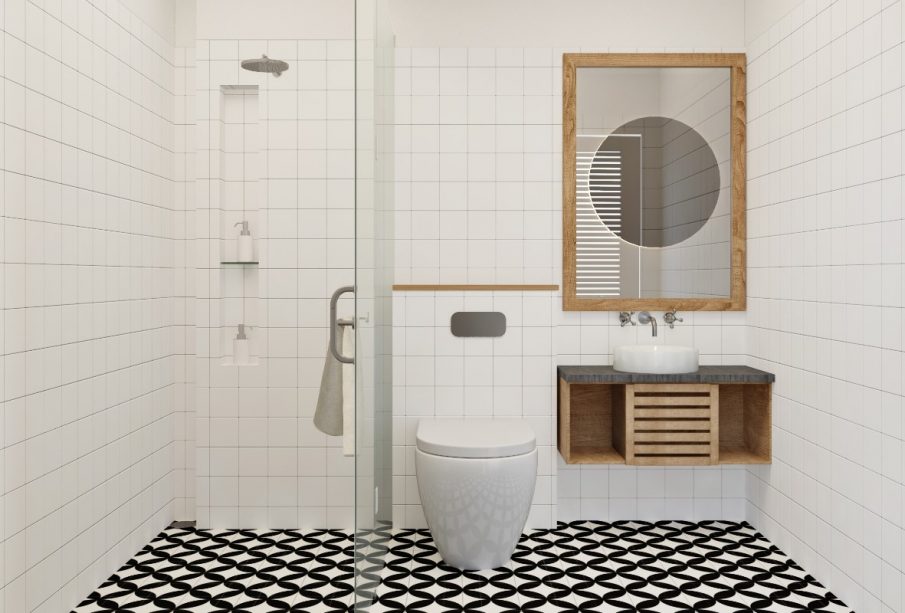 Recently, the eclectic style is very popular among interior decorators. This is due to the abundance of opportunities for interior design in this style – each time using the same furniture and accessories, you can get a different interior. Anyone who principles of interior design, is able to create an interesting and unique bathroom in eclectic style.

What is the eclectic style?
Eclectic style is about combining different styles and textures, for example, modern furniture combined with classic elegance. In this style you can combine everything with everything, but it should be done sensitively.
2
6 rules for an eclectic bathroom
1. Less is more
When creating an eclectic bathroom, you have a lot of options, but you cannot put everything you like in it. When decorating such a bathroom, you need to find a dominant element and match it with accessories.
Often seemingly boring and classic elementsare more difficult to harmonize in the interior than several elements in expressive colors. That is why it is worth to choose fewer accessories, but expressive ones – to achieve the effect of harmony in seeming chaos.
2. Mix everything with care
In an eclectic bathroom it is worth to combine elements:
raw and modern with a retro touch,

strong colors with pastel backgrounds,

patterns with plain elements.
3. Colors
A bathroom in this style can be multicolored, but it looks much better in one color scheme. Just choose one leading color and when arranging the bathroom use it in tones from the lightest to the darkest shade.

The color of eclectic interiors is bottle green, which harmonizes perfectly with other shades of green, such as celadon and refreshing green. This color also looks great in the company of white, gray, black, gold and copper.

4. Materials
Most eclectic interiors are dominated by classic oak furniture combined with concrete walls and glass showers. All materials found in the interior should be combined in a very thoughtful way.

5. Colorful accessories
If you think that the bathroom lacks expression, you can put a colorful wallpaper on one of the walls or hang an interesting poster in a decorative frame.
6. High quality materials
All elements in an eclectic bathroom should be made of the highest quality materials.

Eclectic style is ideal for people who can not decide on one style. In this style, you can combine everything – even what seemingly does not fit together.