Kitchen island in 7 ways – we inspire!
You need about 4 min. to read this article.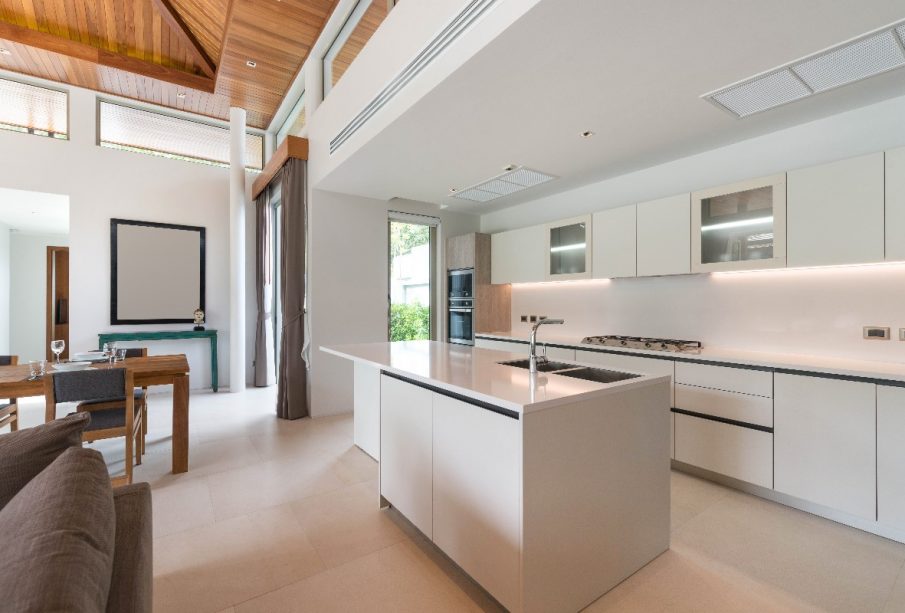 The advantage of kitchens with kitchen islands is that they are very functional solutions in larger spaces. They will certainly be loved by those who care about easy access to the work area, which in this case is possible from all sides. It's also a trendy solution that can be designed in a variety of styles – here are 7 inspirations to get you started
Advantages of a kitchen with an island
What are the advantages of arranging a kitchen with a kitchen island? First of all, it is, as already said, a fashionable and functional solution. Going to an interior designer with a request for advice on the arrangement of a large kitchen – we will certainly receive a proposal to install the kitchen island in it. The kitchen is then open to the living room and dining room, which creates a good space for interaction with guests – without having to break away from preparing meals. It is also important that this can be a good proposal for a large family, where more people will be able to use the kitchen at the same time, without disturbing each other
Kitchen layout with an island
In open-plan layouts, the kitchen island usually acts as a demarcation between the kitchen space and the living room. In closed rooms, it can also be placed, but on condition that the distance from the walls and the household appliances placed near them is large enough. Most often it is suggested that the passage be at least 120 cm wide
Kitchen island sizes
It is suggested to design islands, the dimensions of which are at least 80 × 60 cm. In this case, we are talking about a development that will fit only the kitchen countertop. Islands also intended for dining must be correspondingly larger.
>> See also: Navy blue kitchen – arrangements that will inspire you
Inspiration 1: An island with a hob and dining area
Combine the function of the island as a cooking space with a table. The tabletop is extended so that there is seating for two or even four people at its edge. Its height is adjusted primarily to cooking tasks. Guests sit on appropriately high chairs. Under the table top there may be additional storage space. Make sure the island blends in with the interior decor.
Inspiration 2: An island with an additional worktop
Most people have experienced situations where there is not enough space in the kitchen for everyone at times, e.g. during Christmas preparations. An island in the middle of an enclosed kitchen space can serve the simple yet necessary function of an additional worktop. If necessary, some of the kitchen work can be transferred to it
Inspiration 3: An island with a place to eat and a sink
An equally sensible way to introduce an island into the kitchen space is to treat it as a place for dining and washing up. The last function is provided by a sink or a dishwasher hidden under the countertop. We eat our meals and put the dishes away right next to it – it's hard to find a more logical combination.
Inspiration 4: An island with a breakfast bar
A kitchen island can be combined or combined with a breakfast bar. This saves time, which is great for dynamic, busy people but also for families with children. Combining a stone worktop with a wooden bar looks beautiful
Inspiration 5: An island with a storage zone
There is plenty of space under the island's top, which can be filled with cabinets and drawers. There's room for all your kitchen utensils and other small items.
Inspiration 6: An island with decorative function
In extra-large kitchens, the island can be designed as a decorative piece of furniture with a function for storing valuables in cabinets under the worktop. There is room here for valuable crockery or a wine collection.
Inspiration 7: An island with a bookcase
Sometimes the island dividing the kitchen space from the living room can have quite unexpected uses. This does not prevent them from looking great. An example can be a bookcase placed under the countertop (on the living room side).