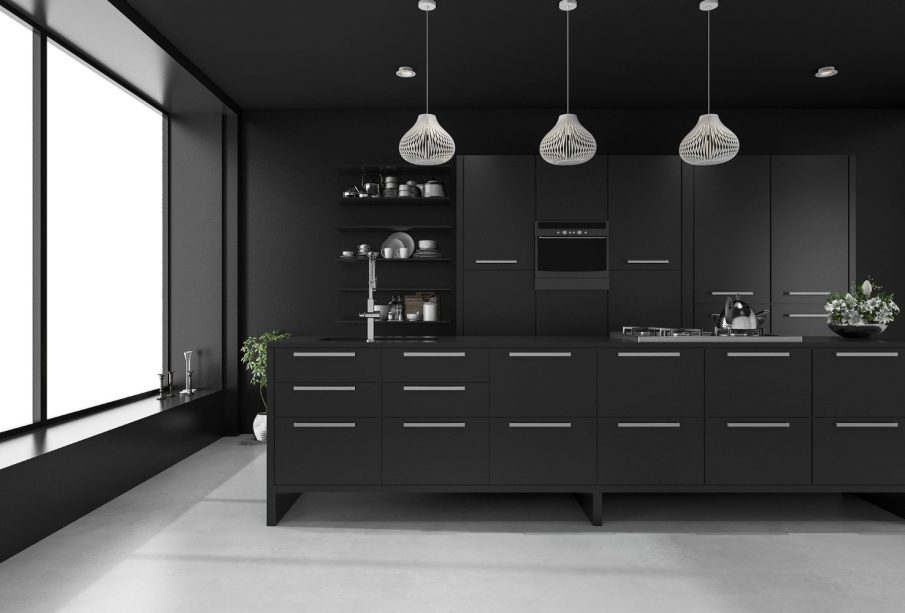 Black cabinet fronts, white appliances or maybe just the wall above the worktop? We take a look at kitchen arrangements in black. Some of them are broken with wood or white.
For many years white has been the dominant color in kitchens. It was most often combined with a wooden countertop, although this was not the rule. Now more and more often we are inclined towards other colors, such as navy blue, green or maroon. Black also comes to the fore, which does not have to overwhelm the room. Despite appearances, both small black kitchens look good, as well as those of considerable size. Each time the effect is extremely elegant and chic.
>> See also: 7 wall color combinations that will inspire you
Another advantage is that a black kitchen will easily fit into interiors maintained in almost any style. Also note that black does not have to be dominant, but can also appear in the form of various accents. When arranging a dark kitchen, you need to remember that it must be adequately illuminated, especially if you do not have a large window. Therefore not only the main source of light is important, but also spot lights. A LED strip placed along the lower cabinets, which will brighten up the worktop evenly, will be perfect in this case. Let's also take care of decorative ceiling fixtures, which will be a beautiful and stylish decoration.
Black color in the kitchen – is it a good idea?
It may seem that black color in the kitchen is impractical because it is hard to keep it clean and you can see every stain and dust on it. There's a lot of truth in that, but does that mean that a white or generally light kitchen is better in this respect?
You need to clean every kitchen – even the ones that don't look dirty at first glance (but that doesn't mean they're not there). Cleanliness and tidiness in the kitchen is very important. We can also influence the visibility of stains on cabinet fronts ourselves. Simply choose a matte black rather than a glossy black, which is a little harder to remove fingerprints from.
Black and wood – a harmonious duo
The first inspiration is the combination of black cabinet fronts with wood, which gives a very cozy and homey atmosphere. Among other things, the worktop or the floor can be made of wood, as can various accents such as a breadbox, knife rack, chopping boards or soup spoon and spatula.
A wooden table with interesting chairs (classic or hocker type) will also look very impressive. You can also be tempted to create a brick wall in a natural shade, which will blend beautifully with the kitchen black.
Black with white countertops
A perfect break from the kitchen with a predominance of black is a contrast, namely white. It will effectively illuminate even the darkest room. White can be used for walls, countertops, part of the cabinets (usually the top row), or accessories such as a kettle, cloths, or salt and pepper shakers.
Such a contrasting combination looks light and fashionable. You can also bet on a black kitchen with white walls (smooth or imitation brick) and a white floor. Then the whole interior will not be in any way overwhelming and will acquire a kind of lightness. If we do not want such a strong contrast, then choose more subdued colors, such as mint, light gray, pink, green or blue.
Total black
Unskillfully arranged, all-black kitchen, may not look the best. In such a situation, it is worth playing with textures and finishes to gain an interesting three-dimensional effect. You should also remember to keep the right proportions, so it is better to have a larger area. Completely black tiny kitchens may seem even smaller and a bit gloomy. The aim is to make the kitchen cosy and a pleasure to spend time in.
The already mentioned light plays a key role here. In addition, the whole thing should be broken with golden handles to cabinets or bet on fronts without handles. Total black kitchen is also black household appliances and a black refrigerator. In all this, remember about toned down floors and walls. Saturated colors will not be a good idea. Open shelves, display cases and furniture on legs will work well instead.
Black wall between cabinets
Those who dream of a black color in the kitchen, but in a softer version, may opt for a single accent, for example by laying black tiles over the worktop, between the lower and upper cabinets. Both black glass, tiles and blackboard paint will look effective. In the case of tiles, it is worth choosing those with an interesting structure and geometric shape.