You need about 3 min. to read this article.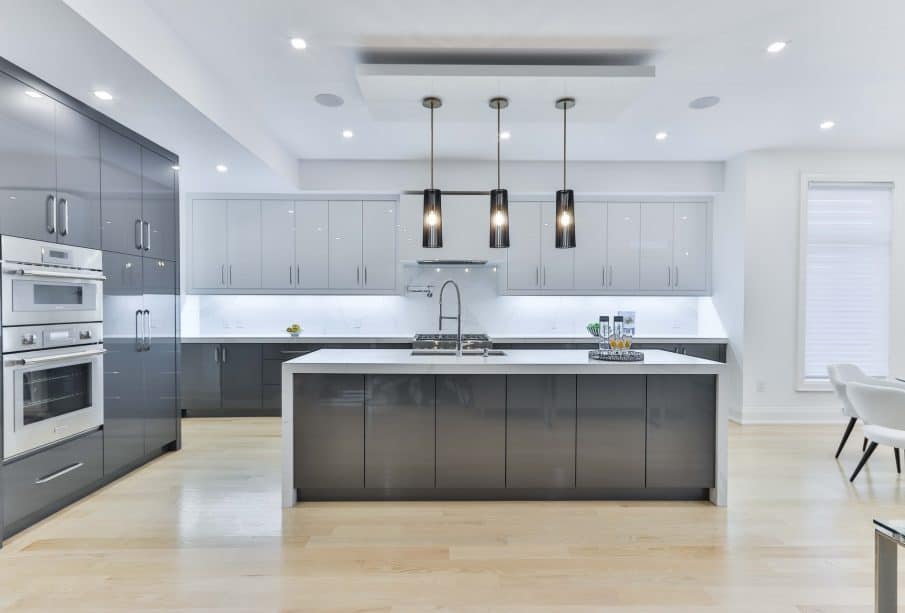 Do you have a large kitchen with an island in the middle, or maybe a small kitchenette or a separate room? No matter what your kitchen is, you can decorate it in glamour style. What do you need? Which elements are worth betting on? Without what not to move? Find the answers to these and even more questions below. See for yourself!
Glamour style – a few words about the role of light, mirrors, soft fabrics and gold
Before we go on to discuss how to design a glamour kitchen, let's briefly explain what this style is really about. It turns out that glamour can be not only the living room or bedroom, but also the bathroom and just the kitchen. So what does glamour mean and what can we expect?
Well, glamour style is primarily luxury, elegance and splendor associated with the Baroque. There is no shortage of austere and ornately framed mirrors, crystal chandeliers, fine marble. In addition, glamour is cozy – it is full of soft fabrics, velour, velvet, quilting, spreading sofas and armchairs and thick curtains. The color scheme that prevails in glamour interiors is mainly black and white, silver and gold, as well as bold colors with a predominance of pink and purple.
Kitchen in glamour style – how to decorate it?
Glamour is not minimalist, but it is worthwhile to approach the arrangement sensibly, so as not to overdo it and make the rooms exaggerated or kitschy. So what elements should be included in such a kitchen? Below you will find the necessary information.
Furniture in a glamour kitchen
Glamour kitchen is mainly associated with high-gloss furniture, for example, white (they are a great base, but wooden furniture, light pink and in shades of deep green and navy blue are equally beautiful). You can also go a step further and bet on mirrored fronts. This will not only brighten the interior, but also optically enlarge it. Add marble countertops, gold faucets at the sink and upholstered chairs or hockers. Matte black or dark green fronts with wooden countertops are also interesting.
By the way, we still need to take care of the space between the upper and lower cabinets – here it's good to bet on shine, on glossy tiles, colorful mosaic or marble with visible veins. In addition to all this, elegant platters, candlesticks, bowls and cutlery are also welcome.
Lighting – very important
Not only furniture and accessories play a big role in a glamour kitchen. Lighting is equally important. It's not about muffled spots, but white and crisp light. In addition, lighting in the form of a magnificent chandelier and stylized wall sconces is a decoration in itself. Crystal models are great, as well as gold and brass ones. Of course, let's not forget the LED strips along the cabinets, so that everything is really well illuminated.
In summary, a glamour style kitchen is luxurious and elegant, but at the same time comfortable and convenient. Of course, if we have a kitchen combined with a dining room or living room, we need to make sure that all these rooms harmonize stylistically.
main photo: unsplash.com/Sidekix Media