You need about 3 min. to read this article.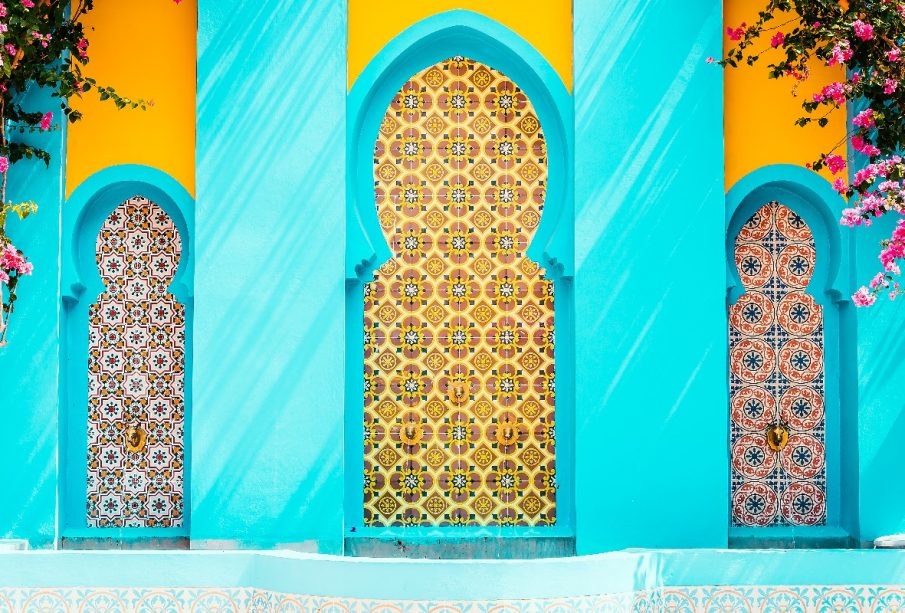 Moroccan style is increasingly popular not only in the bedroom or living room, but also in the bathroom. Even in this small room will look extremely exotic and interesting. Certainly, accessories and fixtures with beautiful geometric patterns will help in this
How easy is it to create a Moroccan atmosphere in the bathroom?
The bathroom should be a place of relaxation. It is very easy to create a unique atmosphere by adding Moroccan elements. These include oriental, geometric decorations combining unusual and beautiful colors – red, sea green, faded blue, yellow. A slightly muted color palette will also look great
Moroccan colors are often inspired by spices and Moroccan costumes. Turquoise or olive elements will certainly make us quickly move our thoughts to exotic countries. Oriental decorations are full of flowers and spiral patterns, which can be seen, for example, in Moroccan temples. This style has no realistic representations, that is why geometry is so popular. Decorative ornaments are very characteristic.
In Moroccan style it is worth betting on colorful walls or interesting flooring, if our bathroom has a large area. Ornamental tiles can be arranged for example around a mirror, so they will be visible and at the same time create an interesting frame
Pieces of colorful stones or glass embedded in the plaster will also reflect the Moroccan style. You can place them on the countertop by the sink or blend them around the mirror. With proper lighting, such as hanging oriental lantern, they will be perfectly exposed. Similar stones may be used above the bathtub or at the shower tray. To avoid too many colors, you can combine colorful ornaments on the walls with a simple floor in the color of wood or stone
Furniture in the bathroom in Moroccan style
Not without importance is the furniture that completes the styling. White or wood in the color of walnut will be ideal. Do not forget about interesting, stylized handles. Fronts made of wood may be a good choice. It is worth choosing a model with an openwork pattern
In a slightly more modern version of the bathroom will work fronts with a mirror openwork, which will combine the Moroccan style with modernity. A mirror placed behind the openwork will optically increase the space. We will also gain an interesting effect: in the mirror reflection, our beautiful floor will be visible. Wicker laundry baskets will be useful as additions. Towels can be put on the cabinet by the washbasin – we will feel like in Turkish hammam.
Interesting additions in the Moroccan style
Moroccan additions, such as a mirror in a gilded frame or a chandelier decorated with crystals, will be very intriguing ideas. A washbasin made of ceramics, but decorated with multicolored patterns, will be an unusual solution. Aged finishes and Moroccan patterns by the mirror or on the walls also look good.
Interesting lanterns are also worth considering – they can be placed on the countertop by the sink or on the floor. Do not forget about candles, which always give an unusual atmosphere. Such additions will always look decorative and beautiful.
Moroccan-style bathroom can make us feel like in an exotic country. Tiles with ornaments, wooden furniture with openwork fronts, candles or decorative chandeliers will make our bathroom a sanctuary of taste and a small private spa.