You need about 4 min. to read this article.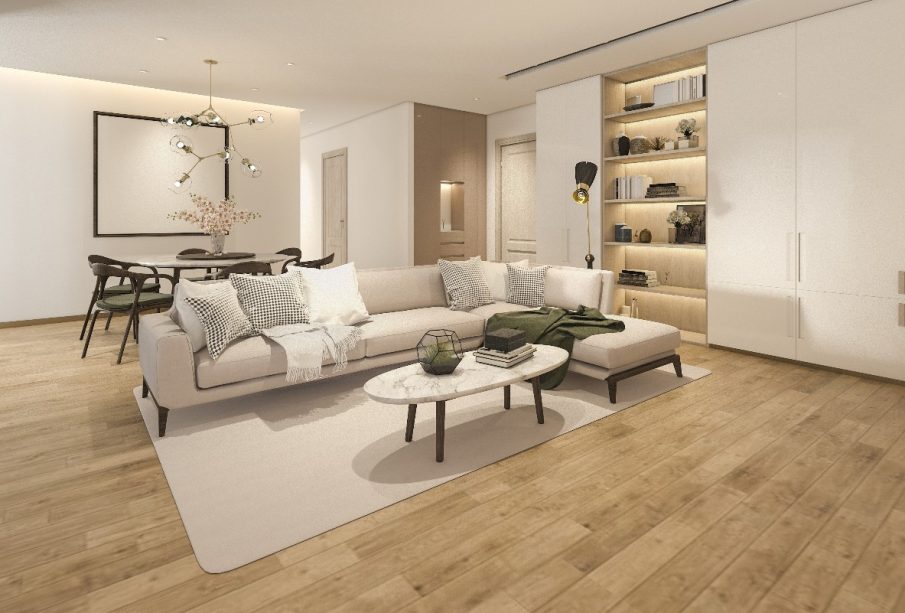 Parisian style in interiors can be described in a nutshell: chic, casual elegance with a touch of finesse. Learn the rules that apply to this arrangement.
Parisian style only in tenement houses?
Paris is famous for beautiful interiors with high ceilings, large windows and open spaces. Inhabitants of tenement houses are in the best situation, however, nothing stands in the way of introducing Parisian style even to a small apartment in a block of apartments. It is enough to choose the right materials, furniture, accessories and additions.
Parisian style combines luxury and simplicity, modernity and history, and at the same time maintains toned down colors. Here reigns, above all, various shades of white, but also grays, beiges, blues, pinks and purples, you can also find deep navy blue, green, maroon and black.
Space, lots of space
As we already mentioned, Parisian interiors are characterized by plenty of space and open layout of rooms. Having a living room with a kitchen annex gives us a lot of room for arrangement.
One more thing to remember is to keep symmetry and harmony. There is no question of mess or artistic disorder. Everything is done in order to maximize the available space. We may even be tempted to demolish unnecessary partition walls, if it is possible.
Wood on the floor and stucco on the walls
Parisian style draws a lot from the past. A remnant of this is, for example, wooden parquet laid in the French herringbone pattern and stucco or English panelling on light-colored walls, and even decorative cornices and rosettes on the ceiling.
And that's not all. Ornamental elements also appear on doors or furniture, while on walls we can also be tempted to use wallpaper with glittering elements.
Furniture in Parisian style
Furniture for interiors in Parisian style have soft, streamlined shapes and numerous ornaments, and at the same time they look light and refined. Louisiana armchairs, sofas (especially squat ones, taking up a lot of space) or chairs with curved legs are often upholstered with satin, rather in subdued colors. They are to encourage to rest even for a short moment.
Let's not forget about fireplaces – so popular in Paris. However it is not always possible to have a real one, so it is acceptable to place a decorative fireplace portal with a composition of candles in the center. An obligatory element is also a mirror – hung (over a fireplace or a chest of drawers) or placed on the floor or leaning against the wall – with a richly ornamented frame, often gold.
When it comes to colors, the Parisian color palette does not include dark browns or garish hues. We can choose black, dirty pastels or elegant grays.
Additionally important are accessories and decorations, preferably golden (frames, handles, candlesticks). Moreover, the floor can be partially covered with a carpet and windows with thick curtains.
Lighting with a chandelier in the main role
There remains the question of lighting, which plays a significant role in Parisian interiors. Properly placed light sources will allow us to optically manipulate the room, illuminate it, highlighting the entire unique arrangement.
In the central place should be a large, decorative chandelier with curved arms and sparkling crystals . Also crystals may be any wall lamps or standing lamps. The latter should have a fabric shade in the shape of a cylinder and white color. Do not look for hanging lamps here.
Finally, a small suggestion. Parisian style does not tolerate exaggeration, but also blandness. All elements of the decor should harmonize with each other and give the impression of being perfectly matched from the very beginning. The quality of workmanship is of great importance here.