How to decorate an apartment with bevels?
You need about 4 min. to read this article.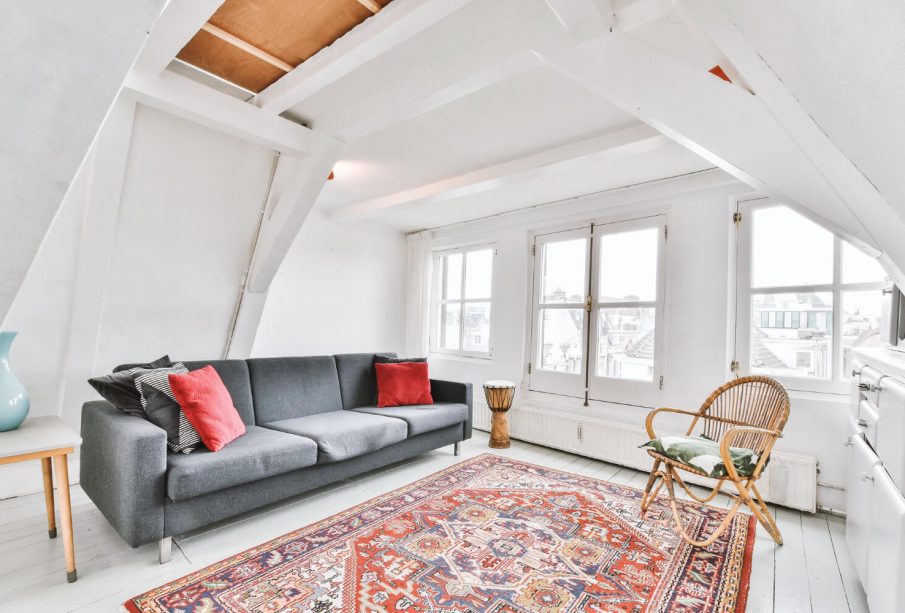 An apartment, in which there are bevels, somewhat limits the possibilities of arrangement. We cannot freely place all the furniture under the windows. However, the attic usually has an unusual climate, which can be fantastically used when finishing the apartment. By following a few rules, you can easily arrange a cozy and functional apartment in a unique atmosphere.
Apartment in the attic is a dream of many people. Large spacious windows, light entering the room and unusual climate. How to make an apartment with bevels will be not only nice but also practical? The best way is to prepare a good project. In such interiors, where every inch of straight walls counts, it is worthwhile to plan the layout of furniture well. With a little creativity and knowledge of the tricks of decorators, you can successfully create the perfect conditions for living. Check what tricks are worth using when decorating an attic apartment
Apartment with bevels – a dream come true or a curse?
Is it possible to arrange an interior in the attic without giving up half of the equipment needed for the bedroom or bathroom? A few clever solutions are enough to make the room in the attic a wonderful space for arrangement. Contrary to appearances, an apartment with bevels has many advantages, which should be used in an ingenious and interesting way. The biggest challenge is to make good use of straight walls for equipment and furniture that will not fit under the bevel. Fortunately, also a lowered ceiling can be arranged depending on the purpose of the room. The alcoves can be a great place for storage, trunks or boxes. It can also be a great space for a home library
Bedroom in the attic
An apartment with bevels has a unique climate, which is worth emphasizing properly. The attic is a perfect place for a bedroom, a room for a child or a quiet study, perfect for remote work. While arranging bedrooms, it is worth to think about bed positioning. The best solution will be to place it directly under the window, so it will always be a properly lit place. It is especially important and helpful to get up easier
In rooms where there is a lot of sunlight, we rest better, study or read books. Such a layout allows us to watch the stars at night while lying in bed. The interior in an attic should be spacious, that is why most furniture should be placed against the walls, keeping the middle of the room free. The space directly under the bevels should be used for small chests of drawers, stylish tables, small sofas or antique trunks or chests. All these pieces of furniture are perfect for storing clothes, bedclothes or personal items. You can also place a desk or a woman's dressing table perpendicular to the slant. In such a bedroom it is easy to isolate a place for work or makeup
Children's room in the attic
Rooms with bevels can be the perfect place for a child's room. First of all, they are usually quite spacious and bright spaces that will make the little one feel comfortable in his room. Secondly, bevels give a lot of arrangement possibilities for installing a canopy over the bed, painting interesting graphics on the wall or preparing storage for toys
Closet in the attic
Space, in which bevels go down to the floor, it is worth to use for a place to store things. So it will be an excellent corner for a stylish closet or pantry. Then it is worth to use the help of a carpenter, who will prepare tailor-made closets and shelves adjusted to the needs of the interior.