You need about 4 min. to read this article.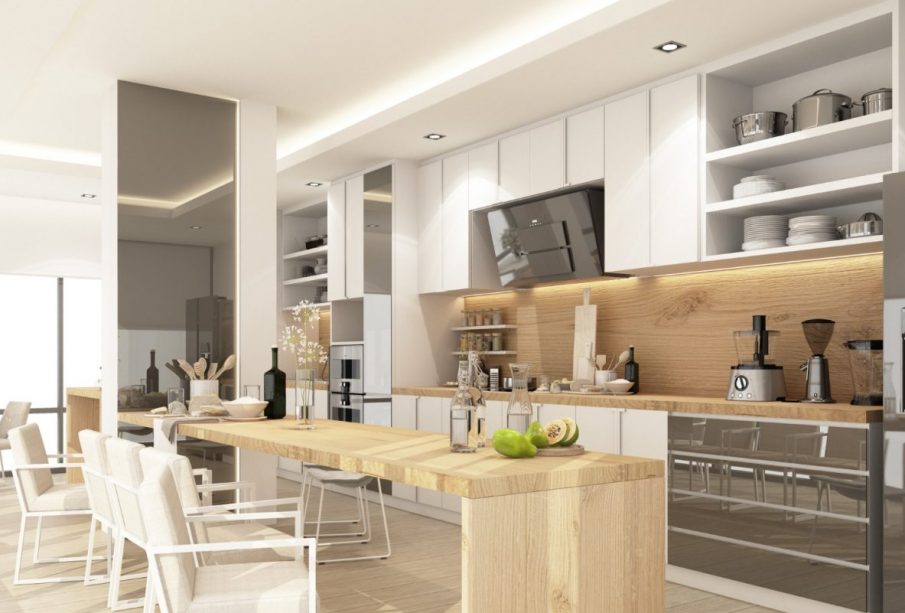 Countertops are an essential part of any kitchen. Not only do they have practical uses, but they also add style. One of the most common materials used to make them is wood.
At first, wooden kitchen countertops may be more associated with tradition than with modernity. However, this is not true. They are an extremely popular choice and are readily used for fresh kitchen design. Keep in mind that this is the most heavily used, and therefore vulnerable, surface in the entire room. For this reason, it will be crucial to focus on its functional aspects so that you can enjoy its beautiful appearance for as long as possible. The kitchen countertop is also an element of interior design that allows you to give it character.
>> See also: Wood and marble – a combination for stylish interiors
Before using wooden countertops in your own kitchen, it is good to know what they entail. Having them will certainly give you many benefits. First of all, they can be distinguished by their durability as long as you opt for a solid material. Otherwise, they can be easily renovated. A great advantage of this type of countertops is also their wide offer. We have at our disposal a variety of wood species and, consequently, color versions. Wooden countertop in the kitchen allows to obtain a very pleasant, natural effect.
Tradition in a modern edition
Wooden countertop is an element of decor, which without hesitation can be called timeless, and that is why it is referred to by many currently popular styles. They draw from tradition, but present it in a modern way.
A classic and very universal solution is the combination of wooden countertops with white furniture. Such designs are characteristic for example for the Scandinavian style. It is distinguished primarily by naturalness, brightness and minimalism. The species of wood that can be successfully used for countertops here is oak.
Simplicity can also be maintained through a small number of accessories. The walls in such a kitchen should be light in color and for the sake of consistency, consider a wooden floor and table in similar colors.
Rustic style
Wood used in a kitchen evokes an idyllic, perhaps even old-fashioned decor, which is why rustic style is a perfect combination with wooden worktops. When using it in a modern kitchen, we want to achieve a cozy, homey atmosphere. Countertops should therefore be kept in light, natural colors. You can opt for wood species such as ash or oak. Wooden furniture with retro metal handles will go well with them. In addition to the reliable white, their color can be maintained in soft shades of gray or blue
To expose the chosen style, it is worth betting on veneered fronts and glass display cases. The floor should definitely be wooden, and on the walls there should be, for example, ceramic tiles. The arrangement can be supplemented with retro-style home appliances and appropriate accessories. It will also be good to take care of warm lighting, so that the interior becomes even more friendly.
Minimalism
Wooden countertops can also introduce some warmth to very minimalistic, modern interiors. This helps avoid the sterile effect that is often associated with them. One of the main markers of such a kitchen will be, among other things, smooth fronts.
Minimalist style focuses on functionality and the best use of often very small space. A popular solution used today is to place the upper furniture at two heights. Cabinets on the lower level can then be for example in a color imitating wood. In this way, the furniture can harmonize perfectly with the wooden countertops.
The simplicity of this type of kitchen gives many possibilities. To give it elegance and originality, you can also choose dark-colored fronts for wooden counter tops and put black glass on the wall above the countertop.