Which wall clock to choose? An overview of interesting decorations
You need about 4 min. to read this article.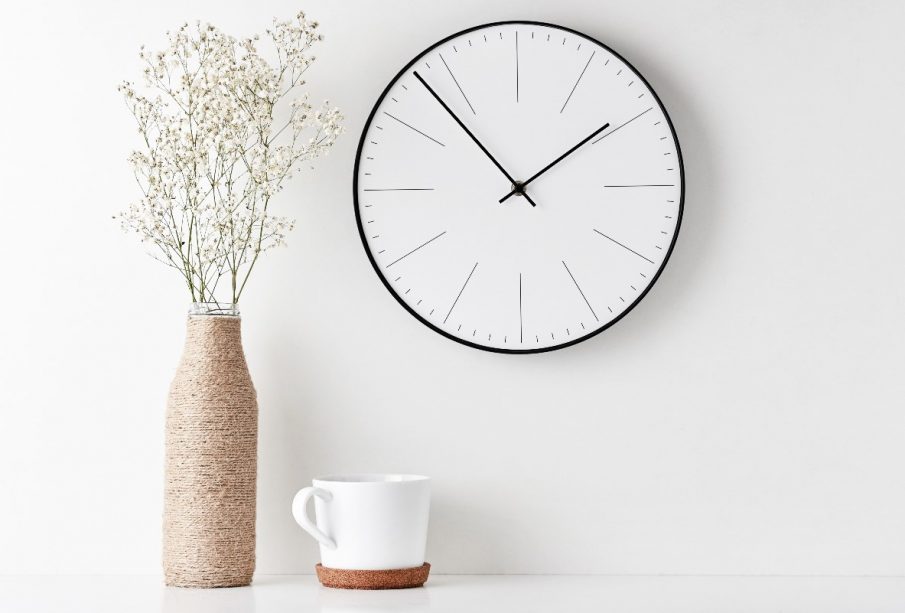 Clock – this valuable and practical interior accessories should be first of all well-chosen to the type of interior and style. Different model will buy for a modern kitchen, another for the hallway or living room in vintage style. It is also important that it is reliable and easy to hang.
Types of wall clocks – principle of operation
There are several types of mechanisms that are used to drive wall clocks. We are talking primarily about the devices:
quartz – for timekeeping a quartz crystal is used, which vibrates under the influence of electricity at equal intervals,
mechanical – they work thanks to a gear mechanism and a pendulum,
electronic – they measure time using a standard generator; the result is shown on a display.
Analog and digital wall clocks
Is it better to have a classic dial with the results given on it, or a digital display? The answer is not easy. On an LCD display it is often easier to see the measurement, especially in a sunny room
Analogue clocks
But what are the advantages of analog wall clocks? Such devices come in a variety of housings. They can be made of metal, plastic, glass or wood. There is much more diversity in the design of analog wall clocks
Digital clocks
Although they tend to lose out to analog models in terms of design, they have other advantages. First of all, they usually provide a much larger variety of data. You can often read from them the temperature, air pressure and humidity, date and day of the week, among others. Additionally, they can sometimes serve as an alarm clock or radio alarm clock
Popular wall clock designs
There are usually three basic styles on the basis of which wall clocks are designed. These include models:
Retro wall clocks
Sometimes they are also referred to as classic. Antique furniture is a model for such clocks. The wooden type of case and rich decorations are most often taken from them. The decorative character is typical for such a wall clock. It introduces a specific atmosphere to the interior, which suits various types of rooms. First of all, however, these are wall clocks for stately living rooms in classical style
Modern wall clocks
This is probably the strongest segment of the market when it comes to wall clocks. Very often these are metal or glass models. Sometimes even devoid of a number plate. A strong trend is to create modern wall clocks in accordance with the principles of minimalism.
Designer wall clocks
In case of such wall clocks the function of timekeeping is less important than the appearance. Designer models are sought after because they give the interior a unique character, are very expressive, interesting and unique
>> A bio-fireplace in the living room – the most beautiful inspirations
How to choose a clock according to the style and size of a room?
It is the size of the room and its arrangement that has the greatest influence on the choice of wall clock. Scandinavian style interiors require choosing clocks, which are made in accordance with minimalism. Bright colors will be out of place here. Definitely better with the whole will harmonize pastels. For loft interiors, on the other hand, we can boldly choose fully designer models. An example would be a clock with a face imitating a cogwheel. A wooden clock in white with an intentionally aged dial will become a wonderful addition to a shabby chic style. There are many possibilities.
Size of the clock
First of all, the wall clock should be adjusted to the size of the room and the size of the wall on which it is to hang. Lack of proper proportions is the best recipe for visual disaster. This is especially true for clocks that are too large in a small interior.
Clock display
It is also necessary to thoroughly consider where our wall clock will appear. A central place on the most representative wall in the living room is not necessarily preferred, but a grand and visually interesting clock should be clearly visible.