Geometric patterns on the wall – inspirations
You need about 3 min. to read this article.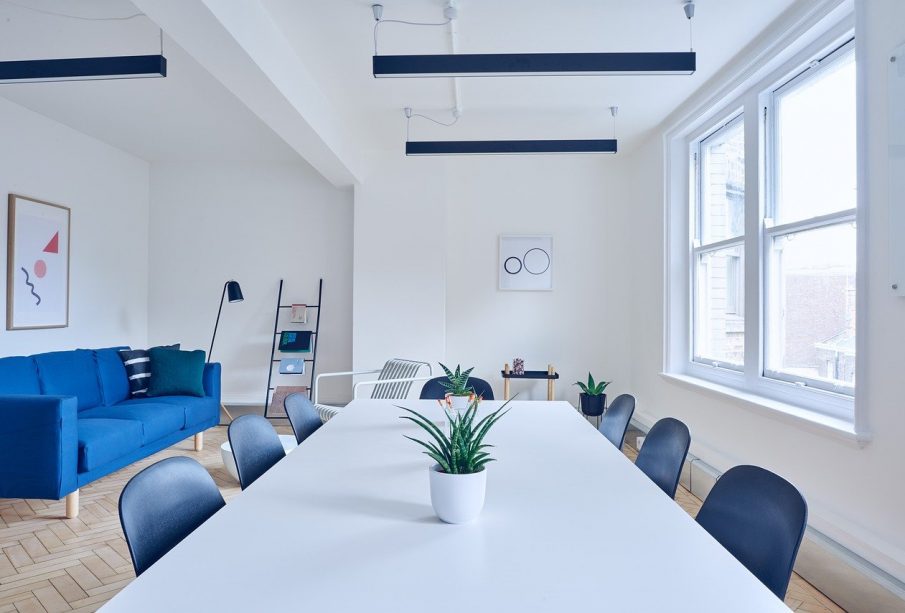 When decorating an apartment, we like to use geometric motifs on the walls. Check together with us what is trendy and get inspired.
Triangles, rectangles, squares – mainly these are the figures we associate with geometric patterns, of course including all kinds of solids. In the current interior design, such harmonious and shapely motifs look very impressive as wall patterns and will surely enliven many interiors.
Choose geometric patterns on the wall and add more life to your interior
Geometric wall patterns are more and more often used as a diversification of a rather monotonous and homogeneous arrangement (mainly in minimalistic style, but they also look very effective in loft interiors).
You can decide on whole-wall wallpapers or just wallpaper a part of the wall with a geometric pattern. Geometric motifs also include lighting, i.e. lamps in the shape of solids, especially constructions made of thin lines.
Geometric patterns on the wall are quite unusual decorations, which are perfect for spacious, bright interiors. They look very impressive on white walls
Which patterns to decide on? Remember that you are basically limited only by your imagination. However, when deciding on geometric patterns, it is good to have a sense of style, so as not to overdo with the choice of ornaments, because in effect, instead of the so-called wow effect, we may end up creating kitsch
Geometric motifs on the wall are various. Before we decide on one, it is good to do some research on the subject. On interior blogs, but also in trade stores, we will surely get catalogs with proposed geometric motifs. It is also worth going to a store to see live a wallpaper or a painting that interests us. In interior and furniture stores (such as chain stores: Castorama, Agata Meble or Leroy Merlin) there are interior design exhibitions, where we can see, for example, how geometric wallpaper looks in the bedroom.
Original combinations of motifs
Geometry in interiors does not have to be associated with aesthetic monotony. If we create a coherent arrangement, we are not threatened by a final artistic chaos. How to choose the right geometric patterns for the wall? Remember about an extremely important rule, that these motifs should be matched with a neutral, uniform color base.
If we dream about a wallpaper with triangles and squares in our bedroom, we cannot have colorful furniture, because the whole arrangement will be too gaudy, and thus it will simply not look nice. It is also worth following the rule that "less is more". If you decide to use a geometric motif on the wall, make sure the other accessories are chosen in the same pattern. Mixing incoherent motifs does not look good.
If you have your own vision on how to choose geometric accessories, go ahead and implement it. What looks good in an interior design catalog, will not always be perfectly reflected on our wall. We were especially inspired by such geometric motifs on the wall:
– wallpaper in stripes, especially grey-blue or grey-black. This is a distinctive graphic motif that will suit almost any interior;
– thin, contrasting broken line wallpaper, which looks as if it divides the wall into parts;
– wall geometric images, such as animals painted/created by combining solids.
Main photo: Pexels/pixabay.com