Bedroom in hotel style – how to decorate it?
You need about 4 min. to read this article.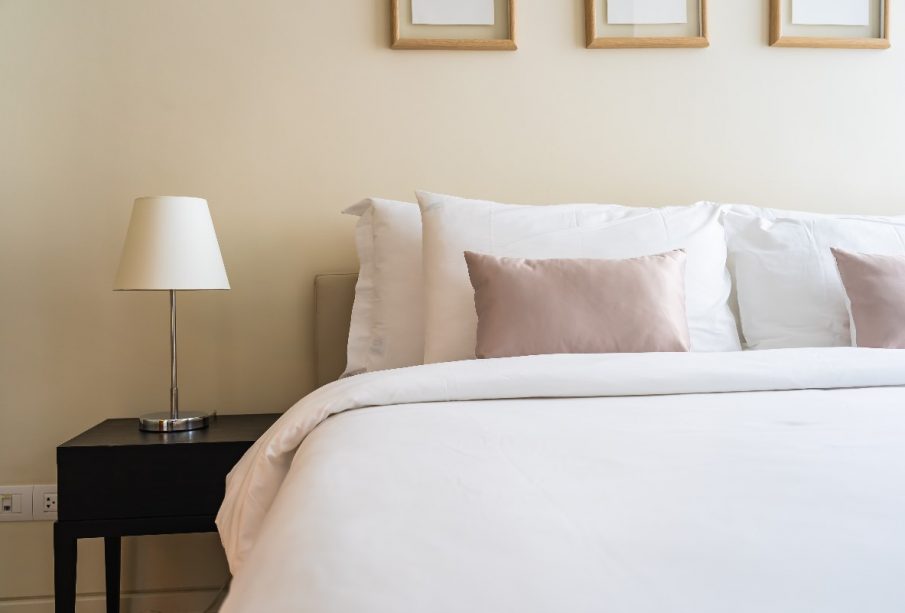 Do you sometimes get the impression that you sleep better in a hotel bed than in your own? We often associate hotel rooms with carefree times of vacation and relaxation
When opening the door to a hotel room, the most appealing area (besides the views outside the window) is the large bed. In addition, hotel rooms are often very elegant and feature a high level of aesthetics
In a hotel room there are stylish dressing tables, dressers or benches. There is also a corner with comfortable armchairs and a small table where you can drink your morning tea. Spaciousness is added by mirrors hung in appropriate places.
What makes the bedroom look like a hotel room?
A bedroom in a hotel climate is a unique place, which is not only used for sleeping at night. In this type of rooms, we like to spend our time indulging in such pleasures as relaxation, meditation, favorite reading or time for two with a partner
When arranging such a space, we should make sure that it is comfortable for us and that there is harmony and order in it. Moreover a bedroom resembling a hotel room should smuggle a bit of luxury into our lives. It may be manifested in a king size bed or a stylish dressing table. Mood lighting, which can be adjusted according to your needs, will give the right atmosphere. More light is needed when we want to read a book in bed, less when we choose to relax in romantic twilight
>> See: Ideas for the bedroom – up to 13 inspirations!
What furniture to choose for a bedroom in a hotel style?
Bed
The center of every bedroom is the bed. In rooms, which are to resemble those found in hotels, the choice of a bed is of great importance. Resting on it should be very comfortable, that is why it is worth to choose a large bed. If you have a lot of space in your bedroom, it is worth to buy a king size bed, which provides a perfect rest. It is also important to choose a mattress, which hardness should be adjusted to your needs and preferences.
Toilet
In hotel rooms, in addition to the bed, other furniture is often present to make the guests' time away more enjoyable and easier. One very practical solution, which you can also use in your bedroom, is to put a dressing table in it. It is a type of desk or console that is often sold in a set with a mirror.
Toilets make it easy to do your makeup in daylight, are a great place to store your personal items and can also serve as a home office
Table and armchairs
An interesting solution is to place a small coffee table in the bedroom together with comfortable, small-sized armchairs. This type of place is a great encouragement to have a quiet tea or a glass of wine with a loved one
What accessories are suitable for hotel-style bedrooms?
Elegant character of hotel rooms is largely determined by suitable accessories. It is also worth taking care of details in our home bedroom, which will make it a pleasure to stay in
A characteristic decoration in hotels is an impeccably bedded bed with lots of decorative pillows and a refined bedspread. These types of things you can easily adopt in your room as well. It is also very important to hang mirrors in the bedroom, preferably of large size. It is very important to hang mirrors in your bedroom, preferably in a big size, to make the interior look bigger by reflecting light.
In a hotel style bedroom you can't miss interesting paintings or photographs on the walls, candlesticks, stylish curtains and designer bedside lamps. You should also keep your bedroom neat and tidy because we usually rest much better in a clean and tidy space