Bedroom ideas – up to 13 inspirations!
You need about 3 min. to read this article.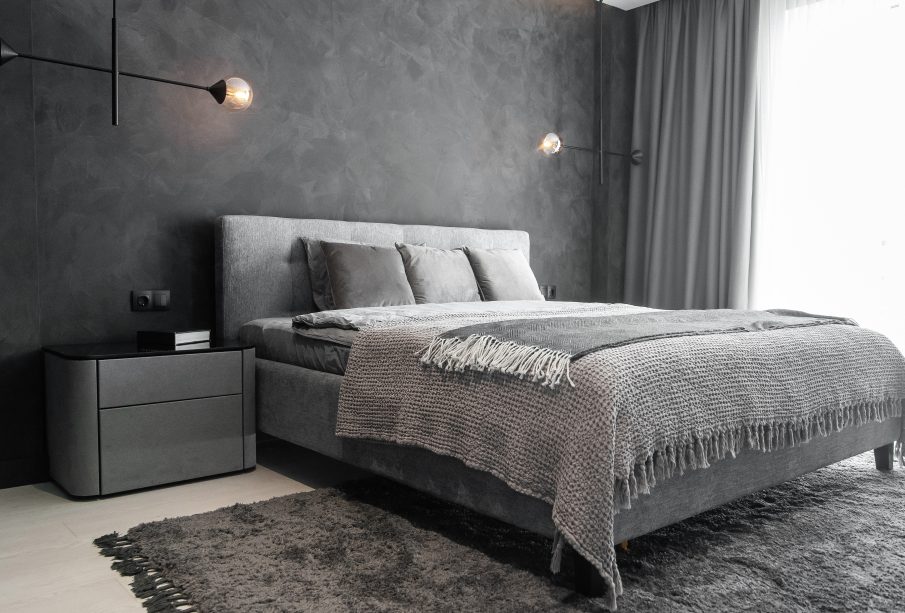 Do you want to decorate your bedroom, but have no idea what furniture to choose and how to match colors? Are you also looking for inspiration for original decorations? Check some ideas!
Bedroom is a source of harmony and peace
Bedroom is a special place in interior. There should be harmony there and colors should be conducive to rest. Furniture cannot be accidental, because it affects the functionality of this room and also a good night's sleep. You do not know how to arrange your interior? Check out the inspirations that come straight from the web. These arrangements are not only fashionable, but also practical.
Dark wall and contrasting furnishings
This is an elegant and modern room. The main character is, of course, the bed, which is complemented by dressers in a symmetrical way.
Not only for women
Delicate pink on the wall? Such a solution is associated with a shade for girls, but we guarantee that not only they will feel good in such a cozy interior.
Travelers bedroom
A wooden map on a dark wall looks simply great. For this you don't need much – just a flimsy bed, cabinets on visible legs and plants.
Bedroom in glamour style
The room is characterized by coziness and is decorated in glamour style. There are not many shades here, which promotes harmony.
Cozy interior
There are such interiors, in which everyone simply feels good. And this is one of them. A combination of natural wood in the form of bedside tables, a comfortable bed, modern posters and a footstool, which is a combination of loft feet and classic leather.
Hotel style
In this bedroom you will surely relax like in a hotel. Comfortable bed, gray and yellow color scheme combine perfectly with each other.
Navy blue on the wall
More and more often shades of blue are dominating on walls. Here, navy blue goes well with wooden, classic furniture.
Boho style in the bedroom
In this room will find all lovers of natural materials, colors and decorations.
Strong colors and interesting prints
A natural wall in the form of a large poster in a frame, as well as plants right next to the bed is a perfect place to rest.
White, black and grey
This trio will never get boring! See how you can use these shades in your bedroom.
A modern take on the bedroom
This room features a comfortable bed, gold wall lamps and interesting wooden furniture. All this is complemented by posters on a blank wall in navy blue.
Simplicity and minimalism
Less is more? In this case it does.
Timeless white
Bedroom in white is a proposition for everyone. In this case glamour style dominates.