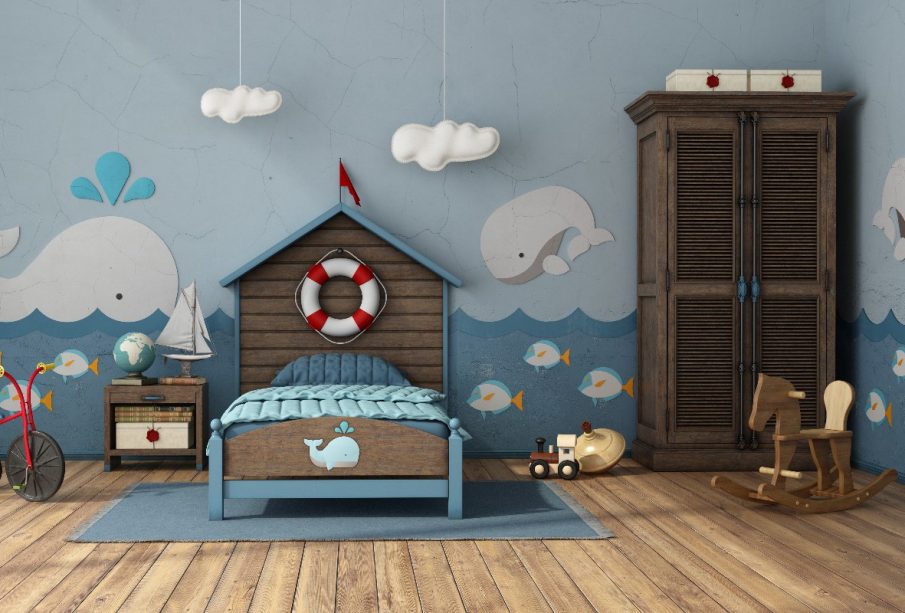 Navy style will probably never go out of style. It provides a casual atmosphere in any room. It is associated with the ocean, the beach and sailing. If you like to relax by the water, this style will surely appeal to you.
Key features of nautical interior design
When designing a room in maritime style, you do not have to start from scratch. Just introduce some distinctive elements that convey the freshness of the ocean. Combine them with the right decorations and get creative
A blue and white striped pattern will work perfectly here. You can use it, choosing curtains, carpet, wall decorations, furniture accessories. In addition, you should limit other colors. However, a red rug or decorative accent fits fantastically with white and blue stripes
If you want to decorate the interior, bet on some starfish-shaped decorations. This way, you will bring a nautical atmosphere to the room. Wondering what to hang on the wall? Choose old nautical maps and a wall mural depicting sea landscapes.
Trendy decorative elements
The nautical star symbolizes guidance and protection at sea. You can decorate your interior in many ways, for example you can put it on a table or hang it on the wall
When choosing decorations, however, keep moderation. If you place nautical stars, stripes, starfish, ships and anchors in one room, you will bring chaos to the room. It is better to use only one or two elements.
When preparing a nautical style bedroom design, choose one basic decor element. This can be printed bedding or other matching textiles.
What colors go well with a nautical style interior?
Wondering what colors to choose? Think about the shades that best represent the ocean. Also pay attention to the natural shades that you can find on the sandy shore
White will highlight the colors used wonderfully. Choose a shiny white or a more subtle shade. You can also combine it with a bit of blue. When it comes to shade, you have complete freedom here. Whether you optfor light blue or dark navyblue, it will suit a nautical style interior. As for other colors, use them less often and in combination with natural shades
Choose furniture made of natural wood. If you want, paint the shelves, table and chairs in brown, beige or blue. You can also opt for bleached wood. Natural wood wall panels also go well with this theme
Marine decor
Furniture and furnishings can be made from reclaimed wood and natural textiles. Do not use plastic or synthetics. Windows can be decorated with bright tulle or curtains with white and blue stripes
The focal point should be an anchor, telescope or rudder. All accessories should be made of natural materials. Items related to seafaring can include traditional chests, oars, ship models, cast stones and big old ropes.
Marine interior in bedroom, kitchen or bathroom
The nautical style will work great in your bedroom, kitchen, bathroom, children's room and other living areas. Wondering how to design a cozy bedroom in this style? Paint the walls white. This way you will bring lightness to the interior. Continue the ocean theme by choosing patterned bedding and a blue blanket. The bedside table and built-in closet should be natural in color. Add items such as natural wicker baskets, woven rugs and small mats in shades of beige or sand. The bedroom can look like a ship's cabin with wooden floorboards that have been lightly stained or painted white.
Are you dreaming of a nautical style kitchen? Then use the right colors on the walls, floor and textiles. White and blue tones will give the interior a fresh and elegant look.
Or maybe you want to decorate your bathroom in this style? If so, look for white, blue or nautical tiles. If you want to emphasize the nautical theme even more, opt for a wall mural depicting the secrets of the ocean.