Colors – don't be afraid of them in the bathroom
You need about 4 min. to read this article.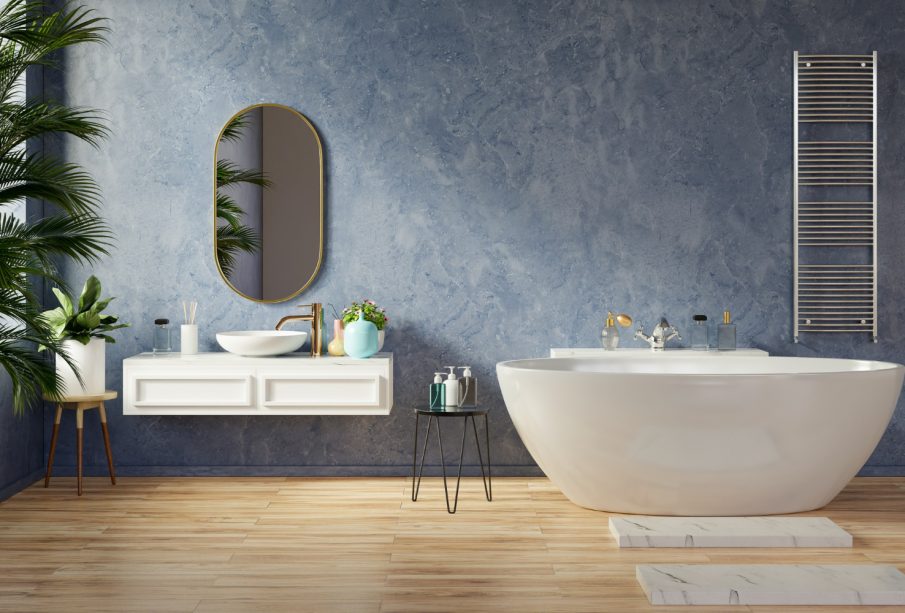 Experimenting with colors in the apartment it is easy to overdo. However, you should not be afraid of them. Properly chosen, they will emphasize the home atmosphere. Colors in the bathroom fit into the current trends
There are many ways in which you can decorate a modern bathroom. Although minimalism is still in fashion, many people are opting for other color versions. If a bathroom in this style is well thought out, it will make a really amazing impression
Bathroom finishes
The most popular color that usually appears in bathrooms is white. It works well on both the walls and the floor. It is the most versatile and gives a fresh feeling. It leaves a lot of room for experimentation. It is perfect for small rooms. Without contrasting accessories a bathroom seems cold. This color used in excess can overwhelm. It is worth to break it with other, stronger colors. Graphite and shades of gray will find application in a modern bathroom
We must admit that properly decorated is very atmospheric and mysterious. In combination with wood and greenery, these colors create an interesting arrangement. This option is bold and unconventional. The choice of these colors gives, contrary to appearances, a large field of possibilities. Just like white, it can be an interesting basis. In a dark bathroom a large role plays the lighting, which you can play with. Often such color versions of tiles refer to the stones
Different shades of green will also work well in bathrooms. Most often used is the dark, bottle one. Well complements this color black, grays and wooden elements. It also goes well with gold and steel accessories. Navy blue will also be a bold color. It will certainly add mood and elegance. It is also recommended to break it with white or delicate gray shades. Tiles resembling wood are very popular and universal. Shades of brown refer to nature, they also add a bit of freedom. Architects often opt for this solution. If you want to add color to your bathroom, pay attention to tubądzin tiles. This Polish company offers ceramic tiles in various styles. Apart from interesting colors, they have various structures and finishes. The offer includes delicate as well as bold shades. There are even colors of vivid red, orange and blue
Colorful accents
In case your bathroom is already finished, go for accessories in interesting colors. This is also a great idea when you get bored of colors quickly. Then you won't have to do a whole renovation. Just replace some of the items. Such accessories can be, for example, towels, mirror frames or small rugs. A soap dispenser can also be a strong accent
Gold and silver accessories are a dominant accent in many bathrooms. These are for example lamps, baskets or bathroom faucets. They are also used on mirrors, tables and as various elements on the walls. Colored ceramics is also a good option. This is quite an innovative solution. If we think about colors in the bathroom, it rarely comes to mind. Although it is a really original idea
You can base on a ceramic washbasin in fashionable colors. For example, these can be shades of green and pastel colors such as blue, pink or beige. In luxury bathrooms, bathtubs are not always white in color. They are also often found in grays, browns, or even black. Then they look good in a matte finish. Currently, dim colors reign in apartments. If you bet on them, it is easier to avoid overdoing it. When you add only one color accent to a quiet bathroom, the room will seem consistent.