Decorations with lavender motif – inspirations
You need about 4 min. to read this article.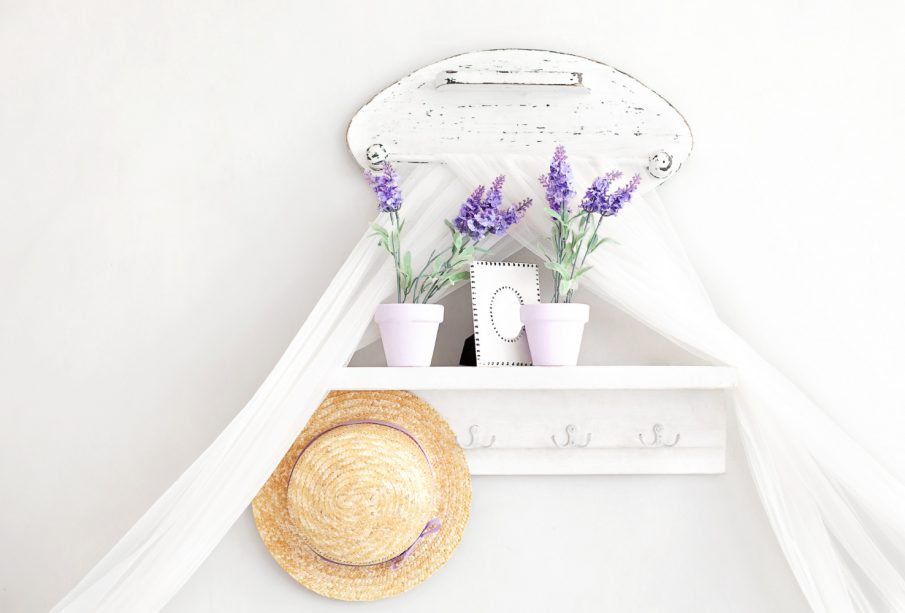 For some time now, lavender as a motif has dominated home decorations. You can find it everywhere – on wallpaper, napkins, paintings or curtains. However, we will not wonder where it comes from, but we will focus our attention on lavender inspirations in our four corners.
Paintings with lavender motif
The most popular example of decoration using the lavender theme are paintings, which we can find in every other store (not necessarily furniture stores). However, something for the wall is not enough – in order to achieve an electrifying effect, you need to rethink the whole room décor and make a greater change, e.g. by choosing accessories in violet color (both light and darker ones will suit), not only chairs or sofa, but also, for example, tableware. Delicate traces of lavender motifs will perfectly blend into the space of our house.
Lavender in the bathroom
Delicate lavender color, chosen for example as a ceiling finish or as an additional motif, fits perfectly with white tiles. The combination of these colors alone gives a great effect
When it comes to bathroom accessories, apart from cosmetics with the use of this herb (creams, soaps, bath lotions etc.), you can choose accessories such as towels with delicate floral embroidery, soap dispensers and soap dishes with lavender motifs, as well as candles with its scent (for longer baths in the tub). It is worth mentioning that flowers of this plant will be a great addition to the bath.
In the kitchen or maybe in the living room?
At home, it's worth putting a basket filled with lavender or artificial sprigs, and even better – a real, live bush, in a pot. It will add a distinctive charm to the whole room, give a beautiful scent, and on top of that it will be practical – you can do many things with lavender flowers. It's not popular in Poland, but for example in Czech Republic in every second cafe you can find lavender tea, wine or lemonade. It's also perfect for decorating snacks.
Lavender in the bedroom
Lavender has a calming effect and is good for sleeping. In some countries, e.g. Croatia, dried lavender is stuffed into pillows and kept close to the head overnight to inhale its specific scent (it's also a beautiful souvenir and a possible decoration of the house).
That's why lavender is mostly associated with bedrooms and that's where we should think about some of its accessories, e.g. paintings, pillows or bedside bouquets . How about a quilt with its motif?
>> See also: How to choose accessories for a living room in glamour style?
Subtle change
Subtle accessories with a lavender motif work great, for example jewelry boxes, key holders or garlands with lavender hanging in the kitchen or by the door. A good idea is to hang a few lavender bundles here and there, which you can make yourself (just tie one bundle with a ribbon), which will add more warmth to the decor. The style does not have to be sophisticated, small changes are enough to make their effect reflected in the whole interior.
Photo wallpaper
An interesting idea will be a photo wallpaper; the idea may seem outdated, but recently wallpaper is back in favor. One wall in the theme of lavender gives an amazing effect, for it the best will be furniture and accessories in shades of white. It is important not to exaggerate with the amount of purple – otherwise the decor will gain a caricatured look.
Lavender – the perfect decoration
Lavender surprises with its inspiration – in fact, it can be found everywhere because of its practicality, pleasant smell and undoubtedly aesthetic form. We use it as a decoration, an element of interior design, a syrup, a remedy for insomnia. Ideally suited to any home!