Laundry room in a detached house – examples of arrangements
You need about 3 min. to read this article.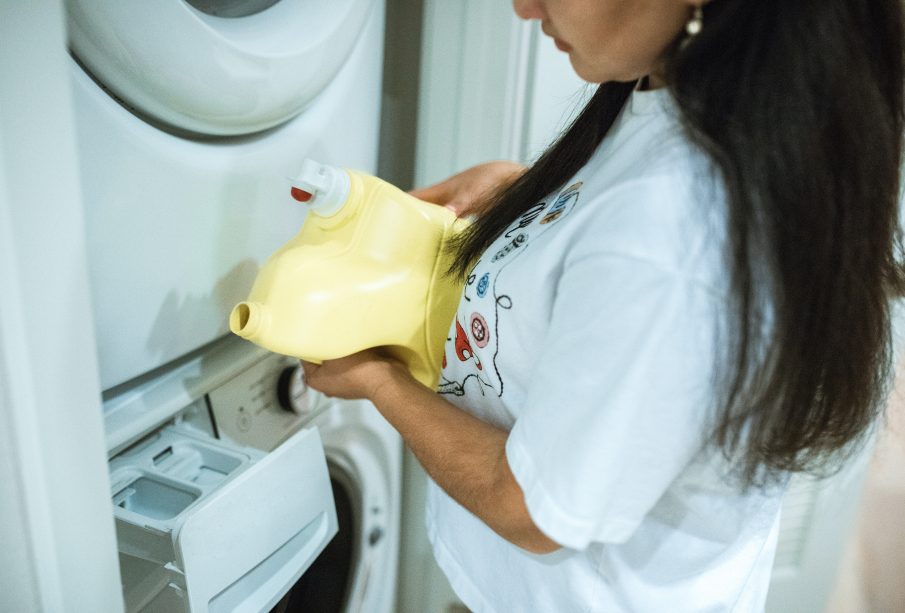 The possibility of installing a laundry room in the house in a separate room is a great convenience. This solution is increasingly common, especially in single-family homes. How to arrange the laundry room to be functional and aesthetic? Here are some ideas.
Laundry room as a separate room in the house is an extremely practical solution. A noisy washing machine, a dryer, a possible place to dry clothes and detergents – all this can be located in the laundry room. Thanks to such a room, we gain a functional space that will provide us with convenience in performing household duties. Below we present examples of laundry room arrangements in a single-family house.
Laundry room in the attic in a single-family house
If there is an attic in our house that is not yet developed, it may turn out to be an ideal place to create a laundry room. In order to make use of the space under the sloping roof, where no tall furniture will fit, we can place a row of cabinets with a place for a washing machine and dryer
In the laundry room you will also need a washbasin which can be mounted above one of the cabinets. It is also good to think about a place for an ironing board and for folding and drying clothes which should not be placed in a tumble dryer.
A neat, compact laundry room
Even a small room can fulfil its role as a laundry room. Design with an idea will allow you to create a functional space also on a small area. The best solution in this case will be to place the washing machine and dryer in pillar buildings – this will save space and use the space vertically. In a small laundry room it is worth making cabinets up to the ceiling to effectively use the available space.
Laundry room in a built-in closet
An interesting idea for decorating the laundry room is to place the washing machine, dryer and all the necessary equipment and tools in a built-in closet with sliding doors. In this way we will cleverly utilize the available space and gain extra room e.g. for drying clothes or ironing.
Equipment, detergents or cleaning tools kept in such a closet can be camouflaged in no time, and we will enjoy a practical and aesthetic room.
Laundry room in the basement
Another option for a laundry room in a detached house is to use one of the rooms in the basement. If you already have a basement, there is usually more than one room in it. It is a good idea to develop one of them as a place for washing, drying and ironing clothes.
In addition to the necessary equipment, there may be cabinets, baskets for dirty laundry or a permanent place for drying clothes – even in the form of strings, if space allows.
By allocating a specially separate space in the apartment for the laundry and drying room, we gain a comfortable and functional place – all the necessary appliances, cleaning products and equipment, which we would usually prefer to hide, can be found there. Such a room will be appreciated especially by those who deal with household chores every day.
Main Photo: RODNAE Productions/pexels.com