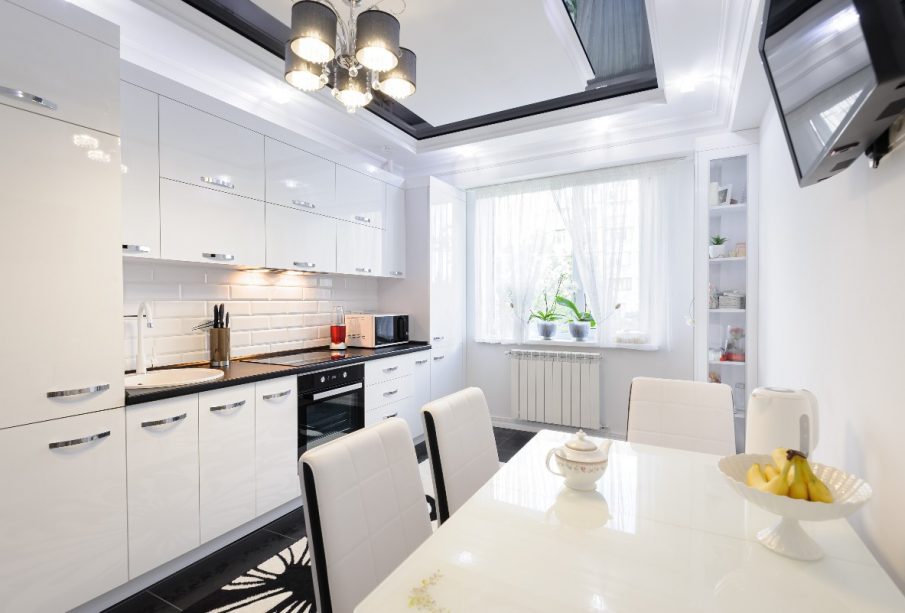 Elegance with a touch of glamour among stylish furniture – this is how the glamour style can be described. This style will also work well in the kitchen. Thanks to this interior will delight its beauty, without losing functionality and comfort of use. How to arrange a kitchen in glamour style?
10 inspirations for a modern kitchen in glamour style
What to put on walls in glamour style kitchen?
Glamour is all about glitz and glamour and it's a good idea to use it on the walls, especially in the space between worktops and wall cabinets. In this place will work great:
glass mosaic – optically enlarges the space, is resistant to damage and scratches. It is important that it is resistant to high temperatures. In the kitchen in the style of glamour will be ideal:
mosaic:

golden,

imitating marble,

imitating stoneware.

lacobel, i.e. glass decorative panels – there can be any print on the panels. Their big advantage is that they are very easy to clean.
Walls in a glamour kitchen should be glossy, but it is worth keeping it in moderation – if there are glossy tiles on the wall between the worktop and wall cabinets, the color of the rest of the walls should be matte. Glamour style means colors:
Subdued wall colors are the perfect background for striking decorations and shiny furniture.
Floor finish in a glamour kitchen
The choice of the right floor finish is determined by the finish on the walls. Glamour is not only about glittering beautiful materials, but also elegant timeless wood.
If you have glittering glass or mosaics on the walls and lots of shiny accessories, opt for large white tiles on the floor, which provide the perfect backdrop to the glittering accessories and shiny furniture. If you want to add some variety to your white floor tiles, opt for elegant and timeless marble or tiles that imitate marble.
Glossy walls look great accompanied by raw wood in a warm shade of brown. Light oak parquet flooring with high-gloss varnish will also work well in the kitchen.
Kitchen furniture in glamour style
Kitchenin glamour style attracts attention with its modernity, shine and classic elegance. If you like this style, then opt for furniture with milled fronts. Some cabinets may be glazed
If you prefer a modern glamour style, then opt for black or white cabinets with glossy fronts without handles
If the kitchen room is small, then opt for bright colors, which optically enlarge the interior, and glossy accessories will not overwhelm the small space. In such a kitchen will work best white furniture with glossy fronts and marble countertop and light wooden parquet.
Kitchen worktop
Kitchen worktop should provide comfort while preparing meals. In a glamorous kitchen, natural stone is best – granite is ideal for this, which is characterized by low water absorption and resistance to high temperatures.
In glamour style beautifully presents a combination of white lacquered furniture with a black granite or marble countertop – this is the essence of this style.
Kitchen in the style of glamour, and household appliances
Theglamorous kitchen is not only glitz and glamour, but also a lot of space, which is provided by built-in appliances – at first glance they are invisible. If you prefer free-standing appliances, match them in color to the fronts.
Store small appliances in cabinets. If you use an appliance on a daily basis, use a hidden countertop. This way you will always have your chosen equipment at hand and it will not clutter up your kitchen.
Original additions
Accessories in glamour style should shine – choose only a few items that will catch the eye. Over the table it is worth hanging a large mirror in a decorative frame, which will give depth to the interior
A shiny bowl or a fruit platter will look great on the kitchen worktop. Glamour style can also be emphasized by using various figurines, for example a pineapple.
Appropriate glittering lighting is a quintessence of glamour style – it is worth choosing crystal lamps with a glittering basket or crystal chandeliers, which will illuminate the interior perfectly.