Stickers – decorative and functional addition to the interior
You need about 4 min. to read this article.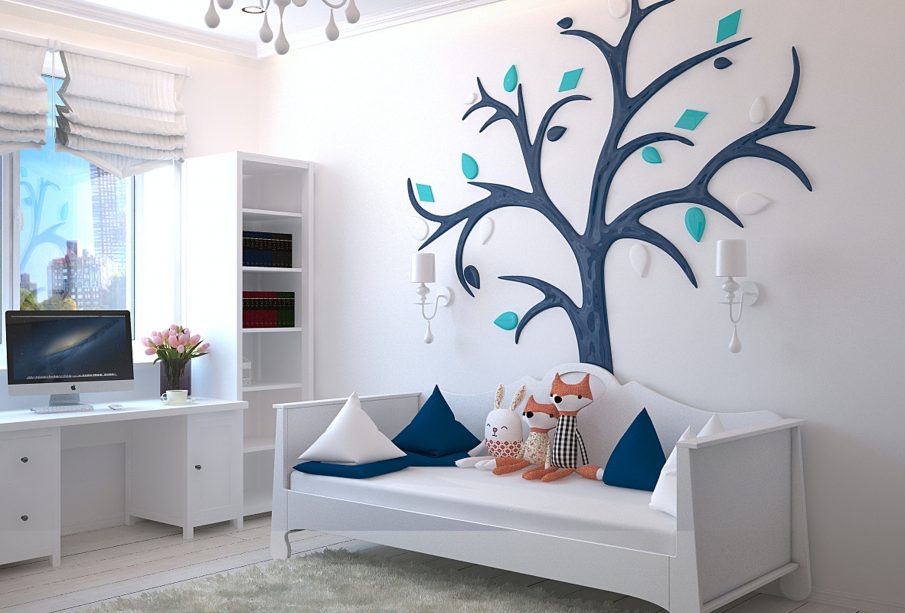 Wall stickers are probably the fastest way to change your decor. This kind of decoration works well both in the living room and in the bedroom or children's room. There are as many ideas for decoration with the use of wall stickers as their patterns.
The advantages of wall stickers
Wall stickers are inexpensive and quick to install. It is an irreplaceable solution if you want to decorate your interior not too expensive or if you do not have too much space for bigger decorations. Due to the fact that the foil, from which the stickers are made, is most often waterproof, you can clean them by wiping with a damp cloth.
It is also easy to remove the sticker. All you have to do is to lift it up and slowly peel it off, and the surface it was on will remain untouched. However, this depends on the durability of the previously applied plaster or paint. Walls that have been covered with gypsum plaster are the least likely to be damaged.
Stickers are a great solution also because the manufacturer of stickers usually offers a wide range of different designs and solutions that will work well in any interior.
Types of stickers
The most popular stickers that allow to decorate interiors are wall stickers. They are available in the greatest number of designs. There are also floor stickers available on the market, as well as stickers for stoves and boilers.
Sticker patterns
Floral patterns
Stickers with floral and plant motifs can create unusual optical illusions on the walls. It is worth choosing to place them in the fold of the wall or above the bed, because then they will make a fantastic impression.
Educational stickers
An interesting and at the same time practical solution are educational stickers. They work well especially in children's rooms. They will create a friendly atmosphere and will help them to learn. It's worth to place over the desk stickers with, for example, multiplication tables or educational boards with words in a foreign language.
Stickers for children's room
Apart from educational stickers, stickers with favorite cartoon characters or animals will look great in children's rooms. Wall stickers can also be used to decorate the fronts of the cabinets. On the fronts you can also stick what children draw most often, i.e. a tree, sun, clouds or a house.
Window to the world
Using a round colorful sticker, you can create a portal to another world. Thanks to them you will be able to look at a beautiful beach or mountain peaks every day. This is a good solution especially for nature lovers.
Brick effect
Raw brick wall is an increasingly popular choice in interior design, especially in loft style. However, not everyone can afford such a solution, most often because of the lack of such a large wall surface to manage. Then with help come stickers with the pattern of brick which will be the perfect solution to give the interior a special character.
Where to put stickers?
The most often wall stickers are placed on the walls in the living room, for example behind the sofa. They can also be put on the kitchen wall, in the dining room or in the hall. Here it is best to bet on a sticker in the form of a sign welcoming guests who enter the house. In the bedroom, stickers with a positive message in the form of a caption will be a great solution, while in the kitchen you will most often come across stickers showing food.
If you do not want to stick stickers on the wall, you can also decorate your mirrors, windows or furniture with them. Such interior design will certainly also be attractive.
Main photo: Victoria Borodinova/pexels.com