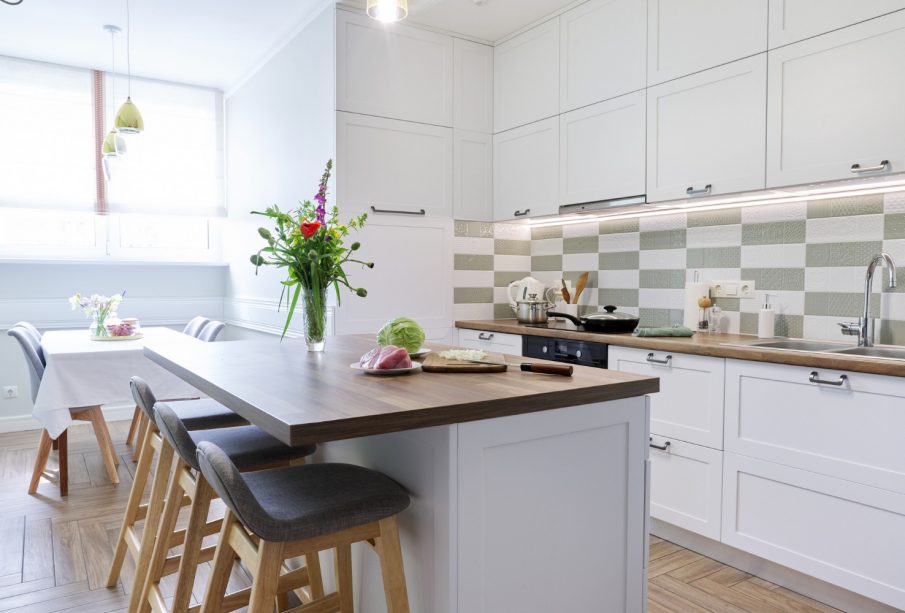 Simple, elegant, versatile and modern – that's what a shaker style kitchen is. In this article we will introduce you to some of the most important aspects, as well as show you some beautiful inspirations.
Shaker style – where does it come from?
Shaker (shaker) style comes from the United States, and actually refers to a religious group that was very active in the 19th century. It was called the "United Society of Followers of the Second Coming of Christ," and the unusual name, which they are still famous for today, is a response to their behavior during religious rituals – dancing, singing, and even screaming and shaking the whole body.
The Sheikhs introduced a unique style that was distinguished by its simple form and functionality. Their furniture was very popular, so they began to produce it on a large scale. They themselves lived in rather modest conditions, and this is where a completely new trend emerged, which is still very popular today in the United States itself, as well as throughout the world. Interestingly, some models of chairs cost even tens of thousands of zlotys!
Today the shaker style is primarily to show how functional the interior can be with a modern arrangement. Shaker style kitchen must be adapted for preparing meals, spending time together and efficient storage. Also aesthetics plays a large role – simple forms, cozy character, muted colors. In the past, a shaker-style kitchen was a meeting place for the whole family, so it had to be suitable for all household members, regardless of age. Today, it is also a place for work, conversation and fulfillment in the kitchen, hence the importance of design, colors, furniture and all visual aspects.
Shaker style kitchen – how to decorate it?
In a shaker style kitchen, there is no room for haphazard decorations, flashy forms or distinctive motifs on ceramic tiles. Just as in the nineteenth century, here too, you need to bet on simple forms, natural colors and creating a cozy home retreat. As for the materials, you can of course bet on a more luxurious stone, but wood is welcome, . According to the Sheikh style, you need to give up designer forms, excess textiles and art specimens.
The color scheme in the kitchen in the Sheikh style is to motivate to work, as well as to create a cozy interior. It is worth opting for earth tones, timeless white, brown and even black. Furniture should be not only aesthetic, but above all practical. They must make maximum use of every free space. An example here are the rails, on which hang kitchen accessories or cup racks. Cabinets should reach all the way to the ceiling, and if even there happens to be free space, it is worth filling it with organizers and boxes. Interestingly, shakers loved to mount casters to the table, creating a mobile piece of furniture.
Accessories in the kitchen of the shaker should not be much – minimalism rules here. However, if the decorations are of a practical nature, they are most advisable. The decoration itself can become, for example, knobs in kitchen cabinets or delicate decorations of fronts.
Shaker style kitchen – navy blue
The first inspiration is a dark blue kitchen with elegant chandeliers above the kitchen island, brick and slightly decorative fronts. Despite everything, there is peace and harmony here.
Brightness, aesthetics and elegance
Another proposal is light gray fronts, white countertops and simple in its form shelves. Plenty of storage and a generous worktop – that's the essence of a shaker kitchen.
Timeless white
This type of kitchen also fits in with the modern shaker style. It's minimalist yet elegant.