Which white kitchen appliances to choose? We review!
You need about 4 min. to read this article.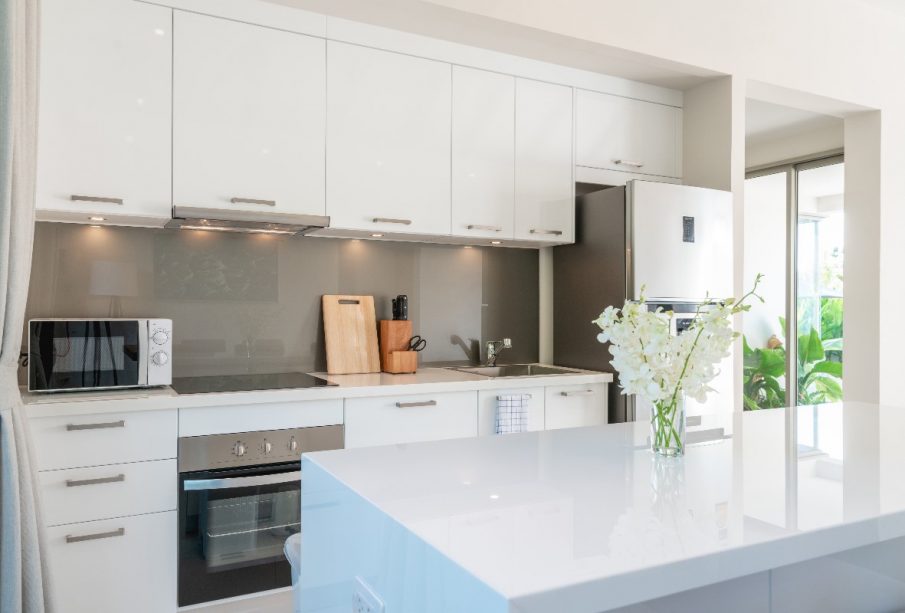 White is a universal color, which is still fashionable also in the kitchen. It can be introduced to it in two ways: through the color of the walls or the equipment standing in it. In the event that the walls are white, you can afford to introduce into the interior beige, brown or metallic elements. What to choose? Hints?
Why do we appreciate white in the kitchen?
White kitchen is primarily the aforementioned versatility. It gives huge scope for creating a variety of arrangements. You can find kitchen spaces in classic and glamour style, but also popular are modern
(Not only) Scandinavian inspirations
White kitchens, which seemed to be a thing of the past, have become popular again thanks to the inspiration carried by the Scandinavian style. The kitchen with a dominance of white color is no longer considered bland or even sad and too sterile. It began to be associated as neat, clean and cozy. Accessories for such an interior no longer had to be, as in the 90s, delicious or contrasting.
After some time, however, grandma's white cupboards began to be valued again. After renovation and giving them interesting features, for example, by using chalk paint and creating leaks, they again became an interesting basis for a kitchen in white. Of course, it's worth equipping such a kitchen with modern appliances. But how do you choose it?
What kitchen appliances for a white kitchen? Essential appliances
The equipment of a white kitchen will not be any different from a standard kitchen. The good thing is that most white appliances come in white or a color that doesn't clash stylistically with white walls. A refrigerator, microwave oven, gas stove and many other appliances can be easily bought in a color that suits us. However not everyone likes too much white in the room. Therefore, we can bet on other colors or choose accessories in an appropriate way to change color accents in the interior
What hardware colors are easy to combine with white walls in the kitchen?
Interesting styling in a white kitchen can be created with different colors of appliances. It will be easy to achieve it especially with equipment in color:
black – the balance of white with black is always elegant. It does not require too many accessories, but you need to be careful with it in small rooms. Then it is recommended to light the interior more strongly;
gray – gray is also very versatile, it is also suitable for combining it with the white of the kitchen. Darker colors such as graphite are especially recommended for household appliances;
silver – metallic reflections are still in fashion. Such appliances are recommended especially for modern kitchens
beige – thanks to it you can achieve a warm atmosphere in a white kitchen. Earth tones, fashionable this year, will be an excellent choice for people who are comfortable in such interiors. Darker additions will avoid the impression of monotony in a white and beige kitchen.
What color of household appliances in the kitchen will be practical?
Of course, the choice of microwave, refrigerator or oven for the kitchen can not be based only on their visual qualities and nice design. Functionality also matters – not only the efficiency of the equipment itself, but also its durability. There are still doubts as to whether household appliances in light colors are practical. Most often they concern those that are completely white
>> 3 practical and stylish bathroom accessories
In practice, it happens that the white color translates into shorter use of household appliances in the kitchen – especially when we care about their appearance. The mechanism of the problem is not complicated and applies especially to poorer quality equipment; white equipment gets dirty more often. In particularly exposed areas, scratches appear after a while, and then unsightly abrasions. This is why white kitchens are often fitted with appliances in other colors.