Wallpaper with flowers for the bathroom – is it a good idea? What to combine it with?
You need about 4 min. to read this article.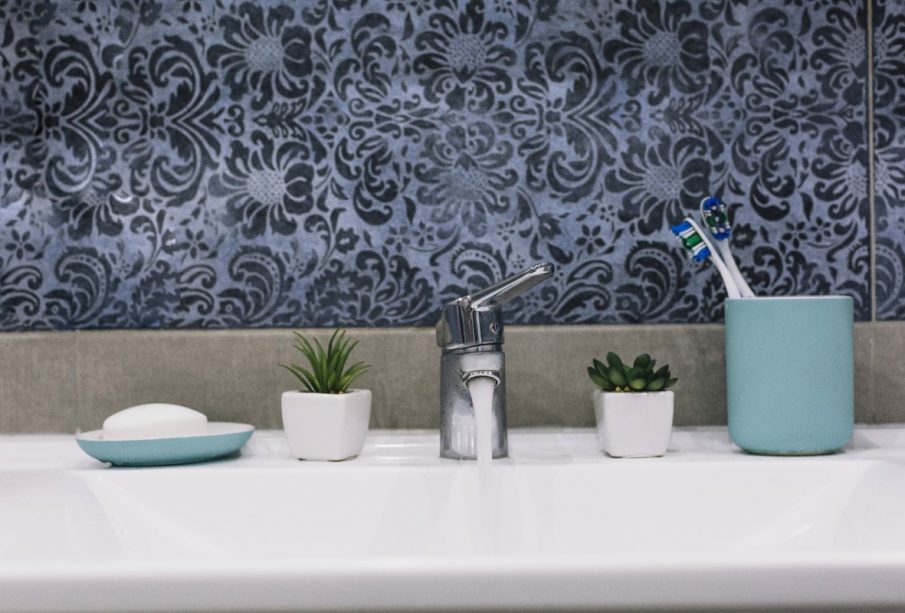 The very idea to decorate the walls in the bathroom with wallpaper is sometimes considered controversial. This place is extremely difficult because of the humidity. In addition, the pattern in flowers will not fit everywhere. What to do to create an interesting bathroom styling with it?
Is floral wallpaper fashionable?
Without a doubt, floral motifs were and still are one of the most popular patterns used on various types of wallpapers. Sometimes they are also chosen today, but many people have doubts whether such motifs are still fashionable
Nowadays these are no longer heavy rolls of wallpaper in rather monotonous patterns known back in the 90's. Most often now offer higher quality vinyl or interlining products, which have a higher level of resistance to damage and moisture. In the past, the problem was deformation, abrasion and fairly rapid wear of wallpaper pasted on the wall – now manufacturers take care that their products are as resistant to such factors as possible
If wallpaper in flowers, then what kind?
Highly popular among floral wallpapers are those on which are reproduced large and expressive flowers. The most common motif, always popular, are roses. They are used primarily in the bedroom and living room, but you can imagine an interesting styling of the bathroom with them in the lead role
What not to do? First of all, the floral pattern must fit well into the interior design and under no circumstances be overwhelming. Bright wallpaper in flowers better put only on one wall. In combination with bright tiles and white on the other walls can create a very climatic combination. Other popular flowers on wallpaper are peonies, poppies, tulips and peonies
Instead of wallpaper – photo wallpaper
An alternative solution designed for the bathroom can be a wallpaper. It is often a reproduction of real flowers or refers to an idyllic view. With such materials you can get a harmonious atmosphere in the bathroom, which is associated with relaxation. The advantages of such a solution are primarily the high quality of the pattern and their large selection. You can also apply an unusual, but very atmospheric solution, using a wall mural in flowers to the bathroom. An example would be a pattern with a black rose, which would match, for example, black and white tiles and other white elements
Types of wallpaper with increased resistance
The bathroom is undoubtedly a place where the intensity of unfavorable factors for the life of the wallpaper is very high. It is primarily about exposure to water and moisture, but to a lesser extent also to mechanical damage. When choosing wallpaper for the bathroom we should not only think about the floral pattern, which we could like for a long time, but also take into account its resistance. What wallpaper is not worth choosing for such an interior? It is a bad idea to glue paper wallpaper in the bathroom. They will work well in the living room or children's room, but – despite offering us products consisting of several layers – it is not worth choosing them for the bathroom. Instead, wallpapers are recommended:
textile – very elegant and, unfortunately, very expensive solution for bathrooms of a high standard; it is worth making sure before buying that the product is suitable for laying in this kind of premises;
vinyl – covered with a layer of vinyl, which helps to increase resistance to scrubbing and sunlight; also for them we will have to pay more;
interlining – easy to install and remove, consists of two layers;
fiberglass – a modern solution, which to a very large extent hides the irregularities of the substrate and is resistant to the destructive effects of moisture; they can also be painted, but it is much more difficult to dismantle them.