You need about 4 min. to read this article.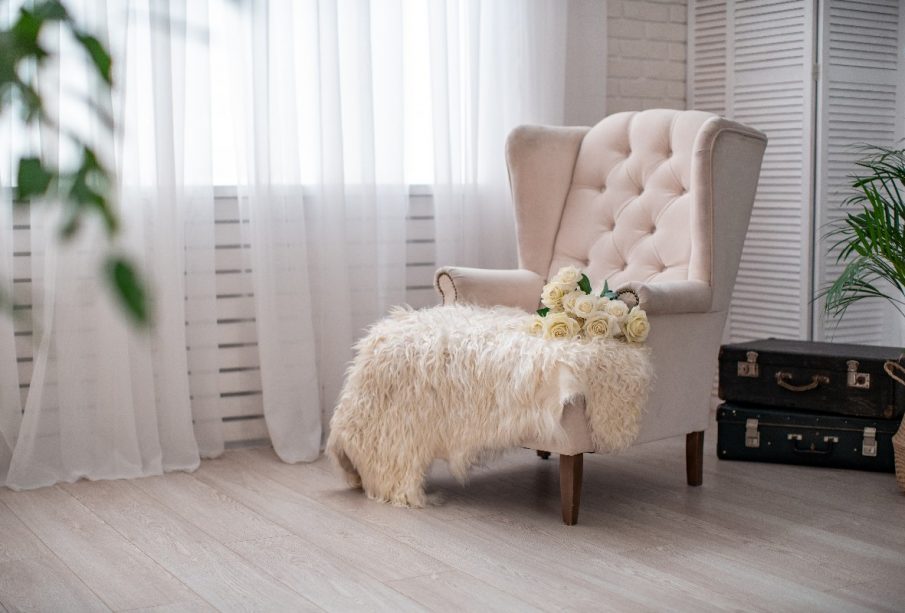 Glamur, or elegance and luxury, has its subtler variation, which is soft glam. This style is characterized primarily by pastel colors, discreet gloss and a combination of classic and modern.
How to create a closet?
The ideal solution is to create a dressing room in a separate room, which is at least 4 m² and can accommodate a dressing table and mirrors of various sizes. Unfortunately for many women, such a dressing room will remain forever in the realm of dreams! However, even if you have a small area at home, you can have your dream closet – just use the nooks and crannies of your apartment.
Clothes and shoes can be placed anywhere in the apartment – you just need to measure the free space well. To make a woman's closet can be used ready-made systems of hangers and shelves for clothes.
A woman's closet can be created in 4 steps:
Order in clothes and shoes.

Organization and storage of things.

Good lighting.

Creating a room that serves several functions at once.
Closet in the bedroom
If you do not have the possibility to create a separate room for a closet, it is worth to invest in a custom-made closet, which can be separated from the bed with a special screen. Next to the closet it is worth to arrange a small corner with a dressing table.
Mini closet in the corridor
Creating a mini dressing room in the corridor is a great idea – after all, this is where most women get ready to go out. In such a place there should be a mirror and a large closet, which will accommodate our clothes. If there is not much space, it is worth creating a mini dressing room for outerwear and shoes.
Closet in the attic
Creating a closet in the attic may turn out to be a big challenge – especially if there are slants. In such a situation a built-in closet will not work, but a great solution are metal rods attached to the ceiling with a rope. On these rods you can hang hangers with clothes.
Closet in a small apartment
In the arrangement of a closet in a small space, metal standing clothes hangers will work best – they fit modern and industrial interiors. Closet in a small interior can also be created with a capacious built-in closet.
Gloss is a must have in soft glam style
A characteristic feature of the Soft Glam style is the shimmer of silver and gold tones. Glossy accents are a must for a woman's soft glam closet. These include lamps, mirror frames, flower pots and chair legs.
When selecting accessories for your closet, follow the "less is more" rule. It is worth deciding on one shade of shiny accessories, e.g. smooth, silver finish. Metallic accessories in your closet must be of good quality, so you can avoid the "tacky" effect. It is worth choosing simple, modern forms.
Mirrors in the closet
In a woman's closet can not miss a mirror. It is known that every woman wants to check whether it looks good in a given styling. Mirrors in the dressing room optically enlarge the space and add glamour.
A proven solution is a large mirror in a metallic frame or several small mirrors in round frames. If you have a dressing table in your closet, opt for a streamlined, round mirror that blends in well with the soft furnishings.
Dressing Room Lamps
Lamps in the style of soft glam, are modern forms with the addition of metallic shine of silver and gold. There must be "good" light in the dressing room, so it is worth choosing several points of illumination. This year, very fashionable are soft glam lamps with round glass lampshades, with the addition of silver and gold elements.
Lamps should be exposed on shelves and countertops, because in this way they optically enlarge the space
Furniture in a closet
Furniture in soft glam style is primarily mirrored fronts and shelves in furniture. Glass, as well as shiny metals reflect light very well. Thanks to this, even the smallest room seems to be more spacious. The effect of spaciousness is strengthened by silver and gold accessories (it is worth deciding on one color of accessories). A combination of glossy accessories makes the interior cosier
Soft glam style in a dressing room is a great combination of luxury and coziness.