How to arrange a terrace in English style?
You need about 4 min. to read this article.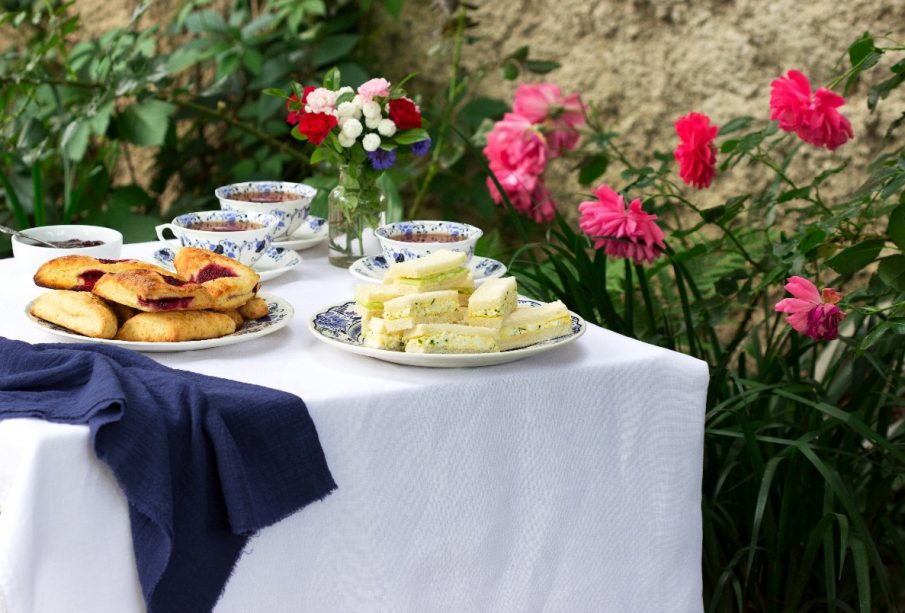 The English invented the kitchen garden probably in the 15th century. Back then every piece of land counted. Herbs, fruit trees and flowers were planted there (they attracted bees to pollinate crops). Such a garden combined aesthetic and practical values
Modern home gardens look equally beautiful. Edible and ornamental plants mix, fall on the sidewalk and create a colorful patch. Roses wrap around a trellis and mallows lean carelessly against a wall. Check out how to design a romantic terrace!
What flowers work best on a terrace?
If you want to recreate the country atmosphere of an English-style terrace, plant roses, lavender, hollyhocks and other flowers next to each other . This will give your space a unique character. Look out for mallows when designing your garden. These are biennial or perennial plants with straight, unbranched stems covered with a layer of hairs. They have single, pink, purple, white or yellow flowers arranged in bunches or clusters. They are perfect for the home garden. They will enliven it wonderfully. They tempt with delicate, sweet scent.
You can also plant foxgloves. They have tall, spiky, tubular flowers with white, yellow, purple or pink petals. Wisteria is also very popular. It winds wonderfully along a wall, tree or other garden structures. It delights with white, blue, pink or purple flowers.
To create a quintessential country English garden, plant the flowers at the edge of beds and let them spill out onto pathways. Think of fragrant blooms rubbing against the ankles of homeowners and guests walking down the path
Opt for climbing plants
When designing an English-style patio, you are free to choose a variety of plants. Just make sure that they will have access to sunlight
Think vertically as well as horizontally. You can plant ivy, glycine or vines. They will bring a unique atmosphere while providing shade on a hot day. Such a space encourages relaxation, so place elegant and comfortable wooden, granite or metal furniture on the terrace.
Install sturdy trellises that climbing plants can freely entwine. Place them by walls and doors. They will introduce a romantic, cozy atmosphere.
How to create a terrace garden?
Carefully trimmed hedges form the geometric frame of a classic English garden. Main paths mark the boundaries. Consider space constraints, the need for privacy and flower bed exposure – you can choose tall yew hedges or lower hedges in boxes
Perfectly laid out lawns play an important role in classic design. Be sure to plant grass in the spaces between hedges, except where you plan vegetable beds. Think about an elegant gazebo or open seating area to encourage outdoor relaxation
Place benches, chairs or chaise lounges in strategic locations. This way, you'll encourage household members and guests to spend time among the bees and flowers.
>> See: What style does concrete go with?
Plant shrubs and small trees among the flowers to add height, structure, and aesthetic value to your beds. If you're going to plant fruit trees, berry bushes or vegetables, you need plants that will attract bees. Think lavender, yarrow and asters.
Relax on the terrace
When designing an English-style terrace, include brick or stone features, fountains and pathways. This will make it look like an extension of your home. Concentrate on perennial plants to make the garden a delight in any season. Fill the space between them with annual flowers
Remember to plant in layers. Taller plants should be in the background, medium plants in the middle, and the lowest plants in the foreground. This way you will fully bring out their beauty
Also think about decorative elements such as gazebos and garden grills. Not only will they increase the functionality of your patio, but they will also enhance the beauty of vines and other climbing plants.
English plants use every part of the garden, so forget the traditional spacing rules. Choose flowering plants of different shapes, colors and sizes. They can spill out onto walkways, climb over trellises and lean out of pots. If you want to emphasize the unique character of your garden, put up a birdhouse or a wooden swing