Toilet in the bedroom – 6 inspirations
You need about 4 min. to read this article.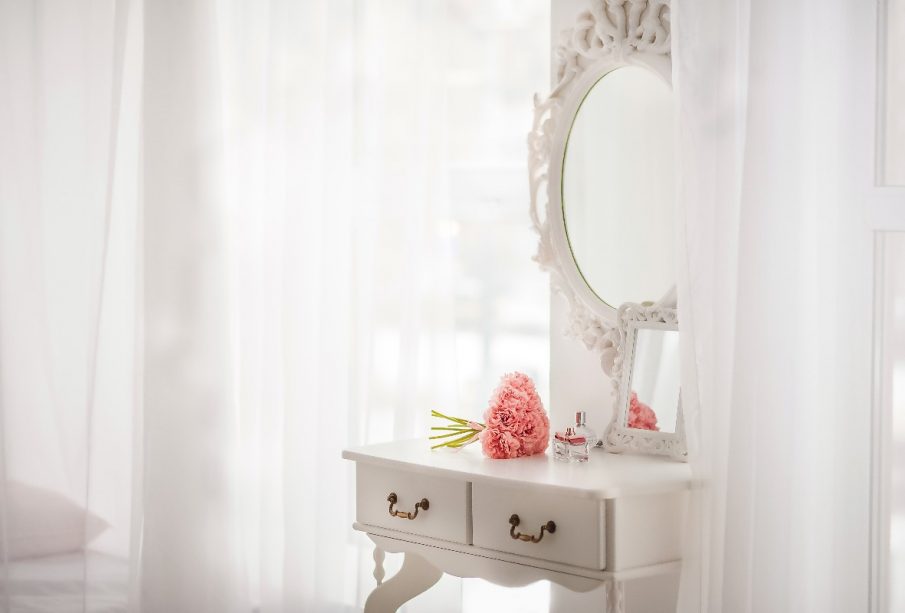 A dressing table in the bedroom is the dream of many women who like to have a place for their belongings and trinkets. Not only is this piece of furniture a fantastic way to enrich your interior design, it also has many practical uses.
A dressing table is a very useful element of every bedroom. A woman who has such a piece of furniture in her home, can in comfortable conditions and with good lighting perform the perfect makeup. It is also an excellent way to store personal things. You can decorate the dressing table with a vase of fresh flowers or a tasteful jewelry rack.
What types of bedroom vanities are there?
White dressing table
The most sought after dressing table by customers of furniture stores is the one in white. This is the most universal model, which perfectly suits various types of interiors. For this type of furniture very easy to choose accessories in the form of a mirror and pouffe or chairs to dressing table
A properly selected tabletop or console can serve as a comfortable work space when we do not have a separate study at home. You can spread the computer on it, arrange documents and put a cup of coffee
Dressing table for bedroom in glamour style
Stylish dressing table will perfectly fit into the bedroom in glamour style. This is the type of interior, where elegant and chic furniture and accessories are important. A console with a glass top and chrome finish is a great choice.
Some models are sold in a set with a mirror, which is illuminated by led bulbs. It is an eye-catching and practical element of the bedroom
A fantastic addition to your dressing table will be the ornaments on it. It can be jewelry boxes, designer vases or a lamp decorated with crystals. However, there should be no chaos on the tabletop, so the choice of decorations should be well thought out
A dressing table with a large mirror
A dressing table with a large mirror is a dream of women who love to spend time on applying makeup and trying on different styles. A mirror with a significant surface allows you to see your figure in its entirety. Placing such a dressing table even in a small bedroom will make the room optically larger and brighter
>> See: Which wall clock to choose?
Minimalist dressing table for the bedroom
A minimalist dressing table will perfectly fit into a Scandinavian style bedroom. It will be characterised by a simple form and made of solid, natural materials
Wooden dressing tables with white elements give the bedroom a cozy, yet nonchalant style. A small amount of decoration and practical drawers, which allow you to hide items, make the furniture very functional.
Toilet in vintage style
An interesting alternative to modern dressing tables will be consoles in retro or vintage style. Real gems can be found at the antique market, during a visit to the attic at grandma or in the store with antiques. Sometimes it is enough to lightly renew the furniture to give it a completely new character and second life. Of course, you can also buy a ready-made product in such a style in a furniture store.
A beautiful addition to classic bedrooms will be consoles made of dark wood. Such a dressing table will give the interior a dignified and stylish character. For people, who are looking for unique and original solutions in their home, a traditional cabinet will be perfect
Console for a loft bedroom
Next to modern style, industrial style is a very popular trend in arrangement. In a bedroom in such a style, a loft dressing table is a must. It will be a bit raw furniture, which will create an arrangement of elegant and interesting character. Its purpose is to create a luxurious, yet useful and practical space
Industrial consoles often use such materials as metal, steel, chrome, wood or glass. They usually have a simple form, consist of an elegant top and stylish, often decorative legs. The whole gives the interior a designer atmosphere