You need about 4 min. to read this article.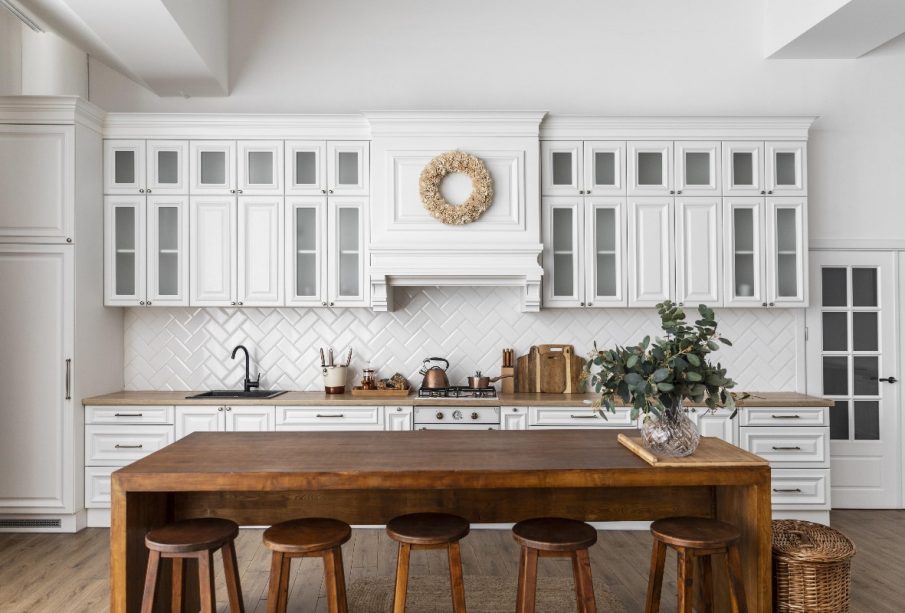 Kitchen arrangement is quite a difficult challenge. It is an interior that should be functional, yet cozy
Many people want to create a family atmosphere in their kitchen, betting on classic and proven solutions. To this end, a kitchen in the English style, which combines elegance, traditional solutions and a very chic interior atmosphere, can help perfectly.
Such a kitchen is a great place to cook dinner together, chat over a cup of tea and enjoy the smell of homemade cakes. Fronts are usually light in colour and floral motifs are present in the interior
A cozy and subtle atmosphere is created by numerous decorations and significant details, which give the place a unique character. This is certainly a good choice for people who like to be in the kitchen and treat it as their home kingdom
Kitchen in the English style – characteristics
English-style kitchen has its own characteristic features that make the interiors unique and chic. Many people who value comfort and coziness choose this type of decor, which is designed to combine beautiful appearance with utility.
This arrangement is supposed to be associated with richly ornamented Victorian style, which can be an interesting inspiration also in a modern interior. An interesting motif is the use of decorated paneling, high skirting boards and characteristic massive furniture. Undoubtedly, these elements make the interior gain an elegant, timeless climate.
English style gives a lot of arrangement possibilities, it works well combined with modern solutions.
Kitchen in the English style – what furniture to choose?
A cozy kitchen in the English style usually consists of classic buildings in a light shade. Fronts of cabinets can have the color of pastels, beige, ecru or the most popular white.
Furniture and countertops in the kitchen should be made of wood, which adds a homely, idyllic character to the interior. The kitchen design should assume that it will be rich in numerous nooks and crannies, lockers or compartments for holding bags of herbs, notebooks with recipes and other trinkets. Glasses with white frames will look great in the cabinets. Brass handles and simple fixtures will be a great complement.
>> See: Living room in English style – 5 totally different arrangements
Cabinets should be a coherent and well-thought-out whole. It can not lack single shelves above the countertop, which are an excellent place for kitchen accessories or spices in stylish jars. An interesting addition will also be a cabinet with compartments for bottles of wine.
What can't be missing in an English style kitchen?
A common feature in English style kitchens is a large island or table that can seat many people. This reflects the fact that the room is a meeting place for the whole family, where meals are prepared together.
In this type of kitchen there will be room for family heirlooms, such as a vase left by grandma or a pre-war sugar bowl. An element enriching the arrangement will be tableware with a floral motif, which will perfectly fit into such an elegant interior
Exotic version of English style
English-style kitchen has more facets than just an idyllic atmosphere and bright furniture. An interesting alternative is a kitchen in colonial style, which draws from the English interior, adding a touch of exotic character. This mix has given rise to very original solutions, which combine Victorian inspirations with unique trends from other regions of the world.
Colonial kitchen is therefore a break from uniformity, which is replaced by unusual design and the use of materials such as ebony or rosewood. An interesting complement to such an interior will be accessories imitating ivory and having an oriental character. Some people give up bright cabinets and fronts in favor of dark wood, which creates a beautiful, timeless composition.