Powder pink and gold – an interior full of feminine touches
You need about 4 min. to read this article.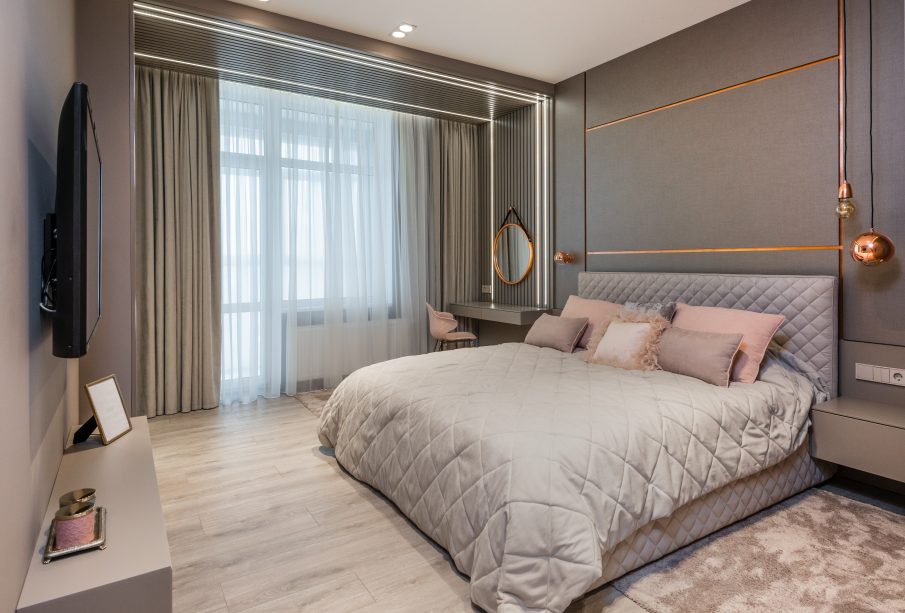 Interior design can be a lot of fun. Today we have access to many materials, decorations, colors. When you dream about interior full of femininity – it's worth bet on a combination of gold with powder pink.
Every season new interior trend hits appear, concerning colors and decorations, which are to conquer the market. One of the ever-popular combinations is the combination of powder pink with gold. Both colors are extremely trendy and look great together in your home or office. How to combine elements of gold and pink, so that your room gains elegance and femininity? We come with help!
Gold and pink for romantic and glamour style lovers
Powder pink and gold can give a room a unique character. Both colors are quite universal, if we put them well together. You can use them in bedroom, living room, hallway and even in kitchen. You just have to remember that not every shade of pink will work with ordinary furniture or decorations.
If you are a big fan of pink and you want it to appear on the walls of a room, decide on one wall or a particular corner. Alternatively, choose several shades of pink so that you can create different zones. This way, your living room or bedroom will have a soft effect but will not be overwhelming.
A good choice would be wallpaper in colors of gold and pink. Wallpapers have become in vogue again, so using them in your property you have quite a lot of room for improvement. There is a huge selection of motifs in these shades on the market. You should definitely avoid infantile patterns like hearts or animals. It is advisable to bet on one color and use the other in the accessories of your apartment.
Pink furniture
Pink furniture will add charm and warmth to the room. If you opt for this shade in the form of furniture, you have to decide on specific solutions. In the living room, the main role can play a sofa upholstered with velvet fabric, which is the focal point. It will be a very girly accent, to which you can match the rest of the elements
If you are afraid to decide on such a bold thing for the living room, another solution is an armchair or chair with powdered upholstery. No matter where you place it, in the living room, office or by the dressing table, it will look extremely beautiful
Another suggestion is a pink chest of drawers. It can stand in the hallway, in the bedroom or in any other room. Pink furniture is now more and more available. A table, chairs and even a refrigerator in powder pink can transform your space. When choosing such pieces, however, go for muted wall colors.
You can go wild with accessories!
We write a lot about pink, because this color can be used not only in accessories, but also on the walls and furniture. Gold with pink should be the color that will reign in the decoration of the apartment
This combination will always be a fashionable solution, both for lovers of bold arrangements, supporters of classics, and for fans of feminine interiors. Betting on accessories in shades of yellow and rose gold or copper you will obtain in your home the effect of elegance and sophistication.
As for the type of additives, there are plenty of ideas: gold photo frames, vases, a coffee table, a fruit tray, or a lamp with a gold shade… The room will benefit when the sofa or bed is furnished with pillows with golden covers, a blanket or a bedspread. An excellent idea will be a mirror in a gold frame or gold drawer handles.
Read also: https://picturyhouse.com/wicker-accessories-inspiration/
Main photo: Max Vakhtbovych/pexels.com