You need about 4 min. to read this article.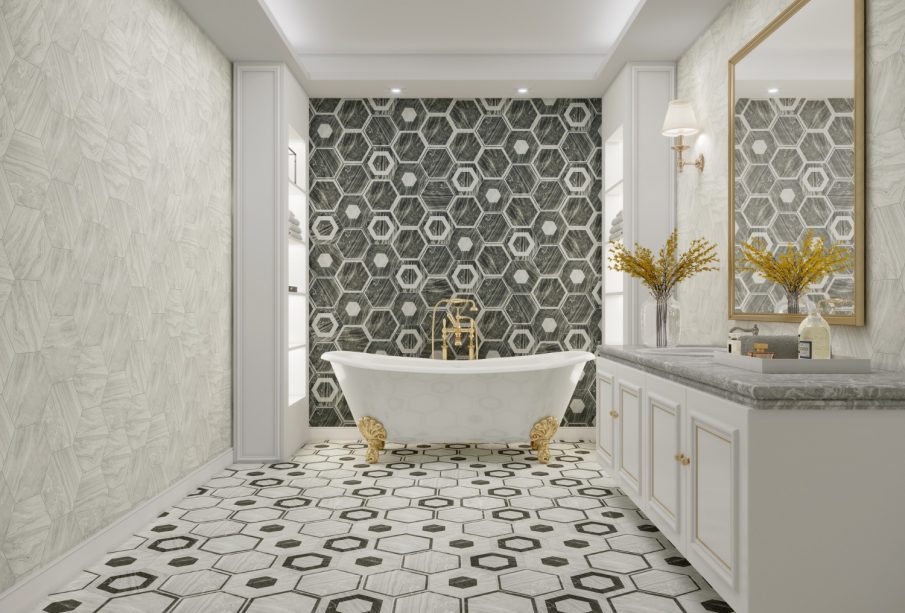 Luxurious and glamorous bathroom in glamour style is a subtle combination of aristocratic charm with modern glamour. How to choose the right bathtub for such interior? We present several solutions that will surely inspire you!
The bathtub on legs
A classic version known from movies is the one on legs, preferably the ones stylized as lion's paws, often gilded. They guarantee an unforgettable effect in any interior, so if our bathroom has a large space, this choice will be perfect. Due to the fact that glamour style is dominated by rather expressive colors, usually gold, silver, black or other intense shades, it is good to choose the color of the feet accented in the rest of the interior, among others through the selection of tiles or mirror frames. In this way, we will obtain a luxurious character in the entire bathroom.
Classic bathtubs
Among more traditional bathtubs there are monolithic solid forms, classically white, refined by their simplicity. This is a good choice, for example, when the bathroom décor is already so saturated with luxury that we do not want to overdo it in the end
If due to the shape of the bathroom we have to choose a rectangular form, it is worth taking care of accessories, which will visually break this simplicity. In the offers of stores are available, for example, headrests or handles that will help us in this.
Modern bathtub
In glamour style, a classic bathtub on legs may be replaced with something more modern, e.g. a free-standing bathtub with simple, designer lines and soft edges. In offers of various manufacturers we can find oval asymmetric shapes, which will give our bathroom an unusually elegant character. The chosen bathtub does not have to be of a classic color either
Does it have to be white?
Manufacturers understand that in addition to functionality, we also care about design, so when browsing the current offers you should think about whether our bathtub must actually be white? A great idea is to bet on a different color, such as black
>> See also: 15 simple tricks to make your living room look glamorous!
You will often find bathtubs with a glamour finish in gold, silver, or even graphite, and some companies offer the option of customizing a personalized color scheme. However, this request comes at a higher price.
Acrylic or cast iron
On the market in addition to the mass of different shapes and colors of bathtubs, we are also dealing with a variety of materials from which they are made, which is also worth saying a few words. Acrylic bathtub is currently the most popular due to its price and lightness; it keeps a constant temperature of water for a long time and does not discolor, but – however – is not particularly resistant to scratches or bruises. It is the cast iron bathtubs that will survive similar transitions; moreover, they are considered to be more solid, dedicated to years.
Limited series
On the market we will get a bathtub in virtually any size, color, as well as on special order. Some companies offer their customersfree-standing bathtubshand-painted, implemented through individual orders, but also from limited series
Everything, but in moderation
The freestanding bathtub we choose should fit into the luxurious and modern character of the bathroom, but not overwhelm it. The bathroom should be dominated by expressive colors, which may also be found on our dream bathtub. It is worth remembering that glamour style is also about surprising and contrasting combinations, so it is good to go wild with ideas, but it is not difficult to exaggerate. However, it is enough to follow a few basic rules or use the help of a designer to avoid this.