Brick and wood – a great combination for many styles
You need about 4 min. to read this article.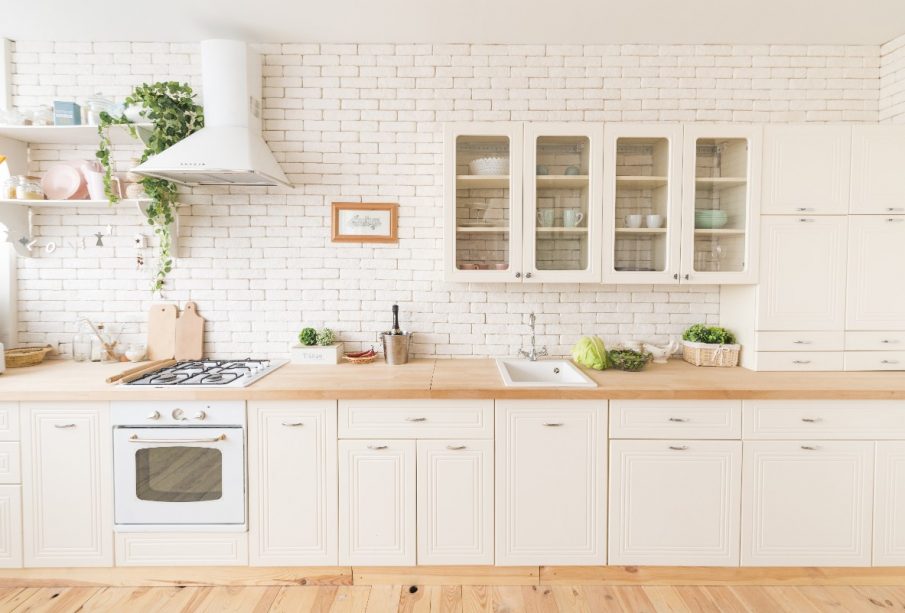 Brick and wood are very original and at the same time recently fashionable elements in homes and loft interiors. Thanks to them our living room or room seem more spacious, but also warmer and cozier
Appropriately arranged wood floor can significantly increase the space. Brick, on the other hand, gives more raw character to the interior, but at the same time it is associated with classic, slightly mountain, style. Let's find out how to combine brick and wood to make an electrifying impression.
Brick and wood – how to combine them properly?
Brick and wood look very well together. They can be combined in such way that brick will be placed on one of the walls and wood for example on the floor. Uneven texture of brick will contrast with smooth and slightly shining wooden floor. In such combination, first of all, the panels with visible grain will be suitable – they will give the room a slightly rustic character. Thanks to the brick, the room will be very classical but also modern
If we leave it in natural color, it will enhance the impression of home warmth even more. You can place it on the representative wall for example between the kitchen and the living room. You can easily make a wall out of it, which will separate two rooms and make it easier to mark their separate character. The wall dividing the kitchen and the room does not have to be full. If it reaches half of its height, we will be able to make a bar on it. It will also be a perfect base for an island. It will make an interesting impression if we put a wooden top on it
High hockers with metal legs will perfectly match with such an island. The brick wall can also be constructed in such a way that it has clearances where wooden shelves can be placed. We will have an overview of what is going on in the kitchen and we will gain an ideal place for arranging ornaments, candles or small pots with plants
Brick will also work as an interesting fireplace cover, especially if the fireplace insert is cast iron. On its cornice, in turn, you can place a wooden board which will be our shelf e.g. for books. Wood and brick in such an edition looks very loft-like.
Few people know that it is possible to make a brick floor. It combines wonderfully with natural wooden panels in living room. It is used for example in vestibules or in the hallway. It can also be used for lining stairs, terrace or entrance to the house.
Brick can also be used in a bathroom instead of tiles. It ideally matches with wooden floor – less often used in such rooms because of humidity. However, you can combine brick and wood in the bathroom, so that wooden elements are fronts of bathroom cabinets or doors.
Brick in the kitchen
Brick looks very good in the kitchen. The combination of wooden countertops and brick walls will make us move to romantic Provence. Light-colored furniture fronts contrasting with the brick wall and stone floor will work great. Often used in Provence was the use of bricks to frame the windows and plaster the rest of the wall in white. This combination is a very characteristic element of the southern construction – currently returning to such solutions, so we can confidently apply them in your home. The effect will be completed by wooden door frames.
What are the advantages of brick?
The brick gives an interesting aesthetic effect because it has texture and beautiful natural color. In addition, it is very easy to stick it on a plastered wall and, if possible, you can paint it to any shade. Additionally, it always goes well with modern rooms and adds some warmth and homeliness.
Brick and wood are a very good combination. Both elements are wonderfully suitable for loft rooms. This combination of materials will also perfectly complement the kitchen in Provence style.