Home theater in the basement – equipment, furniture and everything you need
You need about 4 min. to read this article.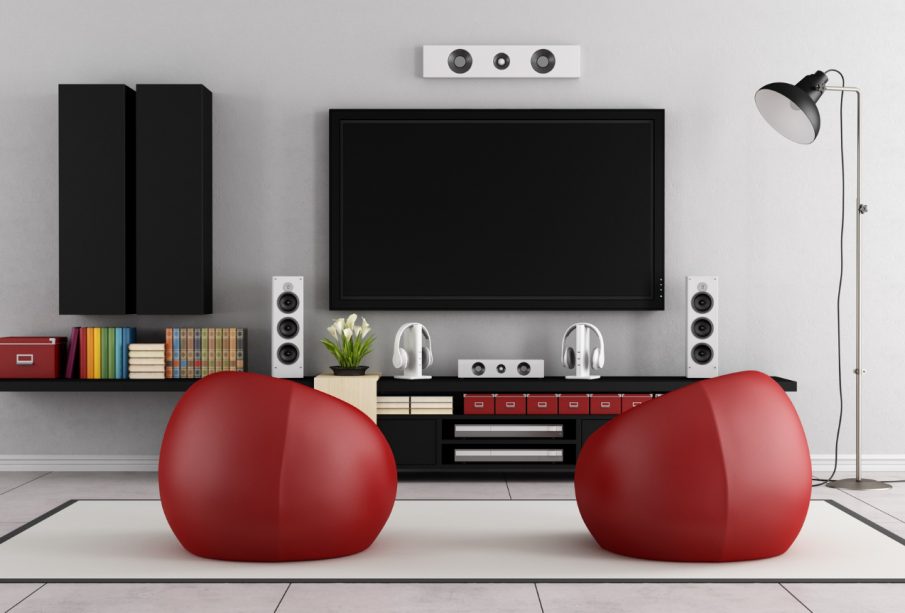 Do you have extra space in your basement and don't know how to use it? It's a great place for a home theater where you'll feel like you're in a real movie theater. The basement is usually a quiet and properly insulated place, so nothing will interfere with watching your favorite movies on the big screen. What furniture and equipment will be necessary to enjoy movie marathons in your own home theater?
A private "cinema room" does not require a huge budget, so it is not worth immediately assuming that this is beyond our reach. Cinemas in shopping malls are usually overcrowded, with no shortage of people loudly commenting on movie scenes or notoriously rustling up packets of crisps. All these inconveniences can be bypassed in a simple way – by making your own cinema in your home. This is a fantastic solution that allows you to tailor your movie screening to your own needs and tastes. Streaming platforms such as Netflix or HBO Go offer a wide range of movies in excellent quality, which are sure to work well in the home theater. Check out how to put this idea into practice!
Basement – a perfect place for home cinema
Wondering which room would be the best choice for a home cinema? If you have the conditions for it, we recommend choosing a small room located in the basement. Of course, it has to meet certain conditions, it can't be too cold a place and one that is damp. The advantages of a cinema room in the basement are that it is usually a quiet place and without access to sunlight
Of course, you can watch movies anywhere in the house, but to get the cinema room effect, it is best to set aside a separate room for your home cinema. It is great if you have a room of about 25 m², for which it will be easiest to choose the right equipment in the form of electronics that allow you to watch movies in the highest quality picture and sound
What is the best equipment for home cinema?
An essential element of a home cinema is appropriately selected electronic equipment. Films can be watched both on a television set with many inches and on the wall, if the film is projected using a projector. The TV, which is to imitate a cinema hall, should be large, flat and hung on the wall above eye level. A cheaper, but equally impressive option, will be to equip the home theater with a projector. The equipment should have a good resolution to best reproduce the image of the film. It is also worth paying attention to the possibility of adjusting the brightness and contrast in the projector. For this type of device, it is recommended to purchase a specialized screen. You can choose a retractable and portable model or opt for one that is permanently mounted on the wall. However, this is not a mandatory element, the projected film can be successfully displayed on a smooth, white wall
What speakers will provide the best sound quality?
Do not forget about the appropriate sound system of our private cinema room. Sometimes it's the explosion of bombs or the swish of bullets that makes us enjoy an action movie. Not to mention that music builds the most tension in thrillers and horror movies. To ensure the best sound effects, it's worth betting on speakers that are woofer, midrange and tweeter – this combination will allow you to enjoy the best sound quality. An interesting addition will also be a subwoofer – a sub-bass speaker, which is responsible for bringing out deep bass, which is an element of the film
Speakers should be spaced on two sides of the room. The ideal arrangement: the chair in front of the screen and the speakers form a triangle with equal sides
Home cinema furniture
An integral part of the pleasure of watching a movie is the ability to take a comfortable position on an armchair or sofa. In the stores you can find professional armchairs, which will imitate those that we can meet in the cinema halls. The best way is to adjust the equipment to your own predispositions. Many people love watching movies while lying on the floor, preferably surrounded by a dozen or so soft cushions. A comfortable and cheap solution will be spreading out an inflatable mattress in the cinema room