You need about 5 min. to read this article.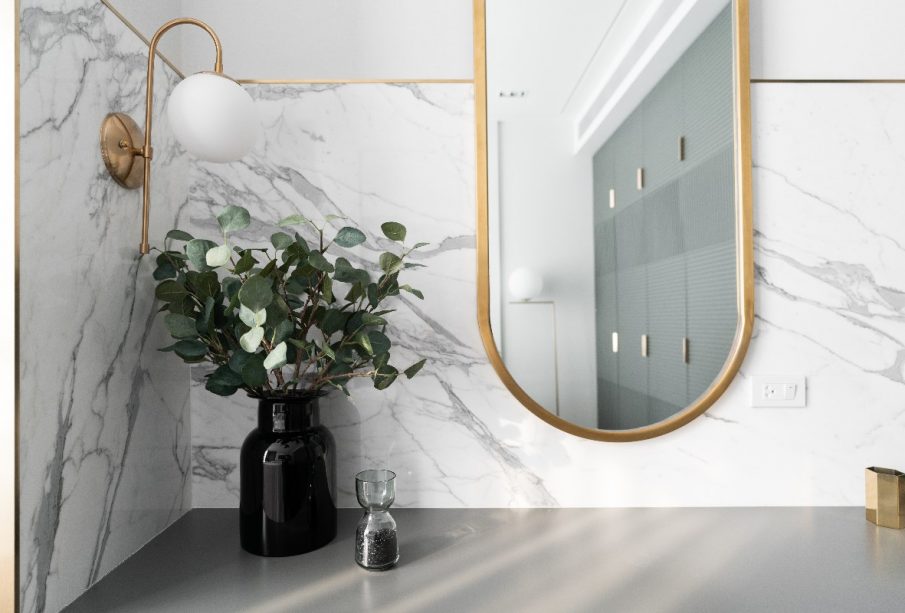 Living room decorated in glamour style is elegant, stylish and associated with American movies. Arrangements in this style attract attention with a wealth of ornamentation and a breath of luxury.
Big change at a small cost
Very often the only change of accessories can radically change the interior. Before you start changing your living room, you should know that this process can be very different – it depends on your time, finances and sense of aesthetics.
At the beginning, determine whether you want the change to be more or less radical. If less radical is enough, then you should focus only on buying accessories that will change the character of the entire interior. If you want bigger changes, then it is worth changing the color of the furniture or choosing the right wallpaper.
Choose accessories in glamour style
Every change of interior starts with accessories. This principle should also be applied, changing the style of the living room. When choosing accessories for living room in glamour style, it is worth to follow several rules:
accessories must always be well matched to the style of the interior,

when buying accessories, start with the bigger ones, for example a carpet or a lamp,

do not combine gold and silver in one room – opt for one color,

harmoniously choose other colors, so that they do not create "arrangement chaos"
15 glamour accessories that will change your living room
1. Carpet
It should be in neutral colors, which will be a great background for shiny accessories. Make it look luxurious. A fluffy or shaggy wool carpet is ideal for this. Its size should be adjusted to individual needs.
2. Chandelier or ceiling lamp
The best choice will be a large ornamental chandelier with several arms (unfortunately, the price of such a marvel often exceeds 1000 PLN). In home improvement stores you can find very interesting glittering lamps in glamour style, which can be purchased much cheaper.
3. Mirrors
The living room in the glamour style can not lack mirrors. It is best when lutra are framed in massive glossy frames. In large living rooms, several asymmetrically arranged mirrors will look beautiful. Mirrors give the interior a palace-like luxury.
4. Curtains and draperies
If you want to decorate the living room in glamour style, then choose snow-white curtains and curtains of shiny material such as silk, satin or fashionable velvet. The color of curtains should harmonize with other colors in the interior
5. Decorative pillows
Pillows placed on a soft sofa or a comfortable armchair should be of the same color as the curtains – thanks to that you can maintain color coherence in the room.
6. Decorative lamp
Such a lamp looks great placed on a dresser or a console. The base of the lamp should shine and the lampshade should have neutral colors matching the rest of the interior.
7. Clock
Decorative clocks are more and more popular among interior decorators. Such a shiny clock is a must-have detail in a glamour style living room. You can choose from a variety of interesting shapes and colors
8. Vase
An obligatory element in the glamour style interior are fresh flowers in a beautiful shiny decorative vase. If the vase is on the table, then it should be small, and if the flowers in the vase will be on a console or dresser, then you can choose a much larger vase.
9. Pots
If you are fond of potted flowers, then go for shiny pots that will add sparkle to your plants, changing the look of your living room.
10. Decorative platters
Fruit or cookies are very common on the living room table. Such snacks will look beautiful on a gold or silver decorative platter.
11. Photo frames
The living room should not lack a place for family photos in beautiful glossy frames. Black and white or aged photos look best in them.
12. Chandeliers
Decorative silver- or gold-plated candlesticks are the quintessence of glamour style – they add luxury to the interior. You can find interesting inspirations in many American movies
13.
Paintings framed in thick metallic frames are perfect for the interior decorated in glamour style. For people who like "lighter" versions of paintings thin metallic frames hanging on decorative strings and ribbons will be perfect
14. Furniture handles
Different types of furniture handles are available in DIY stores. Just by changing the handles, you can give the furniture a different look. Crystal handles will be best for a glamour style living room. They will add splendour to the interior and do not cost much.
15. Change your walls
If you want to give luxury to your interior, then you do not have to wallpaper or paint all the walls at all. All you need is a change on one wall and the living room will already look different. Wallpaper that reflects light rays such as silver with a hint of glitter or decorative metallic stickers will be perfect for this.