You need about 3 min. to read this article.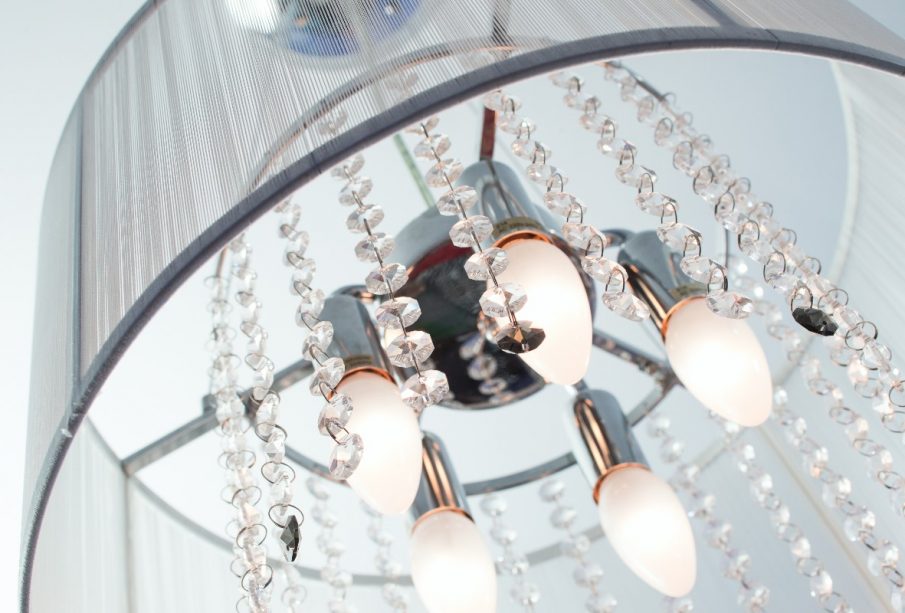 Crystal decorations illuminate the interior and perfectly reflect the light. Such decorations fit almost every interior, although the brilliance of the crystal is the perfect complement to the glamour style
Crystal chandelier
Crystal chandeliers are more and more popular element of living room decoration. Although until recently they were associated only with elegant and glamorous ballrooms, currently more and more people decide to have a crystal chandelier in the living room.
To what interior a crystal chandelier fits?
Many people think that the crystal chandelier fits only to the living room in the style of glamour. Nothing more misleading! Crystal chandelier fits almost every style of interior – you just need to match it to the furniture and other accessories in the room.
Interior in glamour style
One of the obligatory elements in the glamour style is a crystal chandelier with gold or silver-plated elements. Most often on crystal chandeliers you can see candle-shaped bulbs.
In a modern interior
Contrary to appearances, the crystal chandelier also fits into a modern living room. If the chandelier is perfectly matched with other accessories and furniture, you can create a very elegant and modern living room.
Laminated furniture and wooden furniture in a dark color are the perfect background for a crystal chandelier – it gives the interior a touch of avant-garde.
Interior in minimalistic style
Crystal lamps are a great proposal for people who like minimalistic interior design, without excessive glitter. Shining lamps gently illuminate the interior, giving a discreet glow.
Crystal chandelier in the interior in the Scandinavian style
Scandinavian style is very austere, but great in this style look crystal chandeliers, which are only a seeming contrast – they perfectly harmonize with the whitewashed furniture, optically enlarging the interior.
Interior in a classic style
The most obvious is a classic interior with a crystal chandelier, which is the dominant element of the decor. Other accessories should only emphasize the elegant character of the interior. Crystal chandelier should be complemented by accessories maintained in the same style, such as clock, mirror or flower pots.
Crystal vases
Crystal vases are mostly associated with communist Poland, where they were a synonym of luxury. Currently, modern crystal vases are synonymous with class and good taste. In the living room they look beautiful with fresh flowers
Crystal mirrors
Mirror in a crystal frame adds style and elegance to any interior, impressing with its simplicity and class. It fits almost every living room, giving such an interior a glow and elegance.
Crystal clocks
Heavy crystal clocks are associated with vintage style. However, the fashion for shine is coming back. You can choose from various modern forms of crystal clocks, which will perfectly fit into any interior.
Crystal candlesticks
An ideal way to add sparkle to the interior is to set crystal candlesticks and lanterns in it. In the living room candlestick will be a great complement to other shiny elements. It will be perfect as a decorative element placed on a console or dresser.
Crystal furniture handles
Crystal furniture handles and knobs have been an interior hit for several years. Many people associate them only with glamour style, but they are very universal – they suit every interior thanks to the variety of colors and patterns. Crystal knobs look best on furniture finished with high gloss, and simple furniture add a touch of elegance.
The glow of crystals will brighten up any interior. Sometimes just one detail is enough to make the living room shine