Concealed hood – modern appliances that you can't see
You need about 4 min. to read this article.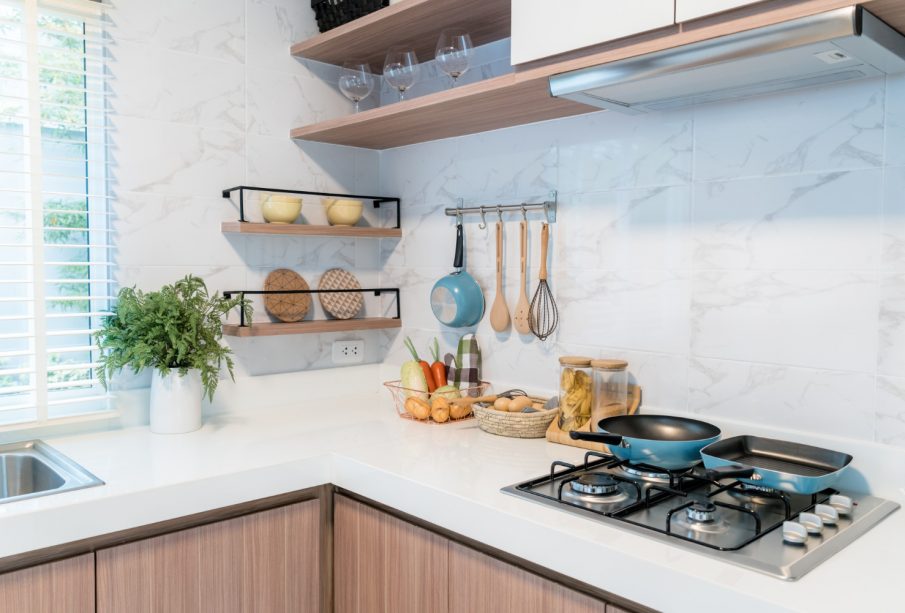 The primary task of a kitchen hood is to effectively clean the air of odors and any pollutants generated during cooking. It should be found in every home
Nowadays, our cooker hood does not have to be big, noisy and left in plain sight, taking up half of the kitchen, as manufacturers offer a number of different types of this equipment, which will perfectly fit into the decor of our kitchen.
Hoods hidden in cabinets
They have been extremely popular in Poland for many years, and this is because they are discreet and small. There is no denying that at the same time they are extremely effective. Hidden in the cabinet, they are inconspicuous, which makes it easier to introduce a modern style to the kitchen . They're perfect for small kitchens to save space. In larger kitchens, they'll also make a beautiful feature.
Installation of such a hood is extremely simple, just prepare a place for the hole at the bottom in the selected cabinet (above the hob). The device will be hidden inside, only a small part of it will stick out. This under-cabinet hood can be in the form of a built-in or telescopic hood.
>> The kitchencan also be fitted with a shaker style, so you can see how to decorate it!
Drawer-type (telescopic) hood
During operation of this device the front panel slides out. However, the hood sucks air only in the part that is built into the cabinet. When we don't need it, it is removed from our field of vision. This is an ideal way to work efficiently while saving space when you don't need the appliance.
Table top extractor
It is mounted in or above the kitchen countertop. Some are permanently installed there, while others slide out of it for the duration of their operation. They can be integrated with a hob. It is worth noting that this type of hood is very effective, absorbing fumes at a speed of up to 4 m/s. It is a great element of our kitchen, emphasizing its modern look.
Eolo E.ion technology
Controlled Biopolar Ionization technology called E.Ion System has been available for several years. It is used in kitchen hoods and allows for the creation of ions that eliminate pollutants and purify the air by restoring the ionic balance in the room. They do not need to be connected to the installation, so they can be installed anywhere, which gives us great freedom. This equipment is associated with a price of about 10 000 zł.
A hood like a lamp
If we plan to create a kitchen island, such a lamp will be an ideal solution. Undoubtedly very decorative, finished with glass, for this has its own source of light (usually LEDs), so it combines two functions. In addition, it does not take up too much space. Its presence guarantees a modern look to the entire kitchen.
Island hoods
Some of them can be technologically advanced small works of art. Made of various materials, including ceramics and glass, also custom-made by the best craftsmen. In addition to the LED light function, they can be controlled with a wireless remote control. Manufacturers outdo each other in designer forms, creating unique constructions. Unfortunately, they are usually relatively expensive.
Great solution, great design
We can choose from a variety of hood models: under-cabinet, telescopic, island or ceiling – it all depends on our needs and the effect we'd like to achieve in our kitchen. The most important thing is that the cooker hood no longer has to be obtrusive or intimidating. It can be easily hidden from view in a designer lamp or cabinet, which will also have a positive effect on the attractiveness of our interior.