Navy blue kitchen – arrangements that will inspire you!
You need about 3 min. to read this article.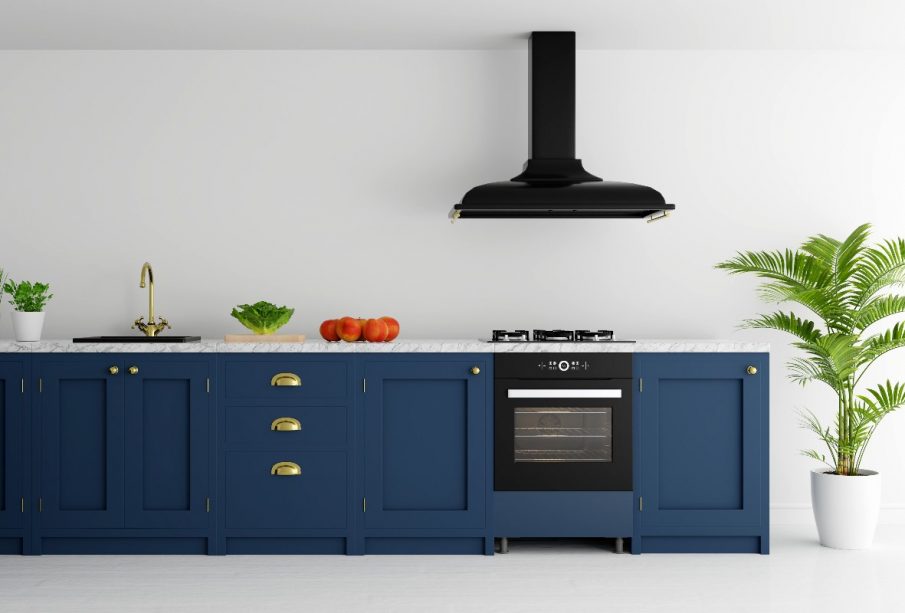 "New black" has recently captured the hearts of Internet users and interior designers. Navy blue is the essence of elegance, which works perfectly on kitchen fronts and accessories.
Pomegranate kitchens – the color of the fronts matters
Choosing kitchen fronts is not the easiest task. You can choose light blue fronts or bet on darker shades. A common choice are fronts with a matte finish with delicate grooves or completely smooth. If you opt for plain cabinets, you'll give your kitchen a minimalist and modern look, and if you choose a fluted front, you'll get into the vintage style. For 2020, PPP Paints' color of choice was Chinese Porcelain, a dark shade of blue. It was supposed to refer to the traditional handmade Chinese porcelain. This color should be combined with gold or beige accessories, which will create elegant and full of climate interior. Designers also encouraged to combine it with leather materials, plants or fiber carpets
Kitchen with living room
Shades of navy blue will work best in large rooms, where it will be possible to arrange the interior in intense colors, without falling into chaos. The most important thing is to keep the proportions between colors, that is why a good solution is to paint one of the walls navy blue and match it with a few accessories, for example chairs, cabinets or a kitchen island. Such solutions work well in kitchens connected with a living room or dining room.
>> Ideas for the bedroom – as many as 13 inspirations!
Wooden table top
Not so long ago everyone dreamed of a high-gloss kitchen. However, in recent years the fashion has changed by 180 degrees and most of us now choose matte fronts. They have their advantages. It is easier to keep them clean and they do not reflect so much light. Matt, navy blue fronts in combination with a wooden top optically enlarge the interior and bring harmony and peace to the room
Worktops in light, honey shades brighten up a navy blue kitchen and give it a classic and slightly more serious character than a high-gloss kitchen.
Dorota Szelągowska's navy blue kitchen
The navy blue kitchen theme can be seen even among famous people. One of them is Dorota Szelągowska, who on Instagram bragged about her modern kitchen. In her room, the eye is caught by navy blue cabinets, which occupy entirely one of the walls. On the opposite side there are cabinets with a countertop. We have to admit that her kitchen looks phenomenal!
By simply placing white countertops and opting for light pink walls, the kitchen dazzles with its lightness! The delicate grooves on the navy blue furniture are a great decorative element, and adding countertops in a marble-like material will make cleaning easier.