You need about 4 min. to read this article.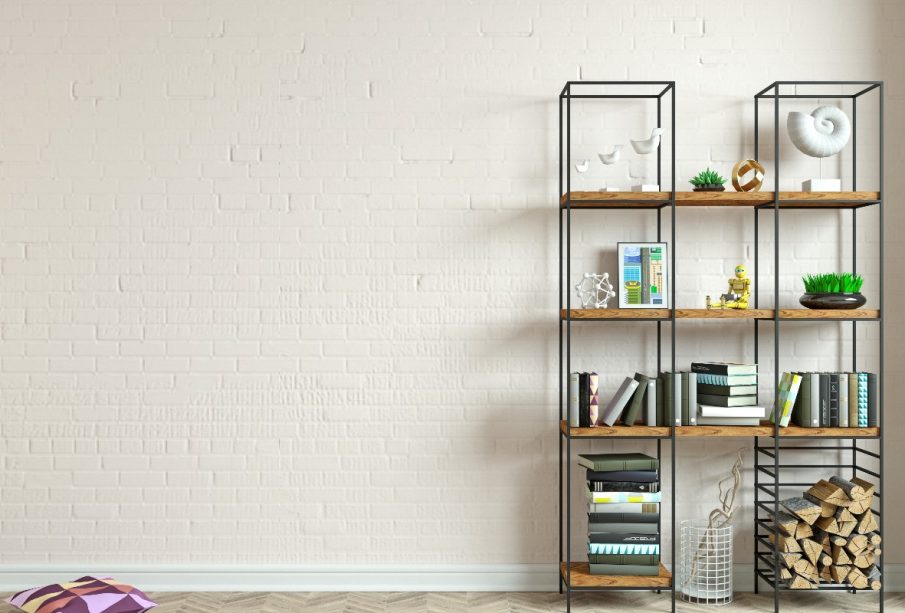 Industrial style has reigned in interior trends for several seasons now. Young and open-minded people, as well as restaurateurs and hoteliers are particularly fond of this décor. We will tell you how to introduce this style to your interior with one element.
You'll find a bookcase in almost every home. There are lots of different uses for it. If you are looking for something modern and original, go for one that represents an industrial atmosphere. It can be made only of metal or its combination with wood or even sometimes glass. Metal gives austerity and uniqueness, glass gives lightness, and if wood is used, it is only natural looking and often specially aged by patination, brushing, waxing or rubbing. Most often they are high and impressive structures, and above all it is a piece of furniture without a closed back, which gives the impression of extra space.
To which interiors does the industrial bookcase fit best?
Industrial aesthetics harmonizes most with loft spaces. That is, raw and minimalist spaces, with vast areas, large windows and high ceilings. Concrete walls, red bricks and lack of division into rooms are common determinants. Natural light and cold colors dominate there. This type of premises were usually created after transforming abandoned factories, warehouses or production halls. It is in lofts, where the industrial book case will prove most useful
How to incorporate an industrial bookcase into a cosy apartment or house?
Fortunately, modern fashion allows you to combine many styles. Thanks to the principle of contrast you can play with the form. In the living room, where you have a big fluffy carpet, lots of cushions on the sofa, and bright and warm colors on the walls, you can easily put a modern bookcase. It will stand out and catch the attention of your guests
If, in time, you want to put more industrial elements, you may be tempted to make a matching wall with decorative or architectural concrete. Another idea is to buy accessories such as: steel or metal lamps, ornaments in geometric shapes, an old clock or go a step further and install bare bulbs on the ceiling suspended on a braided cable
>> See also: Lighting in an industrial interior – which ones to choose?
Anindustrial bookcase can be placed in any room. Choose what you like. Do not be guided by fashion. It is your house and it is you who will be there every day.
What to fill an industrial bookcase with?
A bookcase is a very practical piece of furniture. It can be used in the living room, bedroom, study, hallway, kitchen, and if its material is well impregnated, even in the bathroom. Often works well for conventional division of space. In the industrial version, it certainly also has a decorative function. You can store books on it and turn it into your own library
Many people in recent times have started experimenting with flowers. Maybe this is the right place for a new plant at home? We recommend you to choose ivy, evergreen and lush. It is one of the most decorative vines. With this hanging plant you will create a striking green screen. Its only downside is that it likes frequent watering
If you are afraid that you can forget about it, we suggest zamiokulkas
This flower is indestructible and resistant to everything, it is not afraid of shade and lack of water. Interesting ornaments and decorations will also look great on such a bookcase. Maybe you like to travel and from every place you bring a souvenir? This will be an ideal place to put your collection of objects from all over the world. In the kitchen, you could display crockery and cooking utensils, while in the bathroom, perfectly folded towels would look great
Anindustrial bookcase is sure to spice up any interior. Are you already starting to browse stores that have such models in their offer? You will find this product in many popular stores and on the Internet, but you can also go to a carpenter, who will make such a piece of furniture for you in any size. Happy shopping.