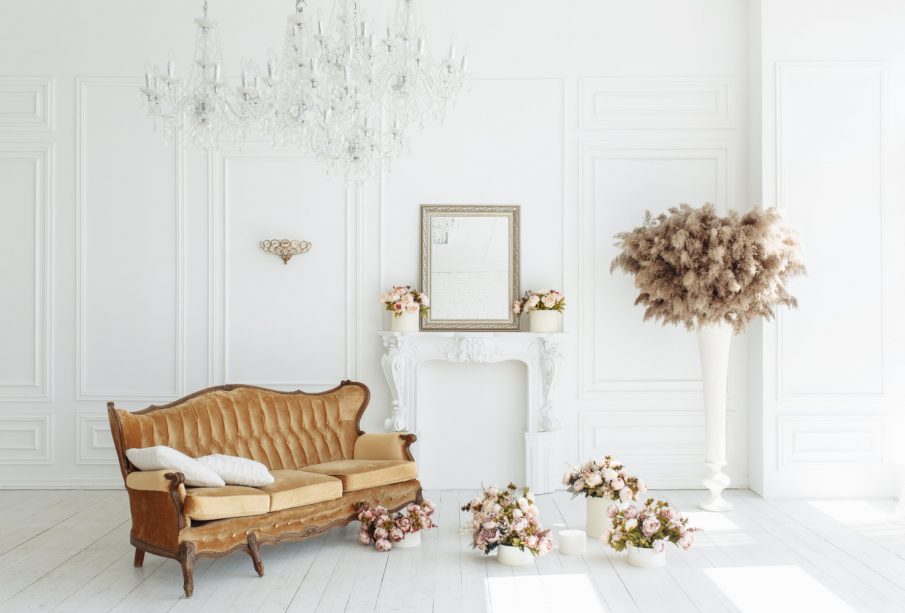 Although currently in vogue are interiors decorated in industrial style, there is still no shortage of supporters of safe classics. How to arrange a classic style living room to arouse admiration in the eyes of guests?
Classical furniture – which will work in the living room?
Classic style is best described by words such as: symmetry, simplicity, balance. What classical furniture cannot be missing in the living room? It is certainly worth investing in a solid, preferably wooden, chest of drawers, on which we will be able to display a collection of family photographs in elegant frames, and to hide various objects inside the capacious piece of furniture. Above the chest of drawers you can hang a mirror in a decorative frame.
When it comes to lounge furniture – a large sofa with light upholstery and an armchair will be the best choice for a classic living room. Decorate them with decorative, soft cushions, which encourage to rest. A chic coffee table with a glass top and a display cabinet will complete the arrangement. In a classic-inspired living room it is also worth finding a place for a fireplace, which will create a cozy atmosphere during winter evenings and make enjoying a glass of your favorite wine more pleasant.
Timeless accessories in a classic style
When it comes to accessories, lamps with fabric lampshades, which will illuminate the interior in a subtle way, will be perfect. It is also worth investing in an old-style clock or buying an antique. In a classic style living room, ceramic vases, decorative brass candlesticks and draped curtains made of glossy fabrics are welcome. To avoid a kitsch effect, do not overdo the trinkets
Classic style – what colors can be used in the living room?
Some people wonder what colors are allowed when arranging a living room in the classical style? For this direction, subdued, noble colors will be appropriate. We can move in a palette of shades of brown, beige, cream. White or grays are also welcome (especially in the case of walls and furniture).
As for fabrics, to the mentioned range of colors we can also include blue and green. Gold and silver should be used in moderation – preferably only in accessories, so that the interior looks harmonious with taste.
Examples of classic style living room arrangements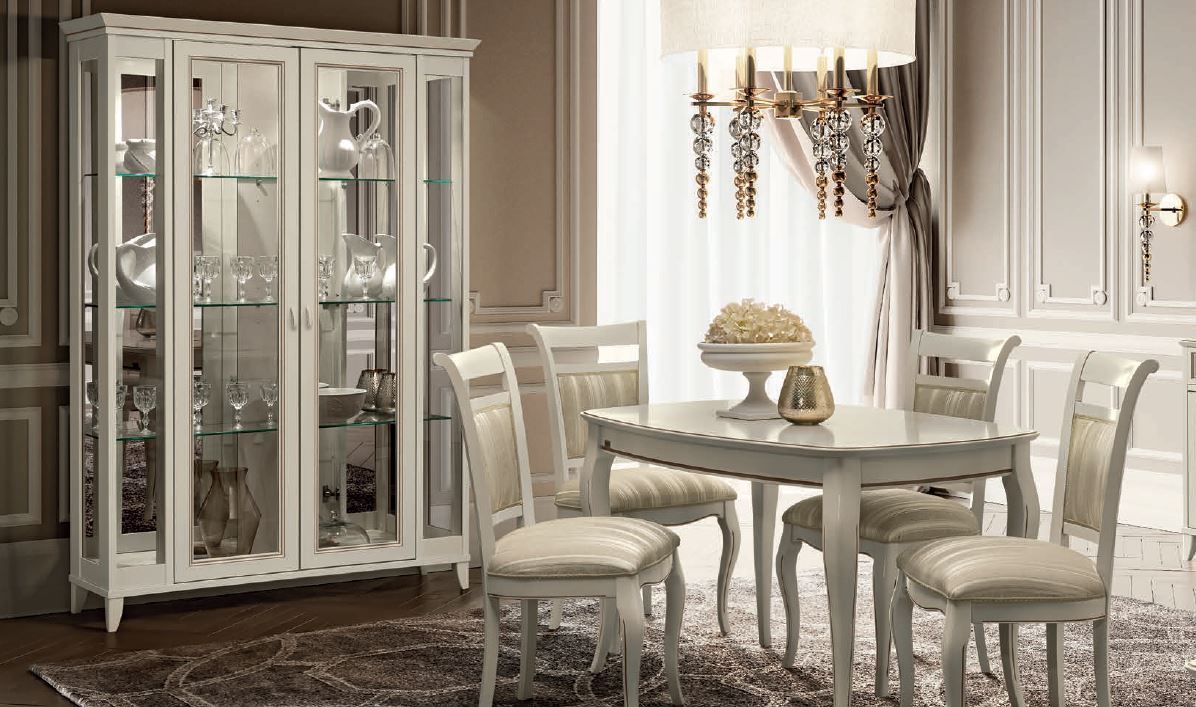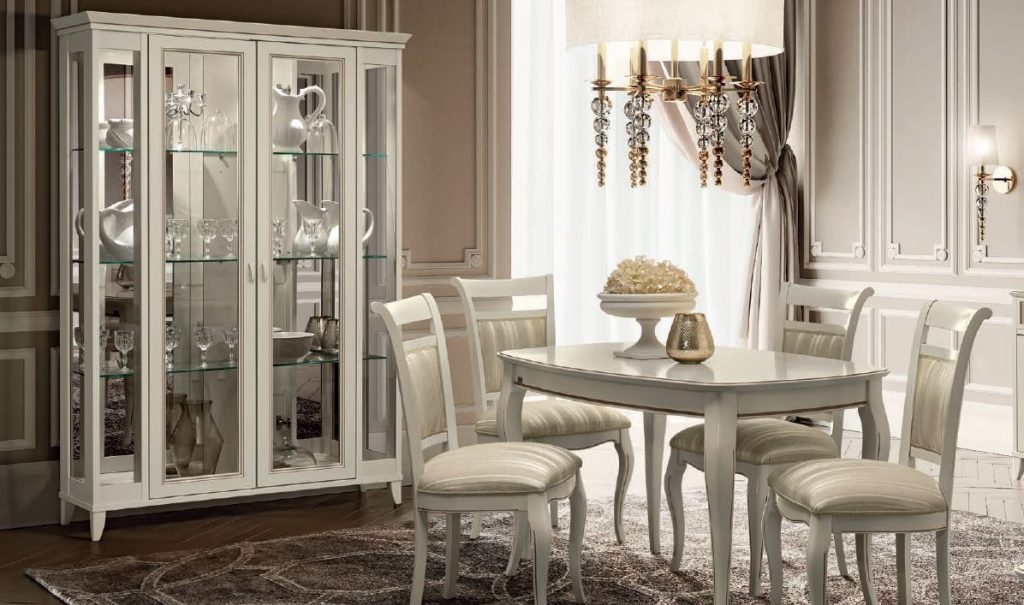 The first proposal is elegant, white wooden furniture, made with attention to the smallest details. Attention is drawn to the impressive glass cabinet, in which we can place a collection of porcelain. A stylish rectangular table with slightly curved legs and chairs covered with high quality upholstery fabric in a subtle pattern are perfect for receiving guests. The dot over the i is a striking lamp – chandelier with fabric upholstery.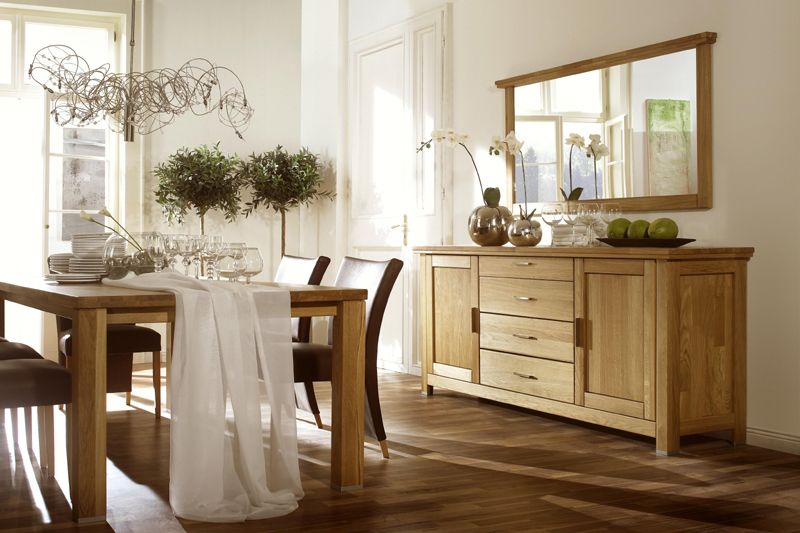 Lovers of classic style may also bet on simple and solidly made oak furniture. A solid dining table in a set with chairs will perfectly harmonize with a chest of drawers and a mirror hanging above it. Ceramic flower pots in silver color will enliven the interior and emphasize its elegant character. Add a comfortable leather sofa set and you have a delightful classic-style living room.
We hope that thanks to our practical tips you will easily arrange a classic style living room, which will be not only aesthetic, but also functional. If your budget allows, consider using the services of a professional interior decorator.
Main photo: freepic.diller/freepic.com