Princess room – see our inspirations!
You need about 4 min. to read this article.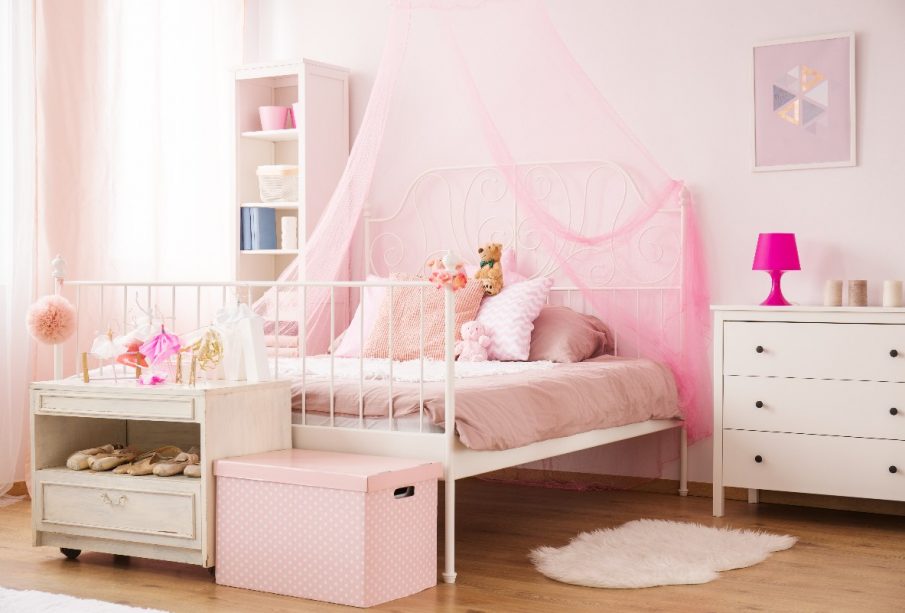 A girl's bedroom should be a space suited to her changing needs, from childhood to adolescence. When looking for a bed, dresser and closet, consider whether they will stand the test of time. Add color, pattern and magical touches with fabric, lighting, artwork and various accessories
Use a monochromatic color scheme
Amonochromatic color scheme will work perfectly if your daughter likes a minimalist style. It's an easy way to create a neutral room without sticking to the stereotypical pink bedroom. Accent one wall by painting it black so it doesn't overwhelm the room. A few clever accessories, such as a light fixture made from branches or a swing, will ensure that this space can grow with your daughter. When the little girl turns into a teenager, simply replace the doll with a potted plant.
A sweet, pink bedroom
Without a doubt, there is a very good chance that your daughter will not dream of a bright pink bedroom. Choose a vibrant coral or blush shade. In addition, you can stick gold stickers on the walls. This way you will bring a unique atmosphere to the interior. However, if you notice that your little girl grows out of pink, do not worry, just peel off the stickers and paint the walls in another color.
Wall decorated with a wall mural
A playful print of birds on the wallpaper will be perfect if your daughter loves the fairy tale about Snow White and the Seven Dwarfs. A heart pattern will appeal to a teenage girl in love. Considering the wide collection, you will surely find something she will like
The best thing to do is to ask her what theme she likes. If she is interested in painting, she might like a wall with paintings. Whether it's cartoon characters, quotes, posters, pictures or her favorite photos, it's a way to reflect her unique personality.
Turn your dresser into a work of art
Buy a simple white dresser. Then choose a few colors – up to four or five shades. Paint by hand or create a stencil from stiff card in simple geometric patterns. This is the way to make original, colorful furniture.
How to decorate a sweet, elegant girl's bedroom?
A mixture of patterns adds energy, but it is worth keeping them in the same tone. This will make the room look cohesive. Choose a bed, desk, light fixture, closet and dresser. At the desk, your daughter will be doing homework, reading and drawing. On the other hand, an open space with a pouffe is a great place to spend time with friends
A pastel color palette with accents of bold blue and brass will work perfectly here. Such a decor will provide space for work and play
Classic bedroom for a girl
Do you want to design your daughter's room in a traditional style? Then think about a slightly frayed carpet, a mirror in a carved frame and brass lighting. Classic white furniture will add class and elegance to the whole design. Natural elements, such as jute baskets, will complement the décor perfectly.
The color palette here is neutral, soft and cheerful. White and cream dominate. A touch of brass and blue makes the room soothing, not sterile
Eclectic style interior
If your daughter is brave, imaginative and temperamental, bedroom in eclectic style will surely appeal to her. It perfectly combines style with functionality. If there are two girls in the room, put a modern wooden bunk bed. A dresser and baskets will provide extra storage space. Multi-layered carpets will add a fun and cozy touch. On the other hand, a colorful palette with lots of textures seen on the rug, pouffe and photo wall will bring a unique atmosphere to the interior.
You can paint the walls bottle green. Combine it with pastel elements, neutral white and wooden furniture. A funny brass chandelier emphasizes the eclectic character of the interior