Doors – matt or glossy?
You need about 4 min. to read this article.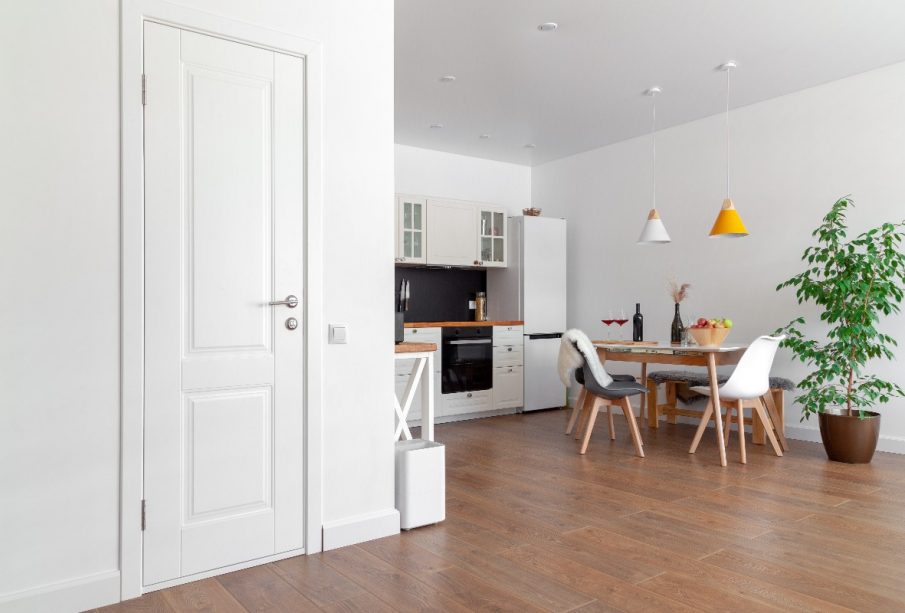 Glossy or matt doors – which one to choose? Where are glossy doors better and where not? See some tips that will help you make a decision.
When decorating your home you face dozens of problems. In what style should you arrange the space? Choose industrialism, or maybe boho? Should you open the kitchen to the living room? Internal doors are also an important issue. This is a very large space, which significantly affects the appearance of your apartment. They can be finished in many ways, this affects their appearance, durability and price. Obviously the color, style, finish or more or less decorative form are important, but also whether they should be matte or maybe glossy? Still hesitating which door to use to finish your apartment? Read what effect will give the different models.
Matt doors
Matt laminate does not reflect light. It is very durable and easy to keep clean
Where is a frosted door best suited?
This texture absorbs light and calms the interior. It increases the effect of naturalness. Matt laminate goes well with a matt wall structure, wooden elements and stone inserts and fits perfectly in most arrangements. Both in a strict minimalist space, as well as in an interesting eclectic arrangement. Matte doors can blend in with the wall and create a sense of wholeness, or they can stand out completely. Using a white door against a green wall or a black door framed by a pastel color are very original combinations worthy of attention
Glossy doors
Gloss laminate gives a mirror effect, is characterized by a perfectly smooth surface with a high degree of scratch resistance.
Where is a glossy door best suited?
Gloss optically enlarges the space by reflecting light and adding depth. If you use white or pastel shades of doors, you will brighten up the room and thus visually enlarge the area. A glossy door is a solution that will certainly appeal to people who appreciate style and elegance, but also to minimalists who want to emphasize the severity of their apartment. This result will also please the owners of apartments with limited space, because thanks to such tricks the interior will gain lightness. Glossy, dark-colored variants will definitely work in houses decorated in a modern and glamorous style. Shiny surfaces will create the impression of cleanliness and neatness. These doors will blend in with almost any interior.
Doors are an essential element in every house. They have to be compatible with the decor. Matte doors will warm up the interior and will stand the test of time in an apartment finished in every kind and style, while glossy doors will brighten up smaller spaces. What else should you pay attention to when choosing a door?
>> See also: The Ushak chair from A to Z
What is worth knowing when choosing a door?
In addition to the appearance, color and laminate, functionality is important. From the wide range of stores you can choose hinged doors, which are the most popular and look great in every apartment, or sliding doors, which are perfect for special rooms – closets, pantries and laundry rooms. If your corridor is narrow, then such a model will improve the functioning of the household in a small area. Another type are bathroom doors. Remember that they should meet the required criteria. First of all, it is necessary to have a grate or a special ventilation undercut. This will allow for a free flow of air. This is especially important when there is no window in the bathroom
Regardless of which opening you choose and the purpose of the model, there should be the same door throughout the apartment, in the same color. This will give a sense of integrity and indivisibility. A common mistake is to start a renovation with the purchase of doors. In the course of completing the furnishings, it may turn out that you will change your decision regarding the color of walls, and your living room will turn out to be rustic instead of Scandinavian
That is why you should leave the choice of doors for last. The last important aspect is the quality of workmanship. This is not an element that you replace every 5 years. For this reason, make sure that the material is solid and durable.