You need about 4 min. to read this article.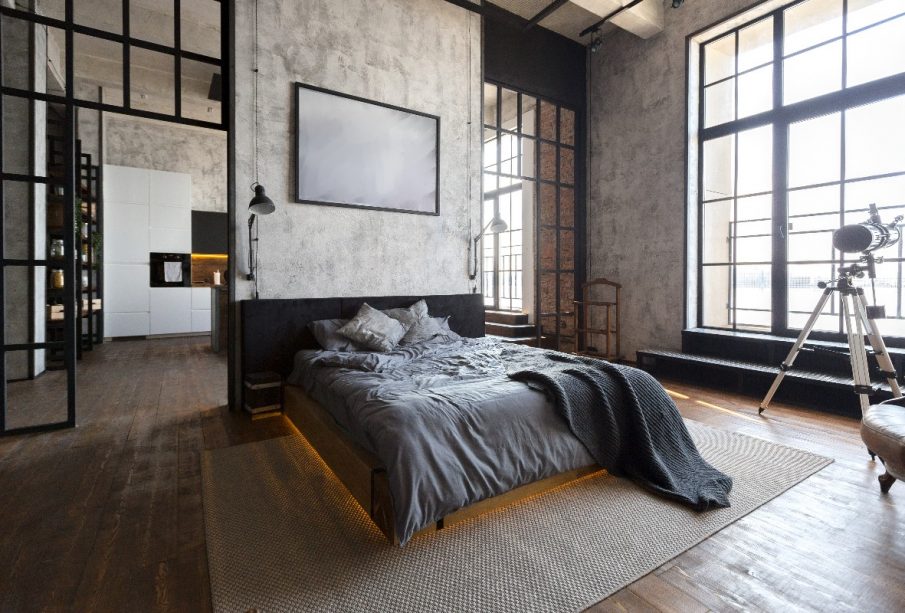 Industrial style has been a hit in the world of interior decorating for years. Its simplicity, functionality and charm, make the industrial decorations never disappear from living rooms. This style reigns in apartments, and industrially decorated bedroom is a dream of many people. See how to easily decorate your four corners of the house in industrial style with the help of a few decorations.
What is industrial style?
Industrial style is a very characteristic, but also charming decorating style. It is distinguished by its rawness and originality. Solid bricks, concrete, exposed pipes on the walls, bulbs without lampshades and metal furniture frames are the essence of this style
Loft interiors are incredibly atmospheric and, contrary to appearances, warm. Industrial style originated in America, where in the 50s in disused factories apartments began to be arranged.
Typical factory interiors were tried to be warmed and "domesticated" by means of various accessories. Nowadays it is the other way around and we try to create a loft interior in a warm home. No matter what your basics are, with a few simple tricks, you'll be able to incorporate industrial design elements into your bedroom.
Industrial style lamps
An important aspect that creates a loft vibe in a bedroom is the lighting. The word lamp may be a bit of a misuse, because often in industrial interiors you just use bulbs hanging from the ceiling on bare wires. Standing lamps are also often limited to the frame itself, without a lampshade or any other cover.
The bulbs are also not in the typical, familiar shapes. Loft bulbs are definitely larger than the classic ones, they have a very large, precisely visible filament and give a very strong, warm, almost orange light. This is a very important element of industrial decor, which helps in cool, austere interiors to feel the home atmosphere, still not standing out from other decorations. Another style of lamp is a metal lampshade in a simple geometric shape. The colors of lamps for industrial interior should be rather neutral. Popular are black, beige, copper and silver.
Textiles – an element warming up the austere bedroom
Some people may be frightened by the coldness of industrial interior, especially in the bedroom, which has to be a cozy place, where you want to come back. Rest assured, loft style can be extremely atmospheric and homey. Softening the harshness of bare brick and concrete, can be achieved with textile accessories.
The bedroom is a room that is generally full of fabrics and decorations. Quilts and pillows present on the bed can be a unique element that not only warms, but also allows you to personalize the interior design. Industrial style bedding does not have to be gray, dark and cold, on the contrary, colorful bedding can be an interesting accent against the background of raw and neutral materials and colors.
Furniture in industrial style
The bedroom is not only a bed and bedside tables, loft rooms are characterized primarily by a large area. Large bedroom needs to be filled with something, and furniture, which can fill a large space and at the same time will be another industrial accent in the room, will be good for that
Furniture can intensify or soften the loft interior, depending on what type and style of equipment we choose. Raw wood, metal accents or neutral colors are typical elements of industrial furniture. You can break the industrial style by adding colorful accents or unusual for loft furniture. For example, a large, heavy armchair in a penetrating color will slightly change the character of the interior, but without destroying the effect created by other elements.
Loft style is a still gaining popularity trend, reigning in apartments for years. It was born in the United States out of necessity, but came to Europe already as a fashion that conquered the hearts of Europeans. Currently, many people dream of a loft apartment or at least one room in this style. With a few accessories and elements you can easily give your bedroom an industrial feel.