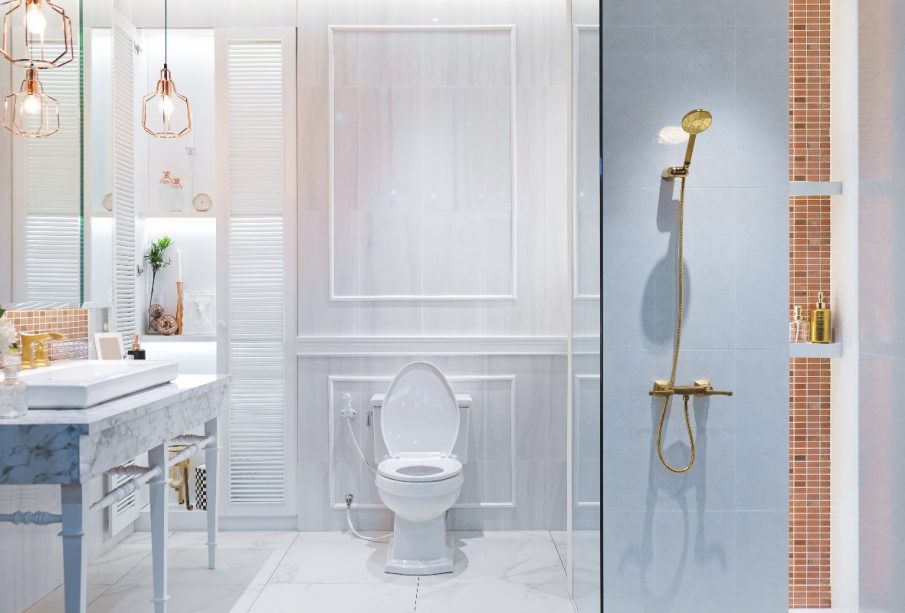 French style bathrooms are associated with a lot of ornamentation – including gold – and the use of expensive materials. Nowadays, we focus on practicality and modernity, so a bathroom in this style will not always be attractive to us. However, decorators claim that we are able to transfer some of the ideas from the 17th and 18th century to the modern ground, so that our bathroom delights not only with its style, but above all, with its unusual practicality.
Focus on the details
It will be very difficult and expensive to create a perfect replica of a 17th century Parisian boudoir bathroom. But it only takes a few eye-catching details that hark back to the French aesthetic to create a unique atmosphere. This way, we will not resign from modern solutions and minimalism required nowadays
If we have empty space on the walls in our bathroom, it is worth to bet on unusual stuccowork and ornaments, which will bring us to the palace rooms. Wide cornices on the walls, combined with stuccowork and ornaments, will also make it easy to add style to our bathroom. Stuccos are very characteristic of the aesthetics of the Louis XVI period and will certainly make our bathroom easily transported to that time. France was also characterized by very refined ceramics and porcelain
Instead of somewhat boring, classic basins, you can use bowls, which placed on a marble or wooden countertop, will make an amazing impression of refined French style. The same ceramics may be used to make a free-standing bathtub – a very characteristic element of this aesthetics
Such small, but visible references to the times of Louis XVI are enough to create a beautiful and tasteful interior. A very important detail, which is worth taking care of, is keeping the so-called local symmetry. Symmetrical compositions were important not only in the construction of the bathroom itself, but also in such details as the spacing of sinks in relation to each other. Thanks to such references, we can create a very interesting bathroom in the French style with little cost and effort.
Elements of boudoir style
French style bathroom very often has furniture or furnishings that can also be used in the living room. These include poufs, benches, armchairs or dressers. Bathroom furnishings can be complemented with beautiful quilted equipment, which will have characteristic curved legs referring to the style of Louis XVI. However, they do not have to be associated with old-fashionedness. Just choose such furniture, which will have muted colors, simple shapes and modern lines
The main and essential element of boudoir style is a mirror in a heavy frame decorated with fanciful ornaments. You can hang it over the sinks, but it will also look beautiful in a standing version – if you place it right next to a free-standing bathtub, you will feel like in a Parisian palace. A huge mirror in a gold or silver frame will make our bathroom more exclusive. It is also worth to pay attention to lighting – a branched chandelier, instead of a spotlight, will refer to beautiful French rooms and will give our bathroom a more palace-like look.
Subdued colors
French boudoirs were full of exquisitely decorated materials. The modern style does not need such splendor. You can choose uniform, slightly subdued colors, which will bring to mind old palace interiors with floral motifs or ornaments. Beige, gray and a shade of ivory will look beautiful against the background of a gilded or silver-plated mirror.
Interesting design solutions
France is the cradle of very interesting arrangements, which visually add depth to the space. This is helped by mirrors – optically enlarging the room – and terrace windows adding more light. Creating a division in space, such as placing the bathtub on a small pedestal or dividing the walls into ledges, will make each part of the bath room will have its own function.
Bathroom in the French style looks very elegant, as long as we do not overdo the number of decorations. A classic mirror in a golden frame, porcelain boxes for cosmetics or a free-standing bathtub will make our bathroom have a unique atmosphere.