How to decorate a white bathroom?
You need about 4 min. to read this article.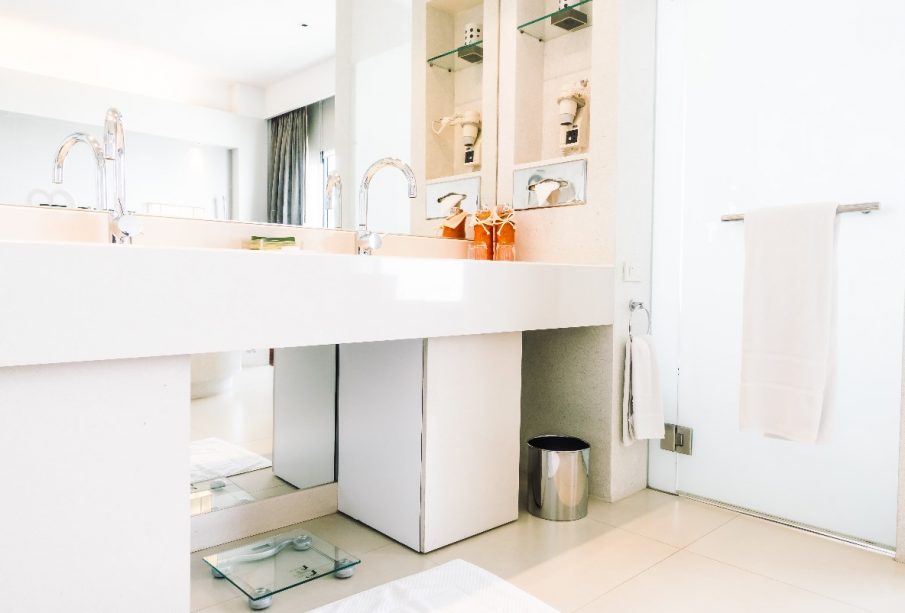 Is a white bathroom boring? Not at all! With such a neutral base you can create an interior in any style you like. Use our tips to create a tailor-made interior that you won't want to leave!
The bathroom is one of those rooms in the house that needs a proper arrangement. Often we have to fit a toilet, a washbasin and a bathtub or shower on a few square metres. There is also a washing machine and even a small cabinet. And all this must be arranged! The bathroom must not overwhelm us when we enter it right after waking up or after a busy day when we want to relax.
A white bathroom gives you almost unlimited possibilities when it comes to decorating it. It is neat, clean and elegant and blends in perfectly with most accessories and colors.
Wood will warm up a cool room
Maintained in white, the bathroom optically enlarges the interior, but it can also give the impression of a cool and austere space, especially since it probably does not have a window through which the sun's rays could fall.
>> See: Wallpaper with flowers for the bathroom – is it a good idea?
It is therefore worth warming it up by adding wood. This is a combination that has remained at the top of popularity for many seasons now. You can choose bright shades in Scandinavian style or intense, giving the whole room a completely different character.
Using wooden accents will make your bathroom feel light and cozy. This material may appear on the floor, countertops, furniture fronts or other decorative elements.
If we use natural wood, then it is necessary to protect it well against moisture (exotic wood species work best). There is also another solution, i.e. wood-based and other tiles imitating natural raw material, which are not afraid of harsh conditions in the bathroom.
Colorful textiles and accessories
Another suggestion are colorful accents. These may be intense, even neon shades, but also powder pinks, dull greens, grays and elegant gold or copper.
Regardless of which color we decide on, we can easily change and revitalize the interior. We introduce color in textiles and accessories, such as towels, rugs, soap dispensers, decorative trays, candles or other containers.
>> See: What color of tiles for the bathroom to choose?
However, do not overdo it, so as not to treat yourself to visual chaos. Definitely better to stick to the chosen color, juggling with its tone and saturation.
How about a touch of black?
A very elegant and classic complement to white is black, giving it a unique character. Having white ceramics on the walls and the floor, it's worth to try black fittings, unusual countertop washbasin, bathtub case, mirror frame or black chandelier in matching style: glamorous, industrial or modern, or black cabinets and shelves.
Moreover, black and white looks great with gold, silver, crystal and precious stones.
Mirrors and steel
A white bathroom, especially one of small size, should be equipped with a mirror. It can be placed on the whole wall, which will optically enlarge the whole room and illuminate it, or in a decorative metal frame.
Chrome elements, such as a decorative radiator, a towel rack or a chandelier, will also fit perfectly. And fluffy towels, a soft rug or a clay pot can break up the cool style.
Plants
Potted plants will be beautifully displayed against the backdrop of a white bathroom. The best species that are moisture and heat tolerant include zamioculcas, fiddleheads and ivy.
Plants are part of nature, they allow you to get rid of tension. Greenery relaxes and calms. In this way you can enliven the interior not only with the plant itself, but also with a pot – the pot may have an unusual shape or be made of original material.
Picture or photo wallpaper
Finally, we still propose to introduce to a white bathroom paintings or wallpaper. Here there is a lot of freedom and actually everything depends on what we like and what effect we want to achieve. Will we bet on a black and white or pastel graphics, or maybe something in intense colors? Deciding on such a decoration, you have to be careful with other accessories.